SKT pushes for quantum-safe comms standards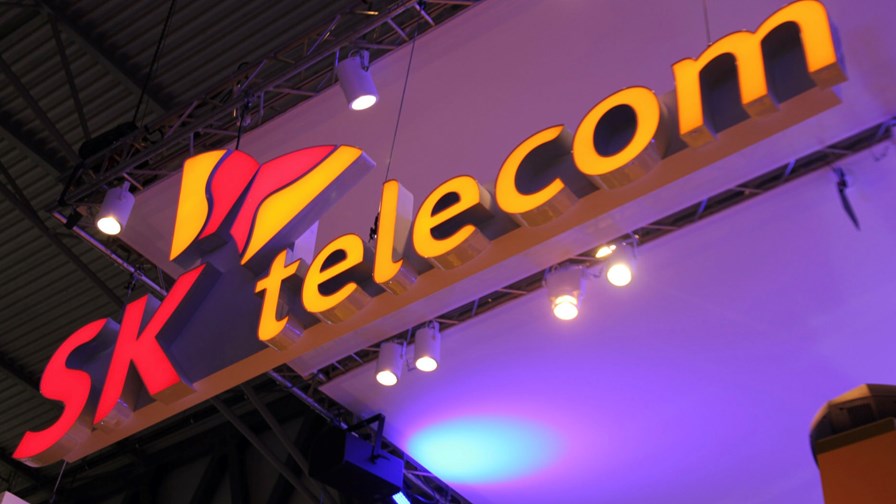 SK Telecom (SKT) has been exploring the potential of technology that will enable secure communications in the quantum computing era
As with any technology, achieving industry consensus on how to implement it will be critical to enabling interoperable services
SKT is pitching a proposal to the ITU's network security group in an effort to kickstart the development of global quantum-safe communications standards
With the security of future communications networks in mind, SK Telecom (SKT) is using an ITU security group meeting that is being hosted in South Korea to push for the development of global quantum-safe communications standards based on a combination of quantum key distribution (QKD) and post-quantum cryptography (PQC) technologies.
Enabling the security of data transmitted over communications networks once hackers get their hands on quantum computing resources, which will enable them to quite easily crack current public-key cryptographic codes, is absolutely critical to network operators and particularly vital to their enterprise services offerings. As a result, the development of specifications and standards that will enable operators to deploy quantum-safe communications technologies, which are interoperable and allow the secure transmission of data across multiple networks, is of vital importance – but identifying an approach that will suit the needs and resources of all operators will not be easy.
SKT has been engaged in quantum-safe communications R&D for quite some time, having established a quantum technology laboratory as long ago as 2011, and is offering services that benefit from advanced security system protection: For example, it has already deployed QKD technology developed by Swiss network security specialist ID Quantique in its 4G and 5G networks; and it has developed a QKD-as-a-service (QaaS) offering with datacentre and colocation giant Equinix.
Then last year, several of the South Korean operator's quantum cryptography developments were adopted by the ITU Telecommunication Standardisation Sector (ITU-T) as new work items – see SK Telecom leaps closer to the quantum technology era.
Now SKT is pitching a specific quantum-safe communications approach to the ITU-T Study Group 17 that focuses specifically on network security developments and is currently meeting at the Korea International Exhibition Center (KINTEX), just outside Seoul, in the hope it will lead to the development of a global standard.
The operator believes quantum-safe communications can be achieved by "combining the strength of QKD and PQC", it noted in this announcement, as QKD, a hardware-based technology that requires the installation of network-integrated devices, can "guarantee information-theoretic security (or perfect security) for key exchanges", while PQC, which can be deployed as a software upgrade, provides the "cryptographic algorithms that are thought to be secure against quantum computer attacks."
According to SKT, an integrated QKD/PQC system can "protect the entire communication chain against attacks by quantum computers," while "a maximum level of security can be provided by applying both QKD and PQC to a particular section."
The operator gives a number of examples, as shown in the image below: It believes QKD can be used to safeguard transmissions between datacentres, while PQC can be used to securely transmit data between a datacentre and an end user device via wireless/mobile connections; and for communications between datacentres and end user devices across links that comprise fixed and wireless links, QKD can be applied to sections covered by fixed-line infrastructure and PQC can be applied to sections covered by wireless connections.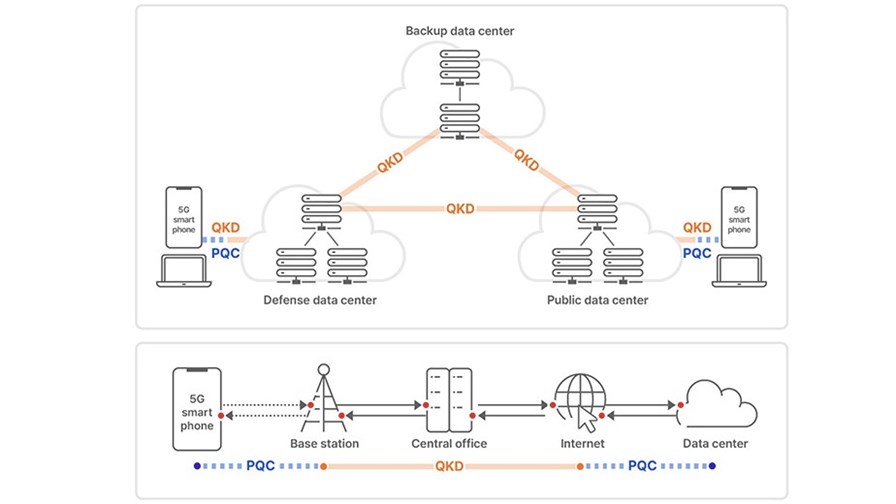 "We are excited to lead the establishment of standards for next-generation security technologies that utilise the advantages of quantum key distribution and post-quantum cryptography technologies," noted Ha Min-yong, SKT's chief development officer. "We will continue to make efforts to contribute to the growth of the global quantum cryptography market through active research and business," he added.
In the meantime, SKT continues to develop quantum cryptography technologies for use in its home market and overseas with ID Quantique, in which it acquired a majority stake for $65m in 2018. That increasingly looks to be a shrewd investment as the Swiss cryptography specialist is the lead technology partner for many telco quantum-safe networking developments, including those underway at Belgium's Proximus, Deutsche Telekom, Telefónica, Orange and BT. It is also a key partner to vendors such as Adtran (ADVA), Nokia, Samsung and Fortinet.
In South Korea, SK Broadband (an SKT subsidiary) and ID Quantique have verified a quantum cryptography communication network based on a multivendor architecture developed as part of the work underway at ETSI's QKD industry specification group, while SKT has also deployed PQC capabilities on virtual private networks (VPNs) that can be accessed in multiple countries, including the US, Japan and Singapore, using "algorithms that are highly likely to be adopted as international standards for PQC," the telco noted.
The operator regards quantum-safe networking as absolutely critical for the 6G era and highlighted the importance of it in its recent whitepaper on future networking requirements – see SK Telecom highlights three 'megatrends' for the 6G era.
It's not alone in that regard: Japan's SoftBank noted in 2021 that it was working on the technological verification of PQC and QKD to enable the deployment of ultra-safe networks.
Elsewhere, quantum-safe networking efforts are underway in a number of countries around the world. In the UK, BT is looking to attract thousands of enterprises to use the commercial quantum-secure metro network it has built with Toshiba in London, while Vodafone Group and SandboxAQ, an AI and quantum computing spin-out from Google's parent company Alphabet, have tested a quantum-safe virtual private network (VPN) using modified standard smartphones as the end-user devices.
Deutsche Telekom, meanwhile, has secured the lead role in a European Commission project to build a high-security communications network that will be designed to protect the European Union (EU) against cyberattacks in the upcoming era of quantum computing; Orange has been appointed coordinator of FranceQCI consortium, a project to support the deployment and testing of quantum communication infrastructure (QCI) networks in France; and Eurofiber in the Netherlands is collaborating with Juniper Networks on a quantum testbed that is experimenting with a "new security approach using quantum key distribution (QKD) and post quantum cryptography (PQC)."
Not everyone is convinced, though, that such approaches will work or, indeed, work out for telcos, as we highlighted last year – see Quantum technology has great potential, but can telcos really profit from it?
- Ray Le Maistre, Editorial Director, TelecomTV
Email Newsletters
Sign up to receive TelecomTV's top news and videos, plus exclusive subscriber-only content direct to your inbox.