What's up with… Telia, Orange, Telecom Italia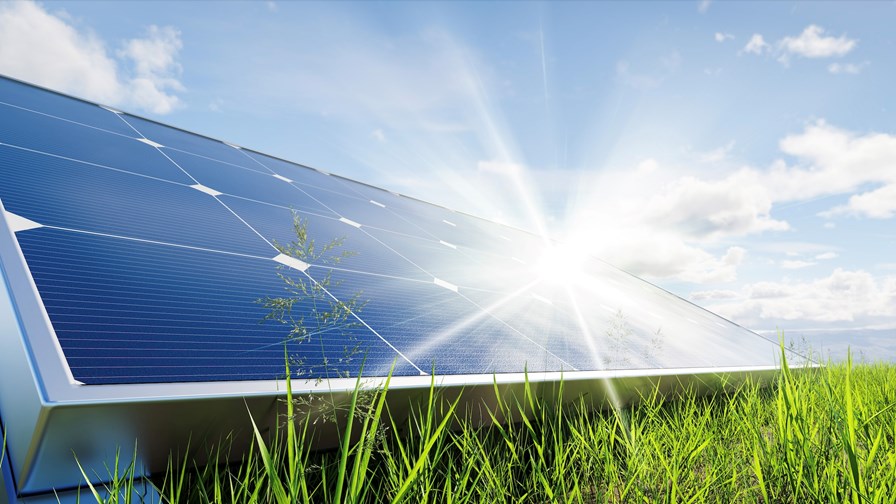 Telia turns to solar power in Estonia
Orange takes the helm at quantum communication networks consortium
Telecom Italia receives new bids for its access network
In today's industry news roundup: Telia adds to its green network credentials; Orange to coordinate French quantum communication infrastructure consortium effort; Telecom Italia fields improved bids for its NetCo unit; and much more!
Sweden-based operator Telia has furthered its environmental sustainability efforts by agreeing to use solar energy to power 100 of its mobile sites in Estonia for the next 15 years. As part of a deal made with renewable energy solutions developer Sunly, the telco will use 100 solar panel systems, which are expected to produce a total of 1.8 gigawatt hours (GWh) of energy per year. Of this, around 70% will be consumed by Telia's mobile sites and the remainder sold to the electricity grid. The first systems will be set up next to the telco's sites this spring, with all solar panel installations scheduled to be operational by the end of 2024. Telia admitted that solar comprises "only a small share" of the energy it consumes, but insisted that this type of renewable source is "an important complement to our other energy initiatives and a step towards securing a renewable energy supply". According to Holger Haljand, CEO of Telia Estonia, the increase in renewable energy sourcing for its sites will allow "tens of thousands of Telia customers to use mobile services powered by solar energy this year." This agreement comes shortly after the operator bragged about reducing its carbon dioxide emissions (CO2e) across its own operations (scope 1 and 2) by as much as 85% compared to its levels in 2018 – see Telia boasts massive reduction in carbon footprint.
Orange has been appointed coordinator of FranceQCI consortium, a project to support the deployment and testing of quantum communication infrastructure (QCI) networks in France. The programme, which has just been launched and will last for 30 months, will rely on Orange "as the only telco operator, essential for its expertise in network deployment and integration." FranceQCI is part of the European Quantum Communication Infrastructure (EuroQCI) initiative launched by the European Union (EU) in 2019, which is designed to build a secure quantum communication network infrastructure across the whole European Union (EU), including its overseas territories. The main goal of the programme in France, which is backed by academia as well as Airbus and Thales, is to roll out "advanced national quantum systems and networks to test quantum communication technologies, and integrate them into existing communication networks in France". It also foresees testing of a real end-user service for the French Civil Aviation Authority. "The FranceQCI consortium's objective is to drive a significant impulse towards a European quantum communication infrastructure that will be able to safeguard sensitive data and critical communications for governmental institutions, datacentres, hospitals, energy grids and more. We are delighted to benefit from fundings from the European Union through the Digital Europe Programme to contribute to one of the main pillars of the EU's cybersecurity strategy," commented Michaël Trabbia, EVP and CEO of Orange Wholesale and interim Orange Group chief technology and innovation officer. Another effort by Orange in the quantum field includes a solution it has developed that uses quantum key distribution (QKD) technology to enable secure communication to happen only between two authorised parties and to automatically detect if someone is spying on the communication exchange – see Orange's tech innovations highlight telecom's digital future.
As expected, Telecom Italia (TIM) has received improved bids from both parties that are interested in acquiring its fixed access line and international network assets, known collectively as NetCo. The national Italian operator noted late Tuesday that new offers had been submitted by the consortium formed by state lender CDP (Cassa Depositi e Prestiti) and Macquarie Infrastructure, and by private equity firm Kohlberg Kravis Roberts (KKR). "The two non-binding offers will be examined by TIM's board of directors at the meeting scheduled for 4 May next, after preliminary investigation by the Related Parties Committee," the operator noted in this short statement. The telco did not reveal the value of the offers but they are expected to be slightly above the €20bn mark, still way short of the €31bn valuation afforded to NetCo by Telecom Italia's largest single shareholder, Vivendi.
AT&T has made progress towards developing 5G standalone (SA), claiming it is the first telco in the US to conduct a 5G SA uplink two-carrier aggregation data call. In a blog, the company's assistant vice president for device architecture, Jason Sikes, explained that during the experiment AT&T was able to reach upload speeds of 120Mbit/s on its 5G network, employing Nokia's 5G AirScale portfolio and MediaTek's 5G M80 mobile test platform. Sikes noted that AT&T is "architecting tomorrow's wireless network" and a "key part of this evolution is the critical transition phase we are entering in scaling from 5G non-standalone to 5G SA". He explained that as 5G SA uses a dedicated 5G core, it holds the potential to unlock faster upload speeds, ultra-low latency, ultra-high reliability and edge functions, all deemed vital for business opportunities, such as the next generation of connected cars, adding that businesses and developers will be among the pioneers to take advantage of the telco's new technologies based on 5G SA as they move from an R&D phase to actual deployment. Progress towards 5G SA is needed to address the continued increase in demand for uplink capacity and speed, which is "about 30% a year in AT&T's mobility network". Read more.
Netflix added 1.75 million paying subscribers during the first quarter of 2023 to take its global total to 232.5 million. It was in the same quarter a year ago that the company announced an unexpected decline in subscribers, a setback that precipitated the introduction of advertising-supported services towards the end of last year and a crackdown on subscription sharing across multiple residences. Those moves, which include the ability for subscribers to pay more to share their subscriptions with others, appear to be paying off, as Netflix reported a 3.7% year-on-year increase in first-quarter revenues to almost US$8.2bn and operating income of $1.7bn, its highest level in a year. Now the company plans to introduce "paid sharing" in the US market during the current quarter, following its introduction in four countries during the first three months of this year. And based on industry data and trends towards greater engagement with streaming services compared with traditional linear TV services, Netflix expects further growth. Citing data from media services research firm Nielsen (as shown in the chart below), the company noted that "Netflix and YouTube are the clear leaders in streaming engagement – and that the opportunity ahead is significant as streaming still accounts for the minority of viewing in every country. We remain highly confident that streaming's share of engagement will continue to grow at the expense of linear since it offers a better experience (on demand, availability across devices). We believe this gives Netflix tremendous room for growth if we can continue to improve our service – increasing our share of total viewing by multiples higher than today's 2%-4% share in Brazil, Mexico and Poland, or 7%-9% share in the US and the UK." For more on Netflix's first-quarter metrics, see this letter to shareholders.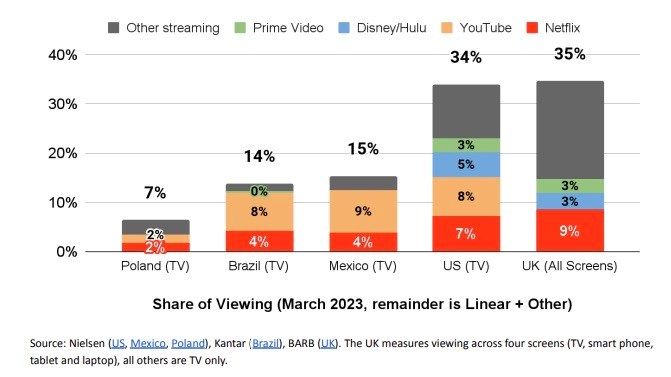 French cloud services player OVHcloud has reported a 15% year-on-year increase in revenues to €439m for the first six months of its financial year that ended 28 February 2023, though its adjusted earnings before interest, tax, depreciation and amortisation (EBITDA) margin (which provides an indication of the ongoing fiscal health of a company) dipped to 35.4% from 40.1% during the same period a year earlier. About half of the company's revenues were generated in France, around 28% from the rest of Europe, and almost 23% from the rest of the world. "This performance illustrates OVHcloud's ability to acquire new customers in key sectors, such as insurance, healthcare, defence and finance," the cloud services firm stated in its earnings announcement. "Demand for sovereignty-related offers remained at a sustained level, testifying to the increasing demand from major companies and the public authorities for these issues. OVHcloud continues to develop its certified sovereign offerings, notably by working to extend the SecNumCloud certification to its Public Cloud and Bare Metal Cloud solutions in France. Initiatives are also ongoing to extend product ranges covered by national certifications, in Germany, in Italy, in Spain, and at European level," it added. But it also warned of lower than anticipated growth for its full financial year. "OVHcloud is targeting organic revenue growth of 13%-14%, in acceleration compared to FY2022," it noted, down slightly from its previous guidance of 14%-16% growth. "This growth target includes the solid first-half performance and recent developments in demand which in the short term reflect a delay in certain migration projects to the cloud or the extension of existing infrastructures." That was enough to spook some investors, as OVHcloud's share price dipped by 9.4% to €10.33 on the Euronext exchange in early trading on Wednesday.
- The staff, TelecomTV
Email Newsletters
Sign up to receive TelecomTV's top news and videos, plus exclusive subscriber-only content direct to your inbox.