Research shows IoT impact on IT infrastructure from Edge to Cloud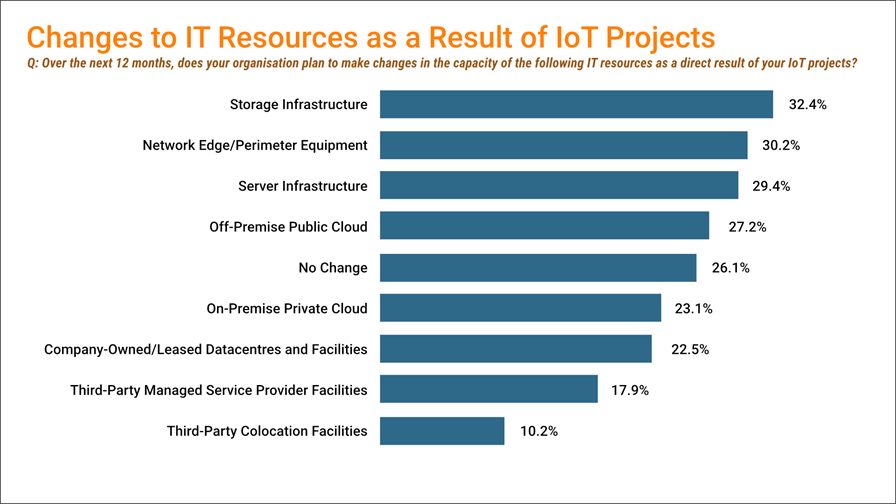 IoT boosting spending on storage, edge, infrastructure and cloud
66% of respondents in Europe and US plan to increase their IoT spending
Half say they already do IoT data processing at the network edge
However, respondents said they face a skills shortage for IoT-related tasks
A new study from 451 Research finds that the vast amount of data generated by IoT is already having a significant impact on all aspects of enterprise IT. The study of more than 60,000 senior IT buyers in North America and Europe revealed that organisations deploying IoT are planning increases in storage capacity, network edge equipment, server infrastructure and off-premises cloud infrastructure in the next 12 months, to help manage the IoT data storm (see image above for details).
Spending on IoT projects remains solid, with 65.6 per cent of respondents planning to increase their spending in the next 12 months and only 2.7 per cent planning a reduction. However, as we've seen from other reports, finding IoT-skilled workers remains a challenge. Almost half of respondents said they face a skills shortage for IoT-related tasks, with data analytics, security and virtualisation capabilities the skills most in demand.
Whilst IT-centric projects are the dominant IoT use case today – particularly data centre management, surveillance and security monitoring – in two years time, facilities automation will likely be the most popular use case, and line-of-business-centric supply chain management is expected to increase in importance.
451 Research concluded that the collection, storage, transport and analysis of IoT data is impacting all aspects of IT infrastructure. Most companies say they initially store and analyse IoT data at a company-owned data centre. Yet despite this centralisation of IoT data, the survey also finds action at the edge. Just under half of respondents say they do IoT data processing – including data analysis, data aggregation or data filtering – at the edge, either on the IoT device (22.2 per cent of respondents) or in nearby IT infrastructure (23.3 per cent).
"Companies are processing IoT workloads at the edge today to improve security, process real-time operational action triggers, and reduce IoT data storage and transport requirements," said Rich Karpinski, Research Director for the report. "While some enterprises say that in the future they will do more analytics – including heavy data processing and analysis driven by big data or AI – at the network edge, for now that deeper analysis is happening in company-owned data centres or in the public cloud."
Email Newsletters
Sign up to receive TelecomTV's top news and videos, plus exclusive subscriber-only content direct to your inbox.