What's up with… Telefónica, Orange, Aramco Digital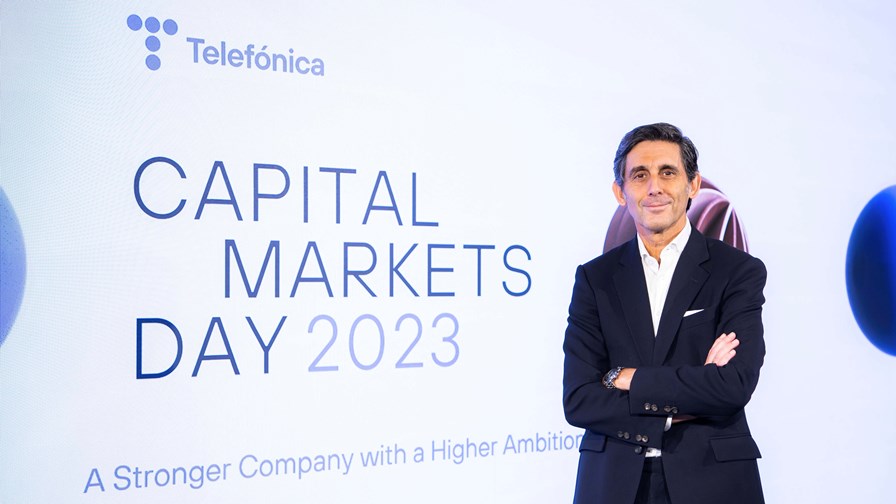 Telefónica unveils its new growth strategy
Orange goes even more rural with its FTTH
Aramco Digital gets jiggy with Nokia Bell Labs
In today's industry news roundup: Telefónica reports its third-quarter financials and unveils its Growth, Profitability and Sustainability strategy but the growth part looks less than encouraging for the telco sector; Orange is advancing its rural fibre broadband rollout in France and has a new SD-WAN deal with VMware; Aramco Digital, which is to be headed up by Tareq Amin, adds Nokia Bell Labs to its list of big name partners; and much more!
In presenting the giant Spanish telco's new Growth, Profitability and Sustainability (GPS) strategy during its capital markets day, Telefónica chairman and CEO José María Álvarez-Pallete (pictured above) reiterated just how low telco business expectations are right now. Telefónica is one of the largest telcos in the world – it boasts almost 385 million connections across its European and Latin American markets, of which almost 129 million are contract mobile customer connections, and it generated revenues of €10.3bn in the third quarter of this year (not including revenues from its 50% stake in the UK's Virgin Media O2), down slightly year on year, while operating income before depreciation and amortisation of €3.33bn was up by 2.5%. So it has scale… but its main financial targets for the 2023-26 period include an annual revenue growth rate of about 1% and earnings before interest, tax, depreciation and amortisation (EBITDA) growth of 2%. At the same time, the company is trying to appeal to its investors by saying it will channel more of its earnings towards shareholders and that it will spend less on capital expenditure over the coming years, with its capex-to-revenues ratio dropping below 12% from about 14% currently (which, of course, is bad news for the vendor community!). But despite that plan, Telefónica's share price dipped slightly today on the Madrid exchange to €3.69. Álvarez-Pallete, naturally, is bullish about the telco's prospects and positioning. "We are at the dawn of the digital era," he noted. "At Telefónica, we have come this far by staying true to our values and fulfilling our core objectives. The company has completely reinvented itself because connectivity is at the heart of everything digital. At Telefónica we have a new vision and renewed ambition to lead the future, because we are not just a telecommunications company, we are something bigger and even better. We are now a supercomputer… In this new digital world, the sector urgently needs complete deregulation. The best way to guarantee the strategic autonomy of Europe and the telco sector is a regulatory framework adapted to the new times' needs. Our GPS plan is the company's most valuable tool for growth and stability to successfully face its one-hundredth anniversary and to continue providing the best service," he added. There's a lot of detail to its new strategy, which you can find here, but it seems clear that investors have looked at the growth projections and they're not that excited. Would deregulation change things dramatically? Telcos all over the world have long called for greater freedoms and, in Europe right now, they are calling in particular for less stringent merger and acquisition (M&A) regulation and for the European Commission to force big tech firms to contribute to network investment costs, but such moves alone don't look like they would light a fire under telcos' financials.
French telco giant Orange has beefed up its efforts to advance a "widespread deployment" of fibre in its home market by 2025. By sealing an agreement with the French government, Orange is being given the greenlight to move forward with a proposal for a new deployment commitment across the least densely populated private-initiative zones in France (which it dubs AMII zones). As per the agreement, France's incumbent telecoms operator will speed up its rollout efforts, pledging to bring fibre to an additional 1.12 million homes by the end of 2025. Furthermore, to address deployment disparities between different urban areas, it plans to boost efforts in areas with the lowest fibre coverage in the AMII areas by making more than 140,000 premises "connectable" to a fibre network by 2024. Included in the operator's plans is an "on-demand" offer providing connectability to customers who are not eligible for fibre within six months of them requesting such a service – this will be available until the copper network is shut down. As per its new commitments, Orange has also pledged to make its fibre network available to more than 300,000 homes and businesses in the most densely populated areas by 2025. The telco also plans to conduct a trial of on-demand deployment for customers in two major cities, as well as to continue an offer of fibre access at a subsidised rate for eligible households until at least 2027. "After making a major contribution to the success of the France Très Haut Débit plan (France's superfast broadband plan) in 2022, Orange is once again working with the government to ensure the widespread deployment of fibre by 2025. Having already covered 21 million of the 36 million eligible premises in France, we're determined to make this major project a national success, benefitting as many people as possible", stated Christel Heydemann, Orange CEO. Read more.
Orange has been busy today… A trio of top executives from Orange Business travelled to London to provide an update on the telco's enterprise services strategy and added to the occasion with the announcement of a new agreement with VMware. Orange Business and VMware have long been partners and now the vendor's Flexible SD-WAN solution is being integrated into the operator's Evolution Platform, which enables enterprise customers to order and manage services via a digital platform. Read more.
Aramco Digital, the tech branch of the Saudi oil giant that is to be headed up by former Rakuten Mobile CEO Tareq Amin, has struck a non-binding R&D agreement with Nokia Bell Labs to "support Industry 4.0/4IR digital use-case creation and proof-of-concept development for priority industrial sectors in the Kingdom of Saudi Arabia and beyond." The two companies will "leverage cutting-edge research and technologies from both companies to advance digital use cases for a diverse range of industries, including oil and gas, utilities, mining, manufacturing and logistics," Nokia announced in this press release. The partners will "develop joint proof-of-concept solutions, and validate technologies in real-world deployments to expand enterprise industrial automation applications, thereby unlocking new potential for industrial operations," as well as "fostering a comprehensive ecosystem for 5G and emerging technologies to integrate cutting-edge technologies that will help shape the future of industrial sectors." The end results will help to "accelerate digital transformation within the Kingdom, the Middle East, and North Africa (MENA) region and globally," noted the partners, which is the mission Aramco Digital was set when it was formed at the beginning of this year. As we reported previously, Aramco Digital is also working closely with Samsung – see Tareq Amin joins Aramco Digital as CEO.
SK Telecom (SKT) has reported improved performance on the back of AI developments, which it has put at the heart of its growth strategy. In its results for the third quarter of 2023, the South Korean operator highlighted that within its AI infrastructure layer, its datacentre business has continued its rapid growth, recording a 32.5% year-on-year increase in revenue. This was driven by higher usage rates of new datacentres and increased orders for cloud services. The telco is aiming to boost the value of its enterprise business by applying "diverse AI solutions", such as an AI contact centre (AICC) and platform-type generative AI (GenAI) business. It also plans to enhance profitability by combining a multi-large language model (LLM) with AI solutions, such as vision AI and big data AI, to draw on its "know-how in operating various AI services" and to expand its presence in the AI service market by "simultaneously entering overseas markets in cooperation with members of the Global Telco AI Alliance", which it co-created in July alongside Deutsche Telekom, e& and Singtel. In its AI Transformation (AIX) layer, SKT plans for its fixed and mobile telecoms business to pursue AI-powered innovation by leveraging its "solid" customer base of 15.15 million 5G subscribers and 6.87 million broadband customers. "Going forward, SKT will further solidify its competitiveness by using AI to conduct marketing, build networks and enhance network operational efficiency," the telco noted. "With our AI Pyramid Strategy, we will strive to ensure that SKT's growth as a global AI company leads to the maximisation of corporate and shareholder value," said Kim Jin-won, CFO of SKT. The operator posted a revenue of 4.4tn Korean won (KRW) ($3.4bn) for the third quarter of 2023, up 1.4% year on year, and operating income of KRW 498bn ($381bn), up 7%, for the same period. Find out more.
Tech giant IBM has advanced its AI strategy with the launch of a $500m venture fund to invest in AI companies. The newly established IBM Enterprise AI Venture Fund will support a range of companies, from early-stage to hyper-growth startups that are focused on speeding up generative AI (GenAI) technology and research progress for enterprises. IBM noted that the fund, which is based on a "differentiated model", will look to invest in current and future "AI leaders" that are helping businesses globally to realise the potential of AI for enterprises. The company is also looking to attract AI companies with a promise of "opportunities to develop meaningful partnerships" with IBM, as well as access to "operational expertise on product and engineering, and go-to-market strategies". "AI is slated to unlock nearly $16tn in productivity by 2030. With the launch of the IBM Enterprise AI Venture Fund, we're opening another channel to harness the enormous potential of the AI revolution into tangible, positive outcomes for IBM and the companies we invest in," explained Rob Thomas, SVP of software and chief commercial officer at IBM. He also reiterated the company's commitment to responsible AI innovation. This move comes just a week after German telco Deutsche Telekom (DT) and its US subsidiary, T-Mobile US, unveiled that their annual international competition, the "T Challenge", will be targeting developers of AI-driven solutions looking to improve the management of the network and customer experience – see What's up with… BT, Qualcomm, Deutsche Telekom.
An outage has reportedly left around half of the population of Australia without the services of domestic telco Optus. The problem was first reported at around 4am local time today, but connectivity was restored close to 5:30pm local time, reported Reuters. According to the report, Optus customers represent around 40% of the population in the country (or 10 million people), and they were unable to make calls and access the internet for the majority of the day. The company did not specify the cause of the outage, but it reportedly stated that the failure occurred deep within the network and that it had wide ramifications across the operator's mobile and fixed services. The outage comes just over a year after Optus was hit by a major cyberattack in September 2022, when the personal data of nearly 10 million customers was exposed – see What's up with… Ooredoo, Vodafone, Telefónica and Qualcomm. Optus CEO Kelly Bayer Rosmarin reportedly dismissed claims that the latest outage could be the result of a hack.
With a 6G commercialisation and standardisation research and development (R&D) budget of 440.7bn won ($325m), South Korea is aiming to be a leader in 6G developments, noted the country's Ministry of Science and ICT (MSIT) in this account of the country's two-day 6G Global 2023 conference. The R&D efforts will focus on five key areas – wireless communication, mobile core, 6G wired network, 6G systems and 6G standardisation. In the wireless communication field, "development of the upper-mid frequency band (7-24GHz) technology will aim to overcome the capacity limitations of 5G in the 3.5GHz range and the coverage limitations in the 28GHz range," noted MSIT, adding that this includes the development of "extreme massive multiple-input and multiple-output (E-MIMO)" antennas and associated integrated circuit (IC) chips with the aim of improving performance by more than four times compared to the massive MIMO technology being used in 5G networks. Read more.
As expected, office-space provider WeWork has declared bankruptcy protection, which is bad news for SoftBank, the Japanese multinational investment giant that owns about 70% of the company, and its founder Masayoshi Son, whose reputation as a savvy investor has been tarnished by WeWork's demise. At one time, SoftBank's stake in WeWork was worth $47bn, but it is now worth $44m. Reuters has the full analysis.

- The staff, TelecomTV
Email Newsletters
Sign up to receive TelecomTV's top news and videos, plus exclusive subscriber-only content direct to your inbox.