GenAI's watershed will be 2025 – Orange Business CEO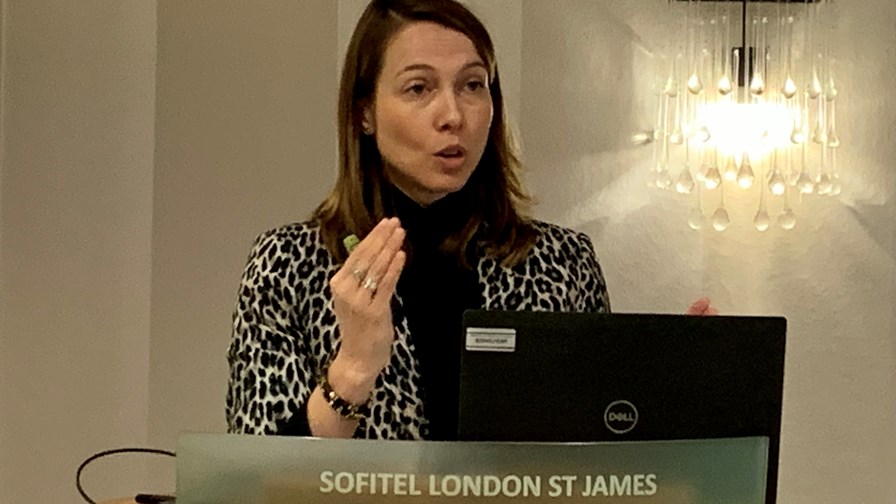 Senior executives from Orange Business have been in London to provide a strategy update
Enterprises are very focused on the potential impact that generative AI can have on their businesses, noted Orange Business CEO Aliette Mousnier-Lompré
But there's still a long way to go with GenAI experimentation and enterprise data management advances
Mousnier-Lompré believes it will be 2025 before GenAI will generate 'real business outcomes'
That's the same year in which she expects Orange Business to return to profitable growth
LONDON, UK – Generative AI (GenAI) will transform the enterprise world during the next decade but "real business outcomes" from the use of GenAI will be in short supply until 2025, according to Aliette Mousnier-Lompré, the CEO at Orange Business.
Mousnier-Lompré was one of three senior Orange Business executives who travelled to London on Thursday to provide industry analysts and the business media with a strategic update on the enterprise services-focused arm of the Orange Group. She took the helm at Orange Business in May 2022 and, since then, has been formulating and executing a turnaround strategy that has involved a shift away from pure business connectivity services to a more digital service provider (DSP) approach, which adds cloud and cybersecurity to connectivity (to create a 'three Cs' offer to enterprises of all sizes). We'll come back to that turnaround story in a moment…
But first, the topic du jour in enterprise tech – GenAI! It wasn't the key focus of the presentations made by Mousnier-Lompré and her colleagues, chief products and marketing officer Usman Javaid and chief digital and information officer Hriday Ravindranath, but it certainly cropped up a few times, especially when the CEO was discussing the needs of Orange Business's 40,000-plus business customers.
"GenAI will transform business – it is top of the agenda for our customers and they are asking how they can equip their knowledge workers with AI," noted the CEO. "This year and in 2024 we will see a lot of experimentation and tests… what we see right now is that a huge majority of the pilots around AI are stuck at that phase and the experiments are not scaling," she added, pointing out that she believes it will be 2025 before all the puzzle pieces are in place and enterprise data management strategies are aligned and that is when we will see "real business outcomes" from the use of GenAI.
With new technology developments, "we tend to underestimate the impact this technology will have in the long term and we overestimate the impact in the short term," stated Mousnier-Lompré. "I think AI, GenAI, will transform the world in the next decade, but in the short term we will not escape the problems around data quality, data collection and data governance," added the CEO.
She believes Orange Business is well placed to help enterprises with their AI/GenAI strategies because it not only has an increasingly digitally oriented workforce but also the network infrastructure that delivers the secure access to cloud platforms and corporate facilities that enterprises need to make the most of AI.
---
Want to know more about this topic? Then join us at our in-person event, Telcos & AI: Generating New Opportunities for DSPs, in London on Wednesday 6 December and download (for free!) our latest DSP Leaders Report, Telecom's Take on AI.
---
In terms of using AI, "companies need to look not only at the data layer but also at the infrastructure later. AI at scale will need the orchestration of cloud to edge and require multilayered cybersecurity and those capabilities will need to be available on demand," which is what Orange Business can offer via its extensive and increasingly programmable network, noted Mousnier-Lompré. "This is a data layer and infrastructure layer play – these two are becoming more interlinked," she added.
Orange Business is also working with key partners to help it understand and deliver GenAI services to its customers. For example, it is a Microsoft 365 Copilot early access programme partner and is working with Microsoft on enterprise use cases – you can find out more by watching our recent interview with Marie-Hélène Briens Ware, VP of Workplace Together at Orange Business – see Why Orange Business is working with Microsoft 365 Copilot.
So there's still lots of experimentation to be done with GenAI, but 2025 isn't that far away and by that time, the CEO believes Orange Business will have returned to profitable growth. The division is still mid-way through its transformation, which involves an ongoing simplification of its product portfolio (the number of services on offer has been halved since she took over); the development (under chief digital and information officer Ravindranath) of an entire end-to-end IT stack that will link the Orange network and its capabilities to enterprise customers via a digital portal; a reskilling and upskilling programme that will see 5,000 staff gain new digital-era skills; and a resizing of the business, which will see its annual operating costs cut and the current headcount of more than 30,000 staff reduced (partly through a voluntary redundancy scheme).
Orange Business is currently a €7.9bn annual revenues operation and Mousnier-Lompré says that despite a massive drop-off in legacy fixed voice revenues (which is happening at pace across the enterprise telecom services sector, as you'd expect), the division is growing and is on course to achieve its objective of being the leading provider of network and digital enterprise services in Europe, where it can use its own network and telco cloud assets across multiple markets.
In the third quarter of this year, Orange Business reported a 0.6% year-on-year increase in revenues to €1.9bn, thanks to a 9.3% increase in IT and integration service revenues to €886m that more than offset the decline in legacy voice and data service sales.
Watch out for further coverage of what the Orange Business executives had to say, including upcoming exclusive TelecomTV video interviews with Mousnier-Lompré, Javaid and Ravindranath.
- Ray Le Maistre, Editorial Director, TelecomTV
Email Newsletters
Sign up to receive TelecomTV's top news and videos, plus exclusive subscriber-only content direct to your inbox.