CSP giants form Global Telco AI Alliance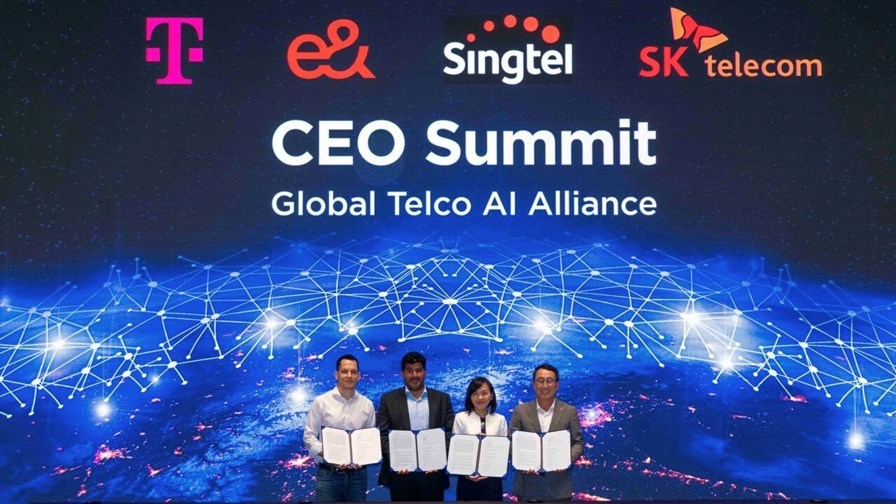 Four major network operators have formed the Global Telco AI Alliance
Deutsche Telekom, e&, Singtel and SK Telecom are the founders
The agreement includes the development of a telco AI platform
Strengthening its position at the heart of the all-important AI-native telco debate, Deutsche Telekom, along with e&, Singtel and SK Telecom, has emerged as one of the founding members of the Global Telco AI Alliance, which aims to "accelerate AI transformation of the existing telco business and create new business opportunities with AI services."
The formation of the alliance comes only weeks after Deutsche Telekom's VP of technology strategy, Ahmed Hafez, co-hosted the DSP Leaders World Forum 2023 session entitled Creating a framework for the AI-native telco, during which he noted that to take advantage of the potential benefits of AI, the industry needs to figure out a way to evolve from being opportunistic to becoming AI-native – see Towards the AI-native telco.
Now DT has signed a multilateral memorandum of understanding (MoU) for cooperation in the AI business, along with its three alliance co-founders. And it's clear this initiative has support right from the top of each of the quartet, as the MoU ceremony, held in Seoul, South Korea, was attended (either in person or online) by Claudia Nemat, DT's board member with responsibility for technology and innovation, e& group CEO Hatem Dowidar, Singtel group CEO Yuen Kuan Moon, SK group chairman Chey Tae-won, and SK Telecom CEO Ryu Young-sang.
The quartet plan to jointly develop the Telco AI Platform by "combining their respective technologies and capabilities." According to the founders, the platform is "expected to serve as the core foundation for new AI services, including those designed to improve the existing telco services, digital assistants, and super apps that offer a wide range of services."
"In order to make the most of the possibilities of generative AI for our customers and our industry, we want to develop industry-specific applications in the Global Telco AI Alliance," noted DT's Nemat. "I am particularly pleased that this alliance also stands for bridging the gap between Europe and Asia and that we are jointly pursuing an open-vendor approach. Depending on the application, we can use the best technology. The founding of this alliance is an important milestone for our industry," she added.
"The launch of the Global Telco AI Alliance is meaningful in that it marks the beginning of a new journey to innovate our business models while growing together with our global partners," said SKT's Young-sang. "Through collaborative efforts, we will accelerate AI transformation of all industries, provide new value and experience to our customers, and lead the growth of the global AI ecosystem," he added.
"We recognise AI's immense potential in reshaping the telecommunications landscape and beyond, and are excited to embark on this transformative journey with the formation of the Global Telco AI Alliance," noted Khalifa Al Shamsi, the CEO of e& life, the division of e& (formerly Etisalat) that develops digital applications and services. "The alliance signifies a strategic commitment to driving innovation and fostering collaborative efforts. Our shared goal is to redefine industry paradigms, establish new growth drivers through AI-powered business models, and pave the way for a new era of strategic cooperation, guiding our industry towards an exciting and prosperous future," added Shamsi.
Singtel's CEO, Yuen Kuan Moon, stated: "This alliance will enable us and our ecosystem of partners to significantly expedite the development of new and innovative AI services that can bring tremendous benefits to both businesses and consumers. With our advanced 5G network, we are well placed to leverage AI to ideate and co-create, and are already using it to enhance our own customer service and employee experience, increase productivity and drive learning."
This is a strong quartet to get the ball rolling – SK Telecom, in particular, has been at the forefront of many telco AI developments in recent years and has clearly stated its ambitions to become "an AI company" – see New partnerships fuel SK Telecom's AI aspirations.
And developing an AI platform specifically suited to the purposes of telecom operators is likely to be of interest to many in the telco community.
But it will be telling to see which other telcos (if any!) join the gang in the near term – there's a lot of excitement about the potential of AI in the sector and a very clear willingness from operators such as DT and its alliance partners to make sense of the potential and how AI's application in the communications sector might be best addressed, but there's also the sense that many telcos are a long way behind this quartet in getting their AI strategies developed. Many might sit back and wait to see exactly what the alliance's founders actually mean by the Telco AI Platform.
- Ray Le Maistre, Editorial Director, TelecomTV