Mozilla opens up WebApps to the world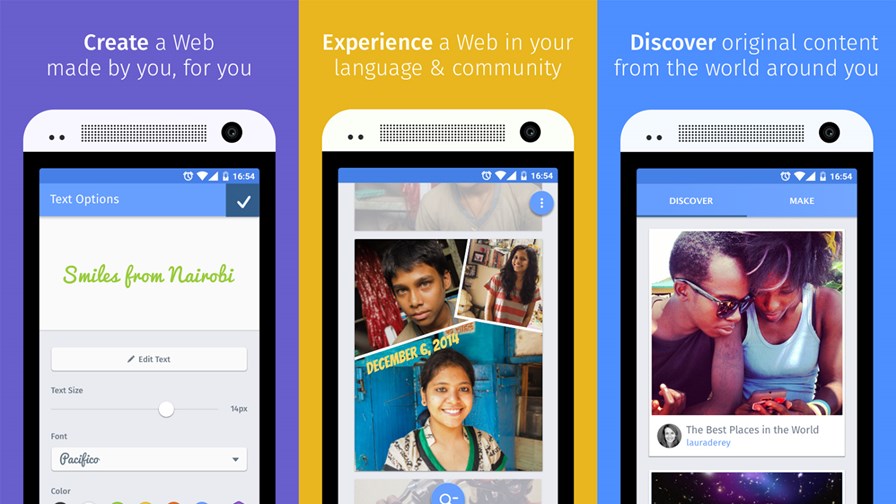 Webmaker for Android moves out of beta
Language support in Bengali, Brazilian Portuguese, English and Indonesian
No prior skills required to create Web apps and services
Attempt to move away from a 'read only' mobile Web
There was a very telling quote at the end of a report from Mozilla and the GSMA released back in February. A youngster in a village near Chittagong, Bangladesh, was asked if they use the internet. "No, I don't have my Facebook account yet," was the response. When prompted again, and being asked not about Facebook but the Web, the response was: "Not yet, I will make my Facebook account next week." That's a terrible state of affairs – the believe that the Internet is Facebook and nothing else. So much so that Mozilla decided to act.
The company behind the Firefox web browser and mobile OS has announced that its Webmaker for Android has emerged from beta and the new version of its free, open source app is available to download from Google Play. Mozilla says it built Webmaker to empower first-time smartphone users and mobile-first Web users as active participants on the Web.
"Too often, individuals around the world experience a 'read-only' mobile Web, passively consuming content and unable to actively contribute," said David Ascher, VP Product at the Mozilla Foundation. "But when consumers become creators, they're introduced to social and economic opportunity. And when everyone can contribute equally, the Web becomes a better place."
Webmaker is Mozilla's way of addressing the lack of local content in mobile-first markets. Initially available in four languages – Bengali, Brazilian Portuguese, English and Indonesian – and with more coming soon, the app allows individuals to create original content in their language and relevant to their community.
Global collaboration
Webmaker was created after extensive research around the world, and some of the results can be read in the aforementioned report co-published in partnership with the GSMA, which focuses on a six-month study of Bangladesh, India and Kenya.
Mozilla and GSMA believe that empowered, digitally literate customers is both a social good and also good business – the more customers know about digital life, the more inclined they are to pay for services, is their hypothesis. Once a few start to use digital tools and services, then they will share with friends and family and before too long the overall level of talent increases to create a viable future of local innovative content and services. The difficult part is starting this momentum.
For its part, the GSMA is encouraging its operator members to take advantage of their front-line status in emerging markets and help develop and deliver digital skills.
Mozilla is looking for partners for its Webmaker initiative to help create and deploy the app. It doesn't believe that Webmaker is the solution, but a means to an end. The foundation says it was important to create Webmaker so that it could be used without any prior web skills; there is no steep learning curve, and no complex toolbars to get to grips with. Ascher says users can create a range of content in minutes – from scrapbooks and art portfolios to games and memes – all by using the Web's basic building blocks of text, images and links.
"With these three fundamentals, our community has already built wonderful creations: how-to manuals, photo albums, digital sketchbooks and wardrobes, exercise handbooks and more," explained Ascher. "Users are also free to remix and tinker with each other's Webmaker projects in order to start slowly and steadily expand their creative potential."
Shared projects can be viewed on any platform, mobile or desktop, and users with poor connectivity will experience better performance while offline. Content discovery is now location-based, so you can see what others in your community are creating and remixing.
The promise of more language support is most welcome. Returning to February's report, one of the unsurprising findings was that, quite simply, the Web is in English, which affects the esteem of people with low levels of education in emerging countries and creating a stigma that prevents these users from going online. As a teenager from the Pune region in India said: "When someone is accessing the Internet, you can be sure that they speak English."
Email Newsletters
Sign up to receive TelecomTV's top news and videos, plus exclusive subscriber-only content direct to your inbox.