Sourcing power-efficient kit is key to telco energy efficiency – poll results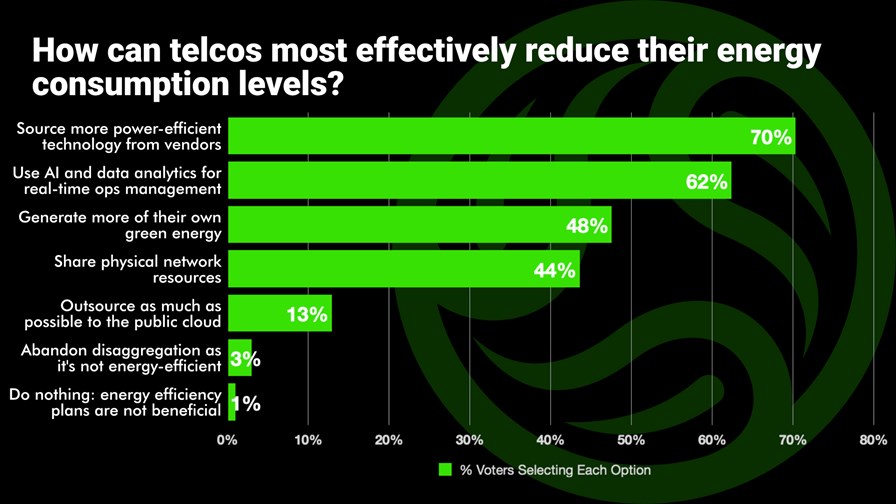 TelecomTV's Green Network Summit took place recently
We ran a poll regarding network energy consumption during the summit
We asked about the most efficient ways for telcos to reduce energy consumption
Most votes went to recommendations for using power-efficient technology from vendors, AI and data analytics
The results are in: Deploying more power-efficient technology from network vendors, and implementing artificial intelligence (AI) and data analytics tools for real-time operations management, are the main ways in which telecoms operators can reduce their energy-consumption levels and, consequently, become more environmentally sustainable, according to the results of a poll conducted during TelecomTV's recent Green Network Summit.
Lowering network energy usage has been a top priority for the industry for a while now, especially with the ongoing climate change crisis, but even more so in the past year given rising energy bills due to complex geopolitical issues. We asked the summit's attendees to vote in our poll: How can telcos most efficiently reduce their energy-consumption levels?
We provided seven possible answers and respondents could select as many as they deemed applicable.
A staggering 70% of voters believed operators could 'source more power-efficient technology from vendors". This is understandable, as the equipment and related technologies deployed in telco networks account for a high percentage of their power consumption. According to Ericsson, for example, the radio access network (RAN) accounts for more than 75% of the service provider's network energy consumption – see Telcos must modernise networks to combat rising energy costs.
The second most popular option, cited by 62% of respondents, was that telcos should 'use AI and data analytics for real-time ops management'. Such smart tools and solutions have often been highlighted as a useful way for telcos to firstly track their consumption across operations, and then switch off certain elements accordingly (such as when there is less traffic). This is something that telco group Orange, for instance, has repeatedly outlined as a key part of its strategy to reduce consumption – see Orange makes progress towards greener networks.
As an alternative to using technology to help with tracking and cutting down power consumption, almost half of voters (48%) suggested that telcos generate 'more of their own green energy'. A few operators have already been making strides with this, including Orange with its first solar farm in Europe and Vodafone with its claims of the "UK's first live 'self-powering' mobile phone mast".
Close behind, cited by 44% of voters, was the option 'Share physical network resources'. Instead of going through the hefty and expensive tasks of building new power-hungry sites, a notable portion of the audience believed telcos can share their physical network portfolio with their peers to reduce energy usage. Such schemes exist in the UK and Germany, and now discussions are taking place for similar moves in other countries, such as Italy.
A relatively small number of respondents (13%) believed telcos can save energy if they 'outsource as much as possible to the public cloud'. Indeed, some hyperscalers, such as Microsoft, have been claiming that switching processes and functions to public cloud platforms is much more energy-efficient than using on-premises IT infrastructure and private datacentres.
The belief that telcos should 'abandon disaggregation as it's not energy-efficient' garnered votes from just 3% of respondents.
The least popular option (thankfully) was that telcos should 'Do nothing: Energy efficiency plans are not beneficial'. Fortunately, only 1% of those who voted opted for this response meaning most of the audience believes that action can, and should, be taken to reduce energy consumption and shrink carbon footprints.
Catch up with all the sessions from The Green Network Summit, including interviews with executives from Deutsche Telekom, Telefónica, Verizon, Wind River and much more.
- Yanitsa Boyadzhieva, Deputy Editor, TelecomTV
Email Newsletters
Sign up to receive TelecomTV's top news and videos, plus exclusive subscriber-only content direct to your inbox.