What's up with… AI safety, Vodafone and Three, Swisscom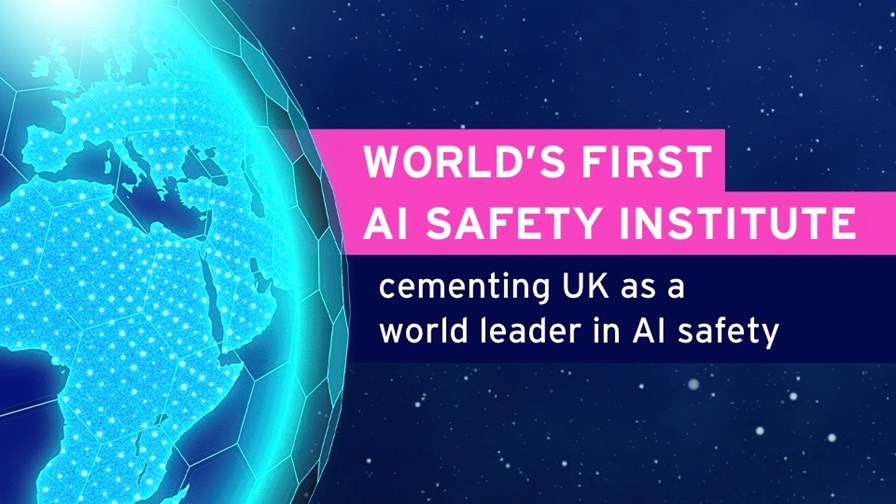 All hail The AI Safety Institute
The EC is smiling on the proposed Vodafone UK and Three merger
Swisscom hits a brick wall at home
In today's industry news roundup: The AI Safety Summit is over and now we have an AI Safety Institute; The European Commission looks set to give its blessing to the proposed merger between Vodafone UK and Three; Swisscom is on the wane in its domestic market; and much more!
The AI Safety Summit is over and it's being regarded by Politico as a coup for UK Prime Minister Rishi Sunak, who ended the two-day high-level gathering by conducting a fan-boy interview with Elon Musk on Thursday evening that many cynics are identifying as Sunak's calling card to Silicon Valley. It is Musk who generated most of the headlines as a result of the interview as he told a starry-eyed Sunak that "There will come a point where no job is needed – you can have a job if you want one for personal satisfaction but AI will do everything… It's both good and bad – one of the challenges in the future will be how do we find meaning in life." But the point of the summit was not to give Sunak great job options when he gets ousted from 10 Downing Street. So was the summit a success in terms of advancing AI safety? It would be unkind to say there were no positive outcomes, as there were some loose agreements, broad commitments and platitudes from countries and AI developer giants, such as Anthropic, AWS, Google, Meta and Microsoft, regarding the testing of new AI models at the newly named AI Safety Institute. This is in addition to The Bletchley Declaration, which was signed by 28 countries that all agreed on the "urgent need to understand and collectively manage potential risks through a new joint global effort to ensure AI is developed and deployed in a safe, responsible way for the benefit of the global community," as we reported earlier this week. So it's a start, but whether anything tangible will come of it all, and whether this is even the right focus for a multilateral AI initiative, is yet to be seen.
It's not just AI that is a tech focus for the UK government – quantum computing is also regarded as a sector awash with home-grown expertise, as was shown off at the UK National Quantum Technologies Showcase this week.
While the European Commission is still reviewing the proposed merger between Vodafone UK and Three, a filing by the commission cited by Reuters suggests that the governing body sees no anti-competitive concerns arising from such a deal. According to a report by the news agency, the two UK telcos sought approval from European Union (EU) antitrust regulators on 30 October. The proposed deal is reportedly being assessed under a simplified procedure – a method used for mergers that are not likely to raise competition concerns and where approval is likely. The deal is also under scrutiny by UK's Competition and Markets Authority (CMA) which, in October, began gathering comments from interested third parties into the potential impact of the move. The proposal has gained some objections, including by the British and Irish trade union Unite and Which?, a UK-based consumer rights organisation that recently expressed concerns over "substantial risk that the merger could have negative outcomes for consumers in the short term, including less choice, lower quality and higher prices". Vodafone and Three UK confirmed plans for a £16.5bn merger in June and, if cleared, the proposal will create the biggest market player in the UK.
Swisscom appears to have flatlined in its domestic market, with revenues and subscriber numbers heading downhill. For the first nine months of 2023, the operator generated revenues of 6.07bn Swiss francs (CHF) ($7.45bn) on its home turf, down by 0.6% year on year, though EBITDA for its Swiss operations during the first three quarters of 2023 did at least increase by 3.8% to CHF 2.77bn ($3.1bn). The cause of the slight dip in revenues was the erosion of most parts of its subscriber base: Its retail fixed broadband customer base shrunk by almost 1% to 2 million, while its pay-TV customer base shrunk by 2.2% to 1.54 million and the number of fixed voice connections declined by 7.5% to 1.25 million. Its mobile customer base in Switzerland edged up slightly year on year, by 0.5%, to almost 6.2 million. At the group level, its financial numbers were slightly up thanks to the recent gains in Italy via its subsidiary Fastweb, which reported a 3% increase in revenues to CHF 1.87bn ($2.08bn) during the first three quarters thanks to a 38.5% year-on-year increase in wholesale fixed broadband lines to 579,000 and a 16.7% increase in mobile connections to 3.43 million, though Fastweb's retail broadband business did suffer a 3.1% decline in connections to just over 2.6 million. According to Swisscom's corporate spin machine, everything's going just fine. "Swisscom is in an excellent position and can face the future with confidence," stated CEO Christoph Aeschlimann. "In the first nine months of this year, we achieved strong customer satisfaction and excellent financial results, with higher operating income. We recently launched a key product innovation with the new TV-Box 5: The box offers a whole host of new options and is a lot smaller and more energy efficient at the same time. In Italy, our subsidiary Fastweb continues to report growth in customers, revenue and operating income," noted the CEO. Excellent financial results? That's very debatable.
Airtel Business, the enterprise solutions arm of Indian telco giant Bharti Airtel, has launched a unified platform offering global interconnect solutions. The solution, named Airtel Advantage, acts as a "one-stop destination" for carrier partners to use a number of services, including international voice connectivity, application-to-person (A2P) messaging, person-to-application (P2A) SMS messaging, person-to-person (P2P) messaging, direct inward dial (DID) and an international toll-free service (ITFS). Bharti Airtel claimed to be the first Indian telco providing such an offering, which pledges to enable carrier partners globally to "seamlessly address their connectivity needs in a few clicks". "The transparency, agility, reliability and ease of doing business offered by Airtel Advantage will transform the way carriers globally access interconnects," claimed Vani Venkatesh, CEO of global business at Airtel Business. Learn more.
The news came as Bharti Airtel reported a 10.9% year-on-year increase in fiscal second-quarter revenues in India to almost 270bn Indian rupees ($3.24bn) and an improved operating income margin of 24%. It ended September with 389 million customers. The operator, which has been investing heavily in its nationwide 5G network rollout this year, didn't specify the size of its 5G customer base (we just know it topped 50 million recently), but it did note that its capital expenditure for the quarter was 77.8bn Indian rupees ($935m), equivalent to almost a third of its revenues. However, the major period of 5G investment is pretty much over, so that level of spending on its network infrastructure won't be continuing into 2024, much to the disappointment of the vendor community.
Test and measurement vendor Viavi Solutions is the latest vendor to take a financial hit from the current telco capex crunch in the US. It reported a 20.1% year-on-year decrease in revenues for its fiscal first quarter (ending 30 September) to $247.9m as the "spend environment continued to be challenging during the September quarter, particularly with the service providers in North America," noted president and CEO Oleg Khaykin in this earnings announcement. The vendor's operating income also took a big hit, dropping by 67.9% to $16m. It expects revenues in the current quarter to be between $240m and $260m. This year has been a tough one for many telecom vendors as the US telcos have tightened their purse strings significantly, a move that has stung both Ericsson and Nokia over the past year or so.
Metaverse aficionados (and investors alike) should brace themselves for tough times – at least according to analytics company GlobalData. In its latest report, the company has predicted "an uphill path" ahead for the metaverse due to limited use cases. The virtual world concept is also feeling the pain from "limited knowledge of the theme, unimpressed consumers, the postponement of projects by big tech, and concerns with privacy and security". Despite this, GlobalData still expects the metaverse to be worth some $400bn by 2030, up from $48bn in 2022. "The metaverse has struggled to live up to the excessive hype that built up in 2021 and early 2022. The theme has lost its lustre due to limited use cases and the limitations of underlying technologies like blockchain, augmented reality (AR), virtual reality (VR), and digital twins. Without improvements in these technologies, the metaverse will continue to disappoint," said Rupantar Guha, principal analyst at GlobalData's Thematic Intelligence team. He added that in the enterprise domain, solutions such as data visualisation, collaboration and training will fuel metaverse uses, and despite sceptic views on its long-term benefits, if the metaverse focuses on the future of work, this is set to "boost adoption by large enterprises in the next five years". Find out more.
Crypto crook Sam Bankman-Fried is looking at a long stretch following his conviction for fraud related to the collapse of the FTX cryptocurrency exchange and crypto hedge fund. Check out the details in this Guardian article.
Thousands of homes will, for the first time in the UK, be kept warm by waste heat from nearby datacentres in a development helped by financial support from the Green Heat Network Fund, the government has announced. It'd be nice to see more of this kind of news: It's not a new concept, as such heating schemes have been in place in countries such as Finland for some time now, but it's a welcome move and one that will hopefully become the norm.
- The staff, TelecomTV
Email Newsletters
Sign up to receive TelecomTV's top news and videos, plus exclusive subscriber-only content direct to your inbox.