What's up with… VMO2, AI safety, Vodafone, Patrick Drahi & Altice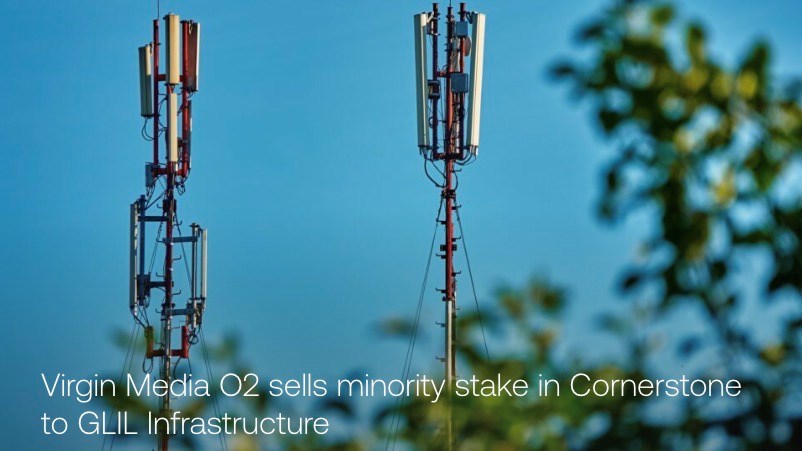 Virgin Media O2 sells towers stake, and reports sales and subs rises
As the AI Safety Summit begins, Vodafone shares some thoughts
Pressure is growing on serial telecom investor Patrick Drahi
In today's industry news roundup: As it reports sales and customer base growth for the third quarter, UK telco Virgin Media O2 announces the sale of a stake in its towers joint venture; Vodafone shares some worthwhile thoughts as the AI Safety Summit begins in the UK; telecom industry investor Patrick Drahi's M&A dreams are turning into something of a nightmare; and much more!
Virgin Media O2 (VMO2) has agreed to sell a 16.67% stake in UK mobile towers business Cornerstone to infrastructure fund GLIL Infrastructure for £360m in cash, a deal that values Cornerstone at £2.16bn. Speculation that a deal with GLIL was imminent emerged earlier this week: VMO2 began the process of selling a stake in the towers operation in April this year. Following the sale, VMO2 will still hold a 33.33% stake in Cornerstone, which has about 20,000 sites across the UK, while its joint venture partner Vantage Towers will own the remaining 50%. "Selling a minority stake in Cornerstone is a logical move for us," noted VMO2 CEO Lutz Schüler in this announcement. "We are partially monetising our tower infrastructure, while retaining operational and strategic co-control in a key asset as we roll out 5G to more of the country and boost 4G connectivity. This deal aligns perfectly with our core infrastructure and capital allocation strategy, which sees Virgin Media O2 continue to invest in the UK to expand and upgrade our next-generation fixed and mobile footprints. As a trusted UK-centric investor, GLIL is the best long-term partner for Virgin Media O2 at Cornerstone," added the CEO.
So VMO2 is banking £360m from GLIL, but that's small fry compared with the operator's current net debt, which stands at £21.3bn, according to its third-quarter earnings release. The operator does at least have scale – its fixed network now reaches 16.7 million premises and it has a nationwide mobile network – and it is growing its broadband and contract mobile subscriber bases, all of which should help it to generate the cashflow that will help manage that debt. During the third quarter of this year, VMO2 added almost 41,000 fixed broadband customers to take its total to 5.7 million (excluding customers being added as a result of the recent acquisition of altnet Upp) and added 50,000 contract mobile customers to take its total to 16.1 million. VMO2 also has almost 11 million internet of things (IoT) devices connected to its network, having added almost 386,000 since the end of the second quarter, so that's a massive leap albeit in a low-margin part of its business. (Note that VMO2 bundles all of its mobile connection stats together, including wholesale, IoT and pre-paid users, to get to an impressive total of 44.6 million for its headline number…) Total group revenues increased by 7.1% year on year to £2.77bn, though this includes network construction revenues from the Nexfibre broadband joint venture in which VMO2's parent companies, Liberty Global and Telefónica, hold a 50% stake: Excluding those network construction revenues, revenues increased by 1.3%. Adjusted earnings before interest, tax and other charges increased by 5.6% to almost £1.05bn. And while the numbers are heading in the right direction, macroeconomics are weighing on the operator's outlook – VMO2 now expects its revenues for the full year (excluding Nexfibre construction income) to be "stable" instead of the company's previous expectation of growth. For the full details of VMO2's third-quarter performance, see this earnings release.
VMO2's results were published at the same time as those of Liberty Global, one of its parent companies. Liberty Global, which has operations in the UK, Ireland (Virgin Media), the Netherlands (VodafoneZiggo), Belgium (where it recently took full control of Telenet), Switzerland (Sunrise) and Slovakia (UPC), reported revenues of $1.85bn for the third quarter, up by 6.2% year on year, and adjusted earnings of $598m, down by 10%. (Note that Liberty Global doesn't include the financials of its joint ventures in the UK and the Netherlands in its group numbers). Worrying for the company, though, is that VMO2 in the UK was the only one of its operating units to increase subscriber numbers during the quarter. For further details, see this earnings release.
The two-day AI Safety Summit, which aims to convene "leading AI nations, technology companies, researchers, and civil society groups to turbocharge action on the safe and responsible development of frontier AI around the world", began today at Bletchley Park in the UK – you can find out more about the buildup to the event in this recent TelecomTV article. The attendees – some of the individuals in situ have signalled their participation on the Who's attending page of the summit's website – were still warming their seats when the UK government, which is hosting the event, announced that "leading AI nations have reached a world-first agreement at Bletchley Park establishing a shared understanding of the opportunities and risks posed by frontier AI". The agreement, dubbed The Bletchley Declaration, has been signed by 28 countries, including China, the US, Israel, Japan, South Korea, Brazil, Saudi Arabia, the United Arab Emirates (UAE), Germany, France and of course the UK. The signatories have agreed to the "urgent need to understand and collectively manage potential risks through a new joint global effort to ensure AI is developed and deployed in a safe, responsible way for the benefit of the global community," and have resolved to support international collaboration on scientific research related to AI. Which is all very laudable, but even global climate change agreements, which include actual targets and concrete measures of the utmost importance, have been disregarded by many countries and global warming limitation targets are being missed, so what chance is there that a somewhat toothless agreement will actually have any bite? But it's the first morning and the start of a process – let's see what comes out of the rest of the summit and what actually happens afterwards. Currently, though, it looks mostly like an opportunity for some countries to feel rather pleased with themselves.
In the meantime, questions are still being asked – as they were by some ahead of the summit – as to whether the event has the most appropriate focus. There have been a number of statements circulating around the technology media, with companies and organisations looking to jump aboard the bandwagon and say how important AI is and to share mostly bland platitudes, so it's good to see a company issue a statement that takes a bit more of a grounded overview and states – "Politicians attending the AI safety summit should look to address some fundamental questions. Are they getting an honest picture of the capabilities and limitations, indeed risks, of generative AI? Are they engaging with the full spectrum of stakeholders who can inform them? There are signs that they haven't been so far, and that has implications for trust in the technology." The company in question? Vodafone Group. And it's not a corporate and unattributable blog – it comes from CTO Scott Petty (who, in TelecomTV's view, can always be relied on for an informed perspective) and Joakim Reiter, the telco's chief external affairs officer. Here's a bit more of what they have to say: "The Department of Science, Innovation and Technology (DSIT) says talks at the summit 'will explore and build consensus on rapid, international action to advance safety at the frontier of AI technology.' In doing so, we believe that attendees must avoid the temptation to follow recent trends, where headlines and political statements have focused on distant, apocalyptic threats." They continue: "The idea that we can regulate all the possible use cases of AI is clearly a non-starter. Innovation by permission is the death of innovation. Governments can and should nurture AI experimentation, while working with industry to ensure this is done responsibly… Those gathering at Bletchley Park understand that AI is still in its infancy. The ideal outcome of this meeting would be to achieve consensus on how best [to] collaborate for the future regulation, development and adoption of AI in ways that truly benefit society – not in ways that threaten it." You can read the full blog here.
The Moroccan-born, French-Israeli businessman and billionaire, Patrick Drahi, took great advantage of the historically exceptional era of very low interest rates to build Altice, his sprawling telecoms and media conglomerate. He did so by using cheap money to finance by debt his endless quest for acquisitions, which included a 24.5% holding in the UK's incumbent telco BT Group (a move that spooked both the operator and the British government). Now with interest levels back to those not seen for a decade and more, and likely to remain high into the indefinite future, Drahi is saddled with servicing a debt of more than $60bn. That huge sum is split between the three main parts of the Altice empire – Altice France, Altice International and Altice USA. Recently, Altice International approached investors to tap them up for €500m. The purpose? To have the cash to repay bonds that will mature in 2025 – not a good signal to an already jittery market. The invitation to invest was made through Altice International because that entity has a net debt-to-EBITDA ratio of 4.8, better than the 5.8 of Altice France and the 6.7 multiple of Altice USA. And there's the nub of Patrick Drahi's problem. On Tuesday, Vodafone Group agreed the sale of its Spanish assets to Zegona Communications for €5bn, which equates to an EBITDA multiple of 5.3 including debt. Following news of that deal, Bloomberg Intelligence analyst Aidan Cheslin noted that the Vodafone deal means it's time for Drahi, who has said that anything in the Altice portfolio is up for sale if the price is right, to take a "reality check". That's because under current market conditions, based on the Vodafone/Zegona deal multiple, Altice France (which is already leveraged at a 5.8 multiple), would actually have an equity value of either zero or even in negative territory. And it's not like the Zegona deal multiple is out of step with the current M&A market: "Worryingly, the sale multiple is not out of whack with industry average," noted Cheslin. Another concern for Drahi is that Altice remains embroiled in a corruption scandal that has convulsed the company since the group's co-founder, Armando Pereira, was arrested and placed under house arrest in his native Portugal this summer on accusations that he diverted millions of euros to other accounts via Altice's procurement programmes and processes, though it seems he might be about to go for a stroll or even travel overseas following the posting of €10m in bail, according to local reports. Trouble looms for Drahi, it seems.
At last there is some good-ish news for India's battered telco Vodafone Idea (Vi), the country's third-largest mobile operator. The company's shares rose by 7% on Wednesday to a 52-week high of 12.7 Indian rupees (INR) on the news that the sluggard operator has at last got round to tweaking its commercial products and is to launch "converged offerings" in a belated attempt to compete with its giant rivals Reliance Jio and Bharti Airtel. The new initiative, Vi One, is targeted at prepay customers and will provide them with mobile services, fixed broadband access and content. Vi One will first be piloted in 12 cities across three of India's 22 telecom 'circles' (service regions). Most circles coincide with state boundaries but there are exceptions, including Mumbai and Kolkata. All circles are different in terms of the mix of urban to rural populations, and the ability and willingness of consumers to pay for a range of digital services. The pilot scheme is a partnership between Vi and You Broadband India, a company providing voice and data services to domestic and business subscribers in heavily populated towns and cities. The plan is "eventually" to expand Vi One to other areas. The new offering comes six weeks after Vi expanded its INR 99 (US$1.19) prepaid plan to 15 additional circles. In a statement to his twitchy investors, the CEO of Vodafone Idea, Akshaya Moondra, noted, "We reiterate that we continue to have a disproportionate focus to build a digital ecosystem with our partners enabling a differentiated experience for Vi users, which will help us drive consumer stickiness as well as providing incremental monetisation opportunities." Meanwhile, the clock ticks on, and although the customer churn rate slowed a little in the most recent quarter, it wasn't enough to staunch the overall flow of disgruntled subscribers, and the operator once again reported significant financial losses and further attrition to its customer base, which stood at 219.8 million at the end of September. Moondra concedes that "Vi needs to protect its subscriber base/revenue share". It certainly does. Subscribers to Vi One have four prepay plans to choose from that apply for either 90 or 365 days. They range from INR 2,192 ($26.31) to a massive INR 12,155 ($145.88). Whether or not Vi One is part of the solution to the telco's ongoing troubles remains to be seen. Despite the fact that the Indian state now owns a controlling share in the company and might be forced to bail it out via another round of equity conversion, the prevailing sentiment in the India media is that it's probably too little, too late. Mind you, we've heard that one before!
Here's an interesting development in the world of AI research and development, where access to all-important graphics processing units (GPUs) is in short supply… Amazon Web Services (AWS) has launched Elastic Compute Cloud (EC2) Capacity Blocks for ML (machine learning), a "consumption model that enables any customer to access highly sought-after GPU compute capacity to run their short-duration machine learning (ML) workloads," boasts AWS in this announcement. AWS says its offer is an "industry first", but as The Information noted, there are about a dozen startups that are enabling developers to rent GPU capacity, with the latest, Voltage Park, having just emerged from stealth mode.
Japanese technology and telecom giant SoftBank looks likely to take yet another hit related to its investments in flexible workspace giant WeWork, which is reportedly set to file for Chapter 11 bankruptcy protection in the coming days, Reuters has reported. Over the years, SoftBank, either directly or indirectly, invested more than $18bn in WeWork, but the office-space provider is now almost worthless, having lost 96% of its value this year alone: Its share price currently stands at $2.28 and its market value is just $121.4m.
South Korean operator KT is teaming up with Telkom Indonesia to develop and implement the communications technology elements of Nusantara, the city currently under construction on the island of Borneo that will replace Jakarta as Indonesia's new capital city from August 2024. KT and Telkom have agreed a memorandum of understanding (MoU) that will see KT cooperate in the development and construction of a 'smart city' in Indonesia's new capital. KT's smart city, quantum cryptography and cybersecurity technology will be integrated with Telkom's fixed and wireless network infrastructure. In addition, the telco partners plan to collaborate on Nusantara's datacentre requirements and the development of AI-enabled smart city applications for vertical sectors, such as transport and utilities. For further details, see this press release (in Korean).
- The staff, TelecomTV
Email Newsletters
Sign up to receive TelecomTV's top news and videos, plus exclusive subscriber-only content direct to your inbox.