GenAI's benefits will outweigh the risks for telcos, finds Capgemini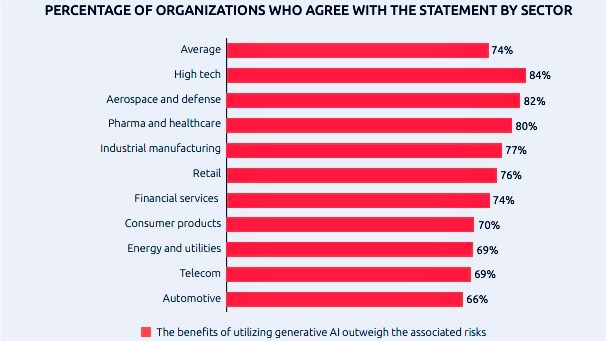 Capgemini asked hundreds of executives about their views on generative AI (GenAI)
Most telecom industry execs believe the benefits will outweigh the risk
The response across most sectors is positive
A majority of telecom industry executives believe the benefits of generative AI (GenAI) tools will outweigh the risks, according to the results of an extensive new study by IT services and consulting giant Capgemini.
The company conducted a survey of executives from 1,000 organisations (based in Australia, Canada, France, Germany, Italy, Japan, the Netherlands, Norway, Singapore, Spain, Sweden, the UK and the US) from multiple industries to gauge their perceptions of GenAI and the adoption of use cases, with about 100 of respondents coming from the telecom sector.
And to help in the process, the Capgemini team defined GenAI as "a technology with the capability to learn and reapply the properties and patterns of data for a wide range of applications, from creating text, images and videos in different styles to generating tailored content. It enables machines to perform creative tasks previously thought exclusive to humans. This creates a wide range of applications for generative AI – from summarising and translating text to customer service. One prominent example of the technology is OpenAI's ChatGPT, which focuses on text generation and has seen significant popularity among consumers."
The results of the survey are broad and the resulting report – Harnessing the value of generative AI: Top use cases across industries – is long, but there are some interesting takeaways about how telecom industry executives are thinking about GenAI right now.
When asked whether they agreed with the statement that the benefits of using GenAI would outweigh the associated risks, 69% of telecom sector respondents said they did, though it's notable that respondents from nearly every other sector were more positive, with only those from the automotive sector being less bullish (though not by much, with 66% agreeing with the statement).
GenAI is certainly a hot topic – 96% of telecom industry respondents said GenAI is being discussed in their boardrooms. And the mood is generally positive: 60% of telecom respondents say their company leaders are strong advocates of GenAI, while 39% believe their leaders are taking a wait-and-see approach, and just 1% believe their top team is not convinced.
That positivity is backed up by the responses to another question, which found that only 12% of telecom industry executives believe GenAI will be disruptive to the sector: Interestingly, that was a lower number than all the other sectors covered by the survey except for the retail industry, where just 3% of respondents expected disruption from GenAI applications.
But it's still early days for organised activity – just 36% of the telecom industry respondents said a dedicated team had been established, and budget assigned, to integrate GenAI into future product or service development plans: In the high-tech sector, the response was 74%, while in the retail sector it was 62%.
That doesn't mean progress isn't underway – in fact, far from it. Of the telecom sector respondents, 49% said GenAI pilots were taking place within their organisation, while 4% said GenAI was already being used: The remaining 47% said their companies were still exploring its potential. Call centre analytics is the area where most GenAI activity, in the form of pilots or even deployment, is underway in telecom.
The report is 80 pages long, so there's a lot to take in, but it provides interesting insight into a topic that has taken the world by storm in the past six months.
For further coverage of this topic, see:
DT and Orange join protest against Europe's planned AI rules
New partnerships fuel SK Telecom's AI aspirations
Nvidia and SoftBank team on GenAI, 5G/6G platform
Veon jumps on the GenAI bandwagon
GenAI fever gives Nvidia a boost
e& targets customer service gains with GPT.
- Ray Le Maistre, Editorial Director, TelecomTV