The Apple SIM has got mobile operators all fired up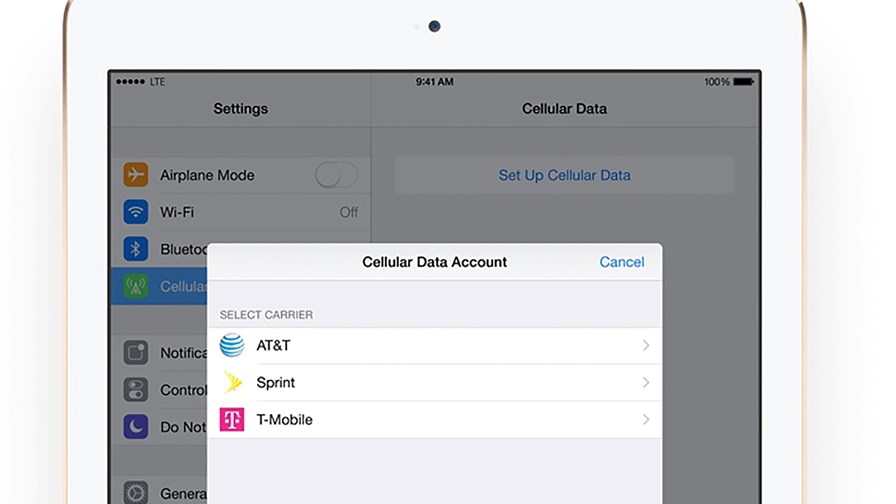 When Apple launched its new iPad Air 2 tablet earlier this month, it made much noise about its screen, physical attributes, and processing power. But it didn't mention the most potentially disruptive aspect of the device – the first appearance of its Apple SIM. This "configurable SIM" enables users to chop and change between cellular providers, as and when necessary, without having to physically switch SIM cards.
Great idea, from a users perspective. After all, you might not want 24/7 cellular connectivity for your tablets, preferring to rely on wi-fi for the most part and switching over to cellular on a pay as you go basis when it's needed – a feature that could be especially useful when you're roaming.
The feature was hidden away in the technical specs on the website, and wasn't mentioned at all by Apple during the product's launch. According to the website, the service was supported by EE in the UK and AT&T, T-Mobile and Sprint in the USA. Except, certain telcos had a looser definition of "supporting" than others.
Over the weekend it was revealed that AT&T wasn't about to roll over and be Apple's lapdog. The US operator, once the prized launch partner for the first iPhone, decided that it didn't much like the ability for its customers to easily switch to another provider, and decided that locking them in to an AT&T contract would be a far better idea.
Unlucky iPad Air 2 owners who select AT&T as the cellular provider will find themselves instantly locked in – with the soft switching option disabled. If they later want to switch to another operator, they will have to physically remove the Apple SIM and buy and insert a new telco-specific one.
As AT&T spokesperson Mark Siegel explained to the inquisitive media: "With us you can change carriers with this iPad any time you want. It is an unlocked device. All you have to do is switch out the SIM in the device so it works on another carrier."
But why force a customer to jump through all those hoops, when a simple "flick and touch" of the screen would accomplish the same thing in seconds?
"It's just simply the way we've chosen to do it," said Siegel.
Cue a mixture of laughter and outrage in equal measures, not least from John Legere, CEO of rival telco T-Mobile. Legere is never one to shy away from controversy and is always more than happy to tell it as it is. He took to Twitter with a one-man tirade against AT&T with a series of 20 tweets (who says 140 characters is enough?).
"You can pick AT&T but once you do, you can't switch again! Typical. And if you pick another carrier, AT&T is removed from subsequent choices," tweeted Legere.
12/ Clearly the Apple SIM is a smart move on Apple's part - it expands and enhances their position in the mobile ecosystem.

— John Legere (@JohnLegere) October 25, 2014
Still, it's better than Verizon Wireless, which has decided that it won't support the Apple SIM at all.
And whilst Sprint does support it, there are technical complications which somewhat stymie the whole switching process. Specifically, Sprint insists that the iPad's IMEI number be stored in its network registry. This means that if you want your iPad to work on Sprint's network, using the Apple SIM, you had better have bought it from an official Sprint Store, as otherwise it won't register. So much for easy switching then.
As Legere notes, "It's complicated, and it is an emerging change in the mobile ecosystem that we will have to figure out as we go."
It certainly is. For example, the new iPad ships with three different SIM types in the US market:
un-configured Apple SIMs in devices purchased direct from Apple;
pre-configured carrier-specific Apple SIMs for devices sold through AT&T and T-Mobile;
carrier-specific SIMs (non-Apple) for devices sold through Verizon Wireless and Sprint.
The reason T-Mobile sells a pre-configured version of the Apple SIM is simply that the un-configured ones are not yet available to carriers, although there is every indication that this will change. No wonder Apple didn't draw any attention to the feature; so why include it in the first place?
Is Apple beta-testing the service on a compliant public? Or is it trying to force the mobile industry to accept the inevitable, and won't put up with delaying tactics and stalling? We suspect the latter.
It must be remembered that the iPad is not a smartphone – it doesn't need 24/7 connectivity in the same way, so experimenting with a configuarble SIM on a tablet is a sensible idea. Also, cellular usage of iPads is way down on wi-fi usage, so anything to reverse this decline would surely be welcomed by carriers, no matter how begrudgingly. Unless of course, those same carriers are terrified of the Apple SIM being pre-installed in iPhones. Interestingly, the usual vocal GSMA is keeping rather quiet on this matter.
Not so simple SIM
Back when Steve Jobs was having his run-ins with telcos, he apparently questioned the idea of SIM cards. In fact, SIM cards vexed him so much that Apple took an active position in the SIM standardization process.
In late 2010, the GSMA had a change of mind over the future direction of the SIM (once a giant credit card-sized item that you could store in your wallet; how times change). It decided that it would standardize a new form of embedded SIM, which would allow for remote activation and updates. It had earlier opposed the idea, which was supported by Apple and others, on the grounds that "extended Over-the-Air activation represents a potential weakening of security".
The application of the embedded SIM soon saw great use in the M2M sector, although the full potential of such "programmable SIMs" has yet to be realized. Apple continued to be active with its SIM efforts though, proposing the nano SIM to free up more space within devices. Of course, a fully "soft SIM" would do away with the physical card altogether.
Apple's scored only a partial victory in 2010 with embedded SIMs – there was much speculation that new iPhones would feature embedded SIMs, with no means of user access for swapping them out, although reports suggest that Apple backed down after a number of European carriers threatened to withdraw subsidies.
This was still the early days for the iPhone and iOS ecosystem, so Apple needed the support of carriers. Now though, four years on, the situation is rather different. We still have arguments about who "owns" the customer, but brand power is firmly with the leading device and OS manufacturers. We want Apple or Samsung products and related services, more than we want AT&T or EE ones.
Commentators are today split between those who think the Apple SIM is the start of a major disruptive drive by Apple for greater control of the mobile sector, and those who think it is a minor extension of the years-old programmable SIM and nothing to get unduly worked up about.
The smart money says "never underestimate Apple".
Email Newsletters
Sign up to receive TelecomTV's top news and videos, plus exclusive subscriber-only content direct to your inbox.