The 5G battleground for NFV, OpenStack and who gets to call the shots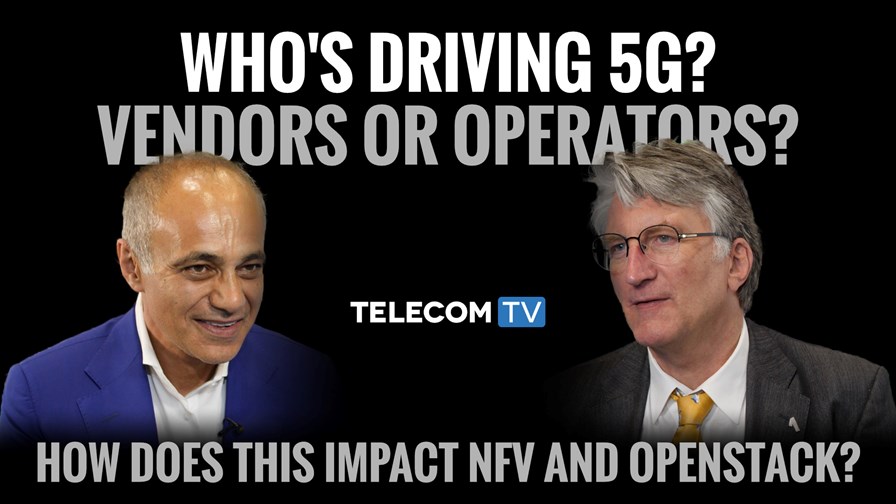 Highlights from TelecomTV's exclusive series of recent videos
The state of 5G development and readiness from 5G World
Continuing the momentum at NFV World Congress
And planning for the future at the OpenStack Summit
Mobile operators and technology vendors have always enjoyed something of a love-hate relationship. They need each other, but like any partnership, there are times when one side starts to assert its dominance – and the other side reacts accordingly. The vendors have long enjoyed the upper hand over operators; yes, they both play the price game and try and squeeze each other over margins, but ever since operators largely divested themselves of technology creation it has been up to their vendor "partners" to determine what products are made available.
Recent years have seen an initiative designed to loosen up the vendor "lock in" problem, using the disintermediation of hardware and software to reduce dependencies and encourage new entrants into the telecoms market. Hence virtualisation of network functions, the cautious acceptance of the open source software community and a move towards networking defined and controlled by software rather than proprietary hardware.
Has this been enough for operators to feel that the balance of power has swung back in their direction? Unlikely, if our recent coverage of issues at several major industry events is anything to go by. Yes, some operators feel more empowered, but they are determined to push harder and further, and the standardisation of 5G is becoming something of a battleground. Meanwhile, the established vendors continue to fear the worst – and you only have to glance at Ericsson recent financial and market updates to see why.
Here's our coverage of 5G World, held a week ago in London:
Whilst we would obviously love you to watch them all, there are a couple in particular that are worth noting. Firstly, Deutsche Telekom is not disguising the fact that it is no longer going to accept closed networking solutions, arguing that it has wanted to open up access to its RAN products for the past thirty years! It has its interesting xRAN project and is also one of the Facebook-led Telecom Infra Project (TIP) partners (and by all accounts isn't just an observer, but is actively pushing this, along with other key telcos such as Orange). In fact, BT is also a member, though you don't hear too much about it, and we recently witnessed a demo of its 800Gbit/s TIP Voyager connectivity solution (we hope to bring you more on this in the coming few months). Deutsche Telekom bemoans the lack of innovation in its network, and wants to see far more companies given access to the market, rather than just the handful of established vendors.
One such candidate could well be Lime. The company already has a major initiative underway with EE/BT, to see how they can open up the RAN market. Lime's goal is to commoditise the radio access network, running software networking apps on top of Intel-based off-the-shelf hardware. Meanwhile, Nokia is one of the established vendors that is feeling the pressure. Whilst it is all well and good for an operator to shop around, very few vendors have the size and depth of expertise to support an operator's complex and expensive network deployments. Change always comes with risks and uncertainties.
Meanwhile, the development of NFV continues apace. Telcos such as Telefonica and Orange continue to be staunch supporters of NFV and early trial partners, as the original architects of telco NFV seek to maintain momentum.
Coverage of the recent NFV World Congress event from San Jose can be viewed here:
The delegates at NFV World spent a lot of time discussing what it means to be "cloud native" – a term for software that was designed and built to run in the cloud, as distinct from software that started life on either on a physical appliance or running on "bare metal". The cloud native approach has a host of native advantages for operators: the software is easier to deploy, is more efficient and is more resilient. Cloud native could very well transform the telco industry from a "transmission" business to a "computing" one. Possibly.
OpenStack is being touted as the networking fabric of the future. If all goes to plan, we could very well see OpenStack being adopted to run NFV. TelecomTV was present at the OpenStack Summit in Boston earlier this month, where we spoke to the traditional vendors (Ericsson and Nokia) as well as some of the disrupters (Canonical and Google). We also spoke to Verizon, one of the major operators that is not afraid to jump straight in with its own "white box" strategy. If you need a primer for OpenStack and how it is being viewed by the telecoms industry, then please watch our coverage below.
Email Newsletters
Sign up to receive TelecomTV's top news and videos, plus exclusive subscriber-only content direct to your inbox.