Ericsson expands its 5G portfolio following successful end-to-end operator demos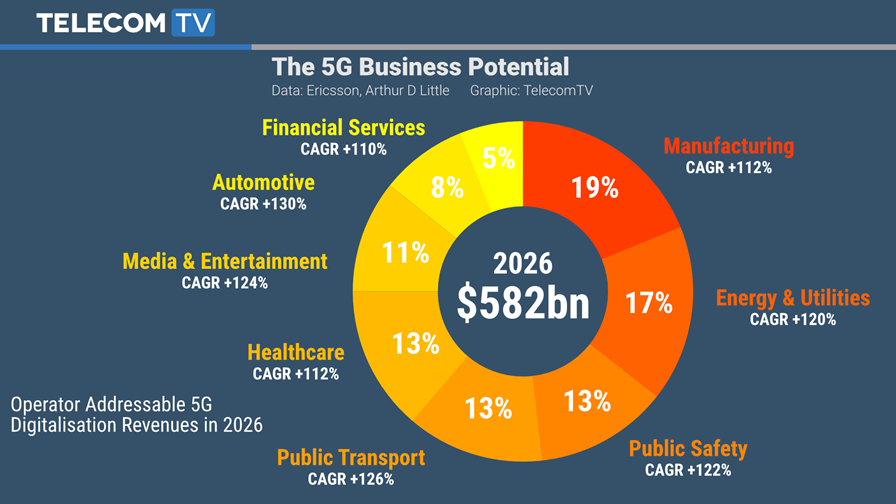 Claims first to market with combined core and radio for 5G use cases
Expects that in 2026, there will be a $582bn 5G market opportunity globally
Additions to its 5G NR prototype now cover all frequencies
Conducts first end-to-end 5G network trial with SK Telecom
Ericsson has unveiled its 5G platform for those operators keen to get a first mover advantage with the evolution of their LTE networks to 5G. The new 5G platform comprises the company's 5G core, radio and transport portfolios, together with digital support systems, network transformation services and security (see its related security news here and network slicing here).
"With this launch, we introduce our 5G platform to support the beginning of a huge change in network capabilities, allowing our customers to offer more advanced use cases and new business models to their customers," said Arun Bansal, Head of Business Unit Network Products at Ericsson. "It is an important milestone enabling operators to continue their evolution journey to 5G."
Ericsson expects that in 2026, there will be a $582 billion market opportunity globally as telecom operators leverage 5G technology for industry digitalisation. For operators, this represents the potential to add 34 per cent growth in revenues in 2026. Ericsson believes that for operators the manufacturing and energy/utilities sectors represent the biggest opportunity for revenues created or enhanced by 5G.
"We are pleased with the progress Ericsson is making in advancing 5G technology commercially," says Roger Gurnani, CTO at Verizon. "Our customer trials with 5G technology in eleven cities across the US are an important step in accelerating the path to the next generation of wireless services."
5G in the core and radio
Ericsson says its 5G Core System is capable of 5G use cases based on network slices, allowing an operator to provide dedicated virtual networks with functionality specific to the service or customer over a common network. New functionality introduced this week include:
Federated network slices for 5G roaming to a visited network;
Network slice management to automate the setup of service connections;
5G policy and user data for network slices for QoS and data integrity;
Distributed cloud for short latency applications;
Transformation services to ease the migration from legacy to 5G core.
NFV and SDN will be used for networking and programmability, bringing ultra-scalability, programmability and automation to the networks, and Ericsson's current portfolio of User Data Management, Evolved Packet Core and IP Multimedia Subsystem will work within the cloud to support new use cases.
"Ericsson's new product launch indicates technology maturity for NFV and 5G core and federated network slicing is a radical forward-looking concept, opening up for new business models opportunities," said Dimitris Mavrakis, Research Director, ABI Research.
Ericsson has added mid-band and high-band 5G New Radio (NR) radios to the solution that the company launched last year, and it will be the first to support the new standardised 5G fronthaul interface (called eCPRI). It will also continue to expand its LTE solutions, creating 1Gbit/s LTE network capabilities.
To ensure the necessary network transport capabilities to support the NR, Ericsson has also introduced optimised transport solutions that deliver a MINI-LINK enabling speed of 10Gbit/s and new rail-mounted fronthaul and router products, enabling zero footprint.
"By gaining access to a broad set of NR radio units, high performance baseband processing capacity and a full set of transport options, operators get the ability to deploy substantial trial networks delivering key insight into 5G operational characteristics and opportunity," said Ken Rehbehn, Principal Analyst, Mobile Infrastructure, 451 Research. "This is a vital step that builds operator trust and helps further overall industry progress towards 5G."
5G end-to-end network trials
Ericsson has also announced today that it has implemented the first end-to-end 5G trial system as the common infrastructure for future 5G services. The successful live demonstration based on joint development with SK Telecom was actually made back in December in Ericsson's lab in Kista, Sweden. It used Cloud Core, virtual RAN and over-the-air NR/LTE interworking. A similar demonstration was made with Telefonica in December using Cloud RAN.
"These live demonstrations with SK Telecom and Telefonica show Ericsson's long-term commitment to 5G," said Håkan Djuphammar, Head of Strategy and Technology, Business Unit IT & Cloud, Ericsson. "By leading the development of 5G technologies end-to-end, we are driving 5G technology closer to reality."
In the live demonstration, end-to-end data rates of more than 1Gbit/s and roundtrip latencies of about 4 milliseconds to a gateway outside of the core were achieved. The 5G NR used 800MHz bandwidth, running on 15GHz.
Ericsson is a regular technology partner with SK Telecom, the Korean operator that is pushing the development of 5G more than any other (Verizon and AT&T are making noises in the US, but by and large most other telcos are keeping rather quiet). The two companies have be collaborating since 2014 and have already achieved peak downlink throughput of over 25Gbit/s with 5G Radio prototypes.
Back at MWC in February 2016 the partners committed to having an end-to-end 5G trial network in place by the end of the year. They have also been working on a number of vehicle-based trials, including close collaboration with BMW.
Email Newsletters
Stay up to date with the latest industry developments: sign up to receive TelecomTV's top news and videos plus exclusive subscriber-only content direct to your inbox – including our daily news briefing and weekly wrap.