Sprint feels the force of NFV/SDN and builds its very own C3PO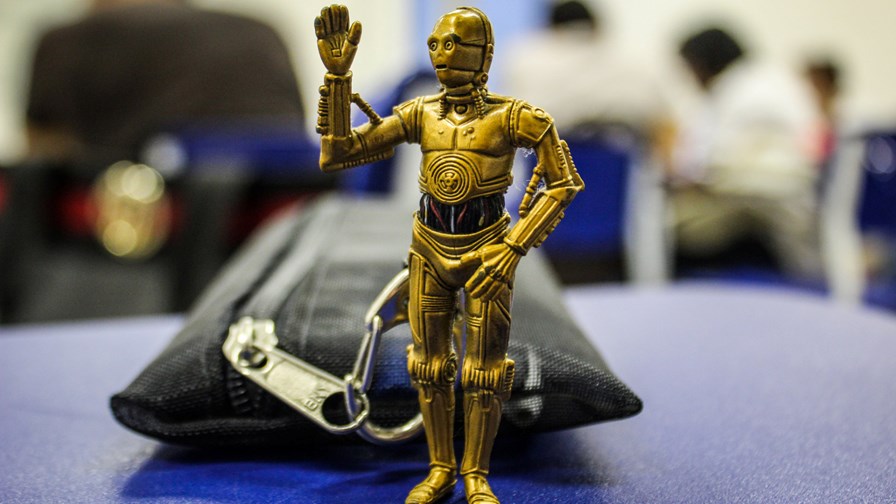 Sprint launches C3PO; an open source NFV/SDN-based mobile core reference solution
High-performance data plane significantly improves network core performance
Product of four years of research collaboration between Intel Labs and Sprint
Research focused on optimal DPDK-based data plane nodes
These aren't the droids you're looking for – unless you're in the market for a open source NFV/SDN-based mobile core reference solution. US telco Sprint has launched the imaginatively named C3PO (clean CUPS core for packet optimization – and that's CUPS as in control and user plane separation). The telco describes it as an open source NFV/SDN-based mobile core reference solution designed to significantly improve performance of the network core by providing a clean, streamlined, high-performance data plane for the packet core.
"C3PO revolutionises the network core and it's part of our expanded toolbox of solutions to meet the coming wave of data in the years ahead," said Günther Ottendorfer, Chief Operating Officer for Technology at Sprint. "C3PO is an important part of our NFV and SDN initiative, enabling Sprint to adapt more quickly to market demands and scale new services more efficiently and cost-effectively."
It what must come as something of a surprise to little R2D2, it transpires that C3PO uses standard high-volume server hardware to streamline mobile core architecture by collapsing multiple components into as few network nodes as possible. And we thought old Goldenrod was a humble protocol droid…
Sprint says that in lab tests conducted on Dell EMC rack scale infrastructure with compute sleds running dual socket 14 core Intel Xeon processors, it achieved 1.63 Mpps (million packets per second) throughput. The C3PO configuration also demonstrated high efficiency by utilising just seven processor cores – with one packet processing core and six processor cores supporting other tasks such as control plane, statistics, load balancer, operating system and other operations – for 500,000 subscribers using a typical Sprint traffic model. A similar C3PO configuration achieved 2.2Mpps with a similar traffic model for 50,000 subscribers.
"C3PO makes traditional mobility architectures and software designs more streamlined, efficient and scalable," said Ron Marquardt, VP of Technology at Sprint. "By combining Sprint's real-world operator knowledge with Intel's research on optimizing software for standard high-volume servers, we've developed a single solution that provides seven functions previously located within separate physical elements."
The solution is the result of four years of collaboration between Intel Labs and Sprint on a joint research effort to develop optimal DPDK-based data plane nodes and disaggregated evolved packet core architectures, as well as a platform for further 5G core infrastructure research. It addresses bottlenecks in mobile core packet performance by separating and independently scaling the data plane and control plane.
C3PO is designed to be used by global operators and other third-parties as a reference for commercial applications. Intel Labs technologists built the next generation core control plane and data plane virtualized EPC applications, and Sprint developed the SDN controller enhancements. The EPC application code from Intel is available via the CORD project in ON.Lab, and the SDN plug-ins from Sprint are available via OpenDaylight.
Email Newsletters
Sign up to receive TelecomTV's top news and videos, plus exclusive subscriber-only content direct to your inbox.