Sterlite exits Open RAN, sticks with optical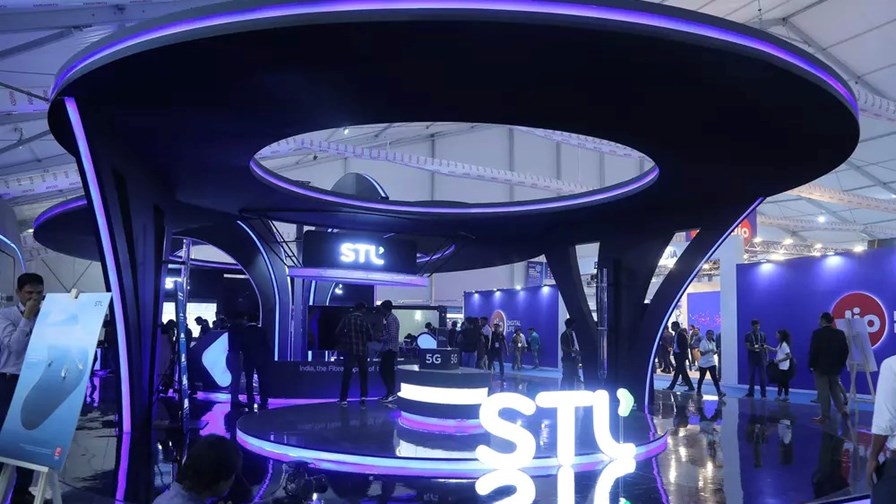 Sterlite Technologies, aka STL, is an optical fibre and interconnect products vendor
In recent years it has been branching out into telecom software and wireless access products, including Open RAN products
But STL has stopped investing in wireless to focus on fibre and network services
It is seeking "partners" that can take on its portfolio and possibly even staff
The move won't encourage other Open RAN vendor hopefuls
Spying an opportunity to branch into other areas of the telecom sector and building on its growing optical fibre business, Mumbai, India-based Sterlite Technologies Ltd, also known as STL, announced in March 2021 the formation of its Access Solutions Business Unit to focus on "Open RAN, 5G, programmable FTTx, and controller/orchestration software" and hired Chris Rice, a former senior VP of network infrastructure and cloud at AT&T, to head up the unit. Less than two years later, STL's management has decided that was a leap too far and that it will cease its investments in wireless and open-source R&D, starting in its fiscal fourth quarter (January to March 2023), and instead focus on its growing optical and network services lines of business.
The move into specific areas of telecom software, including the development of a RAN intelligent controller (RIC) platform, was not such a strange move for STL, which had added OSS, BSS and policy-control products to its portfolio in 2015 with the acquisition of Elitecore, another Indian vendor, as part of its strategy to broaden its appeal to telcos. From that point on, it also invested R&D funds to develop software-defined networking (SDN) and other virtualisation and programmable network systems.
The development of wireless hardware products, which had begun before the formation of the Access Solutions Business Unit, was a bigger departure, though. By August last year the company had already developed indoor small cells, 5G multi-band macro radios and Wi-Fi 6 access solutions, and then announced plans to design and develop 4G and 5G Open RAN radios based on the Evenstar reference design developed by Facebook Connectivity (now Meta Connectivity) and its partners.
Then a month later, in September 2022, STL announced Accellus, its wireless-fibre converged solution portfolio that included its RIC development and a programmable FTTx product for software-defined fibre access networks – see STL launches Accellus – an end-to-end fiber broadband and 5G wireless solution.
And this year, at MWC Barcelona 2022, it unveiled Firebird, a range of Open RAN-compliant wide area 5G radios.
However, while the market for Open RAN technology certainly exists and is growing, it has so far been mainly tied to three markets: In Japan, Rakuten Mobile has used some Open RAN elements in its 4G and initial 5G rollouts, while NTT Docomo and KDDI have also included Open RAN technology in their production networks; in the US, the 5G newcomer, Dish Network, has launched its service using an Open RAN-based network; and in Europe, 1&1 has contracted Rakuten Symphony to build and run a greenfield Open RAN-based 5G network that has started to generate revenues for the vendor.
And while plenty of other big names, including the European quintet of Deutsche Telekom, Orange, Telecom Italia (TIM), Telefónica and Vodafone are supporters and are either at the very early stages of initial deployments or still in test-and-trial phases, they haven't pulled the trigger on major deployment investments so far.
Research house Dell'Oro Group has been tracking momentum and expects the market for Open RAN equipment (radio and baseband products, but not associated professional services) to be worth almost $20bn during the 2022-26 period, with much of that stacked towards the back end of that period (around $6bn a year by 2026). So revenue opportunities in Open RAN right now are limited.
At the same time, revenues and opportunities in STL's core lines of business – optical fibre, optical interconnect products and network construction services – are increasing. In its fiscal second quarter that ended 30 September, STL reported revenues of 17.68bn Indian rupees (INR) (US$217m), up by 17% year on year and 12% compared with the previous quarter, and claimed to command 11% of the global fibre optical cable market (outside of China). That market continues to grow, as does STL's share, and the company has been developing products ideally suited to meet growing demand in its domestic market, where India's operators are investing in fibre networks to support 5G and broadband strategies.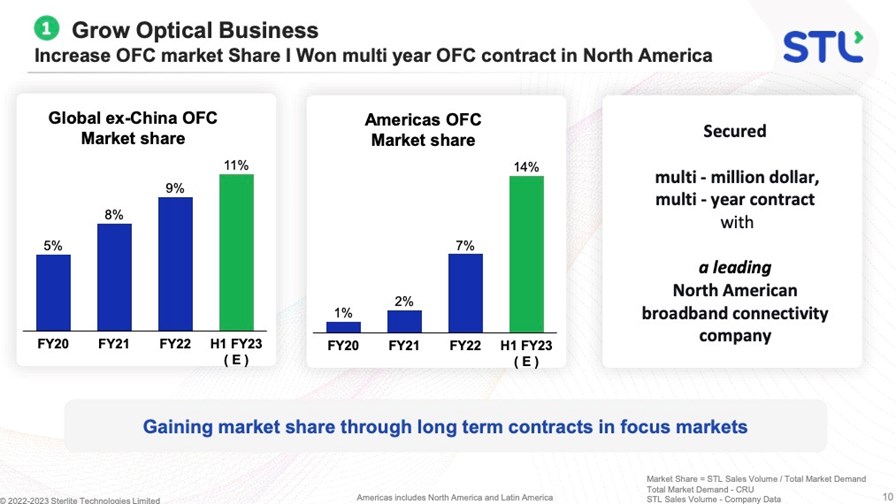 In addition, STL has long-term fibre network rollout services deals in India (both from the government and private companies) and in the UK, where it has a number of contracts from fibre access network companies, such as Netomnia.
But the vendor is keen to improve its profitability as well as further grow its revenues: Its fiscal second-quarter earnings before tax, depreciation and amortisation (EBITDA) came in at just over 2bn INR (US$24.7m), better than the previous three quarters but down year on year.
One way to almost instantly improve its margins is to halt activity in non-core parts of its business, which is exactly what it is doing. By effectively ending its wireless activities and ambitions, STL reckons it can improve its operating profits by up to 500m INR (US$6m) per quarter starting in calendar year 2023, which may not seem like a lot but it amounts to about $24m on the bottom line per year alongside a greater corporate focus on its growth segments.
So what becomes of the Access Solutions Business Unit? Earlier this month, STL's managing director, Ankit Agarwal, told India's Economic Times that conversations were underway with partners so that assets, intellectual property and even staff could be "moved on".
So is STL trying to sell the wireless and programmable fibre portfolio? In response to questions from TelecomTV about its plans, STL said it is "exploring various exit options" and attributed the following statement to its CTO, Badri Gomatam: "Over the past few years, STL has invested in developing a full-stack portfolio of open-source, disaggregated and cloud-native solutions for wireline and wireless access. As a part of this endeavour, STL has successfully developed open-source solutions in programmable FTTx (fiber-to-the-x), ORAN-compliant radios and small cells. As this shift towards 5G and newer architectures intensifies, we will take this effort forward with strategic partners. With this move, we will further sharpen our focus on enabling 5G and FTTx through our core business of optical connectivity, network deployment and network services, and continue to build advanced digital infrastructure in this decade of network creation."
We have asked for clarification on what the building of "advanced digital infrastructure" entails. The company didn't respond to questions about what this strategic shift means for Chris Rice's ongoing role at STL.
STL's decision is hardly uplifting for the Open RAN sector. While it's increasingly clear that 2023 and 2024 look like crunch years for Open RAN and its potential longevity, there are still many pieces of the Open RAN puzzle to be put in place before we get clarity on the actual potential of brownfield telco and enterprise network opportunities. One of the key pieces of that puzzle is vendor diversity: Providing network operators with a broader ecosystem from which to source their technology and be able to build best-of-breed systems in an economic and efficient way.
But if STL, an established vendor with cash flow, resources and industry contacts finds it's not worth carrying on with Open RAN radios, small cells and even a RIC, which as an operating system does not even carry the burden of hardware supply chain challenges, then what prospects are there for the innovative startups that Open RAN's telco supporters are hoping to see populate the networking ecosystem?
It's possible that STL might be an outlier, and another company might pick up the existing assets and run with them, but money talks: If the telco community wants ecosystem diversity, it will need to start spending and investing one way or another, or it'll be dealing with the same names and encountering many existing frustrations for years to come.
- Ray Le Maistre, Editorial Director, TelecomTV
Email Newsletters
Sign up to receive TelecomTV's top news and videos, plus exclusive subscriber-only content direct to your inbox.