Latest UK open network project offers £80m in funding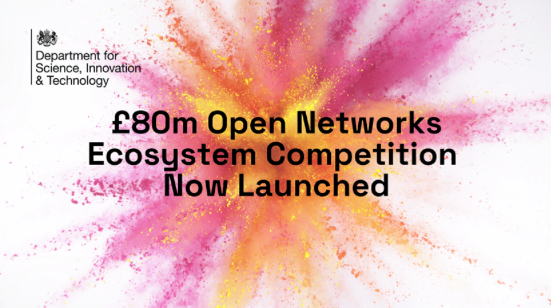 The UK government has a supply chain diversification strategy
It is trying to encourage open network system development
And has launched a competition focused on various Open RAN needs
For the winners, £80m in funding is up for grabs
Up to £80m is up for grabs in the UK government's latest wheeze to encourage the development of open, disaggregated radio access network (RAN) systems, which aims to expand the domestic mobile network infrastructure ecosystem and extend the potential supply chain.
The latest effort is a One Networks Ecosystem (ONE) "competition" that aims to encourage technology developer innovation in three areas related to the evolution of Open RAN architectures – high-density area network optimisation, radio frequency (RF) hardware (including subcomponents), and RAN intelligent controller (RIC) systems and the rApp and xApp applications that run on them.
The competition process is being run by the UK Telecoms Innovation Network (UKTIN), which acts as a "convener of industry and academic R&D communities" that support the country's telecom sector and is funded by the UK government's recently formed Department of Science, Innovation and Technology (DSIT).
UKTIN is holding a briefing and "pitching event", when interested companies can find out more about the process, in London on 27 March – more details can be found here. Submissions for the competition must be made by the end of the day on 23 May.
The ONE competition is part of the government's £250m UK Open Networks R&D Fund initiative, which was launched last year and is part of the broader 5G supply chain diversification strategy that was articulated once Huawei was deemed to be a vendor non grata, leaving the UK's mobile operators with little in the way of supplier options beyond Ericsson and Nokia. According to the DSIT, the £250m fund "sees the government investing alongside industry and key allied countries to bring more suppliers into the market where the private sector alone has not." Easy to say, but hard to do.
But the ONE competition is not the opening gambit. There are already a number of initiatives underway, including: The SONIC (SmartRAN Open Network Interoperability Centre) Labs facility that is giving companies the "opportunity to accelerate the development of their Open RAN products" and has launched two phases of development; the Neotroran project, being run with NEC, that is exploring the potential of shared Open RAN-based rural networks; and the Future RAN competition (FRANC), which has funded 15 Open RAN-related R&D projects – see UK funds 15 Open RAN R&D projects, boosts SONIC Labs funding.
In addition, about £28m in funding has been awarded to three university-led projects under the Future Open Networks Research Challenge initiative, while £80m was granted to the Solihull, England-based UK Telecoms Lab that is operated by the National Physical Laboratory (NPL) and was first announced in October 2022 – see UK government pumps £110m into 5G, 6G R&D.
UKTIN is also run on grants from the Open Networks R&D Fund.
Naturally, the latest funding news was met with enthusiasm by the open networking community. "The UK is looking to become a leader in telecoms diversification, and incubate home-grown innovations, particularly for the RIC [RAN intelligent controller], that will bring about new use cases that ultimately benefit consumers and businesses," noted Kristian Toivo, executive director at the Telecom Infra Project (TIP), one of the industry bodies that is aiming to support the broader development of open networking architectures, and which is running the Accelerating RAN Intelligence in 5G (ARI-5G) R&D project that is part of the FRANC competition. "TIP has used previous UK funding to accelerate the testing of interoperable RAN solutions, and this funding is another important step towards the open goal," he added.
So the UK government is actually doing something, even if it is slicing and dicing the funds pretty thinly: The ARI-5G project, for example, was awarded £2.4m shared between seven participants – Accelleran, Amdocs, AttoCore, BT, VIAVI and West Midlands 5G, in addition to TIP – in six locations over an 18-month period that runs out this year.
And while this might well have an impact on developments at the universities and within multi-participant groups, the end results might struggle to live up to the lofty ambitions of the current government administration, which seems to think its efforts might have a much larger-scale impact. For example, the news of today's funding came replete with a quote from Julia Lopez, minister for DSIT, that included the ambition "to bring on board world-class talent to boost domestic development of next-generation telecoms technology, such as Open RAN, and help transform the UK into a tech and science superpower."
Other superpowers might be needed if that aspiration is ever to be achieved. Let's hope the goals of those using the funding are a bit more down to earth.
- Ray Le Maistre, Editorial Director, TelecomTV
Email Newsletters
Sign up to receive TelecomTV's top news and videos, plus exclusive subscriber-only content direct to your inbox.