It's time to think differently about AI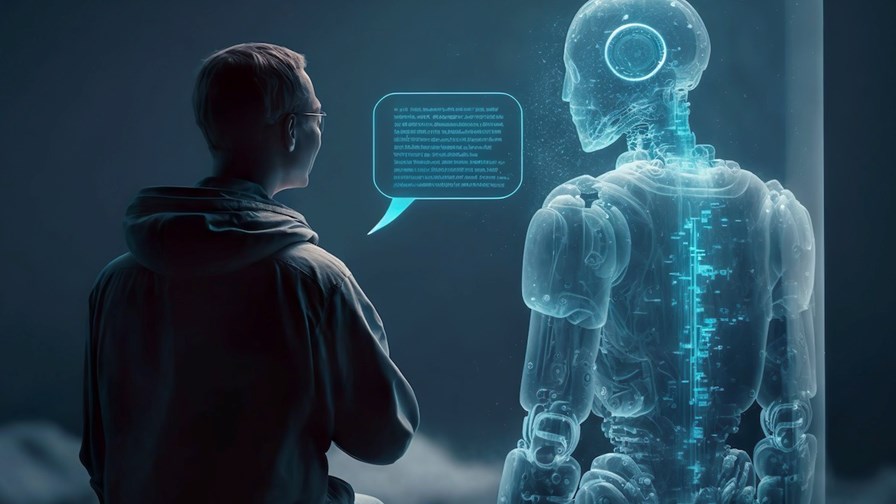 Artificial intelligence (AI) is the latest technology arms race
Everyone wants to be at the forefront of developments and be seen as an authority
There is great potential for machine learning (ML) applications in telecom
But what's the bigger picture? How should the telecom sector think about AI?
It's time to talk about the AI-native telco
Unless you've been on a digital detox and shut yourself off from all comms for the past six months, you might have noticed a great deal of artificial intelligence (AI) debate and activity, kick started by the launch by OpenAI of ChatGPT last November, with the new wave of AI fever focused very much on the potential of large language models.
The current excitement is not all about these 'generative AI' tools, but much of it is: What ChatGPT has done, as well as being the catalyst for pretty much every major tech firm to share an AI strategy of some sort, is shone a brighter light on the potential, and pitfalls, of AI technology in general.
Clearly, AI is on the minds of all sorts of companies: A recent survey of CEOs and senior executives by Gartner found that AI was "the top technology that CEOs believe will significantly impact their industry over the next three years." Mark Raskino, distinguished VP analyst at Gartner, noted: "Generative AI will profoundly impact business and operating models. However, fear of missing out [FOMO] is a powerful driver of technology markets. AI is reaching the tipping point where CEOs who are not yet invested become concerned that they are missing something competitively important," added Raskino.
That FOMO is also driving some of the strategy announcements and has spurred on multiple companies to announce new products or services – here's a selection just from the past week:
And it's clear the telecom sector will be affected by the development and use of generative AI tools and models – there are already plenty of ideas being shared about how the likes of ChatGPT might help network operators – see ChatGPT and its ilk can help telcos cut costs and improve services – GlobalData.
But let's not forget that machine learning applications have been making their way into various parts of the telecom sector for years, not least in customer care platforms, where chatbots are legion, and in radio access network (RAN) operations, where it is already being used to power down sites when they are not in use in order to improve efficiencies and learn traffic patterns.
And, as the whole industry has known for years already, the ongoing deployment and applicability of such tools will have an impact on telecom sector workforces – we've seen that in the past week alone and expect to see much more in the coming years – see BT to cut up to 55,000 jobs in AI-enabled efficiency drive and BT will not be alone in making massive job cuts – analysts.
But of course, new innovative technology doesn't just enable new operating models and open up new business opportunities – it also causes multiple concerns (some of them existential in AI's case) and leads to calls for new regulations and controls, of which there is plenty right now related to AI – see What's up with… AI in China and the US, BT, Twitter and UK's fractured approach to AI regulation looks risky.
So, a lot to think about and a great deal to do in the telecom sector alone.
But with the rapid pace of development and FOMO driving companies to accelerate developments, is the telecom sector looking at, and thinking about AI, in the right way?
This is the topic in question during the fifth session of this week's DSP Leaders World Forum, entitled 'Creating a framework for the AI-native telco', which takes place at 9.20am UK time on Wednesday 24 May.
During that session, which will be co-hosted by Ahmed Hafez, VP of technology strategy at Deutsche Telekom, and streamed live via the TelecomTV website, we will examine how the telecom industry might evolve from an opportunistic adoption model to a holistic model for AI, whether a common AI framework for telcos can be developed, and whether orchestration between multiple AI models is possible.
If you're interested in AI's role in telecom, be sure to tune in: Register to watch all the forum sessions, and to submit your questions for the speakers, right here.
And you can keep track of all TelecomTV's AI-related coverage on this page of our site.
- Ray Le Maistre, Editorial Director, TelecomTV