ChatGPT and its ilk can help telcos cut costs and improve services – GlobalData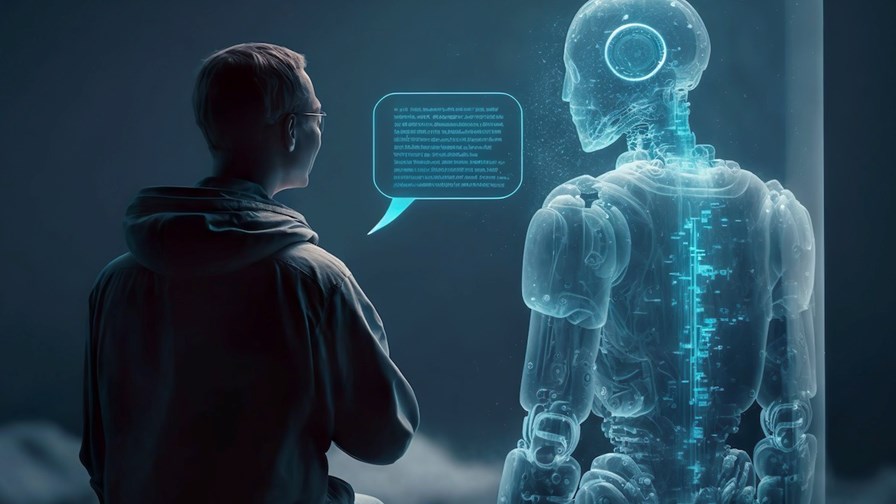 Generative AI is not only a hot topic, it's gaining traction with all types of companies
While regulators mull their role, GlobalData weighs the potential of generative AI tools to help telcos' business outcomes
Improved customer care, fraud detection capabilities and cost reduction are highlighted as key advantages
Telcos can benefit from the power of generative artificial intelligence (AI) systems, such as ChatGPT, as such tools can help them cut costs by enhancing customer service and detecting fraud, according to GlobalData.
In a blog, the industry research firm noted that, along with companies in many other sectors, telcos are exploring ways in which generative AI can benefit various parts of their day-to-day operations and are "quickly warming up to their benefits".
As telecom analyst Pradeepthi Kantipudi put it, ChatGPT could disrupt several telco business functions, including customer service, network management, fraud detection, sales and marketing.
And, according to Samrat Volam, technology lead analyst at GlobalData, the integration of ChatGPT with telecom's traditional customer service channels can be useful in delivering "instant, automated support round the clock," while providing information on a telco's product and service portfolio.
The AI-powered chatbot can help with handling various customer inquiries and issues quickly and efficiently, leading to reduced waiting times and enhanced customer satisfaction. "To better serve a geographically diverse customer base, telecom companies can also employ ChatGPT to provide translation for customers who speak different languages. In this way, AI-powered tools can help telcos in enhancing customer experience and cutting costs," explained Volam.
The analyst said that the benefits of ChatGPT in the telecoms industry are evident and, as the technology matures, companies in the sector stand to benefit by being able to offer an improved customer experience, thereby reducing churn.
According to GlobalData, ChatGPT can boost operators' sales and revenues by presenting customers with tailored product recommendations and exclusive offers based on their interests and previous purchases. The tool can also help to identify and monitor fraudsters, for example, by building a database to prevent future deceitful attempts.
Another emerging trend highlighted by GlobalData's team is that operators have already began working on their own versions of ChatGPT: South Korean telco KT is building its own version of the OpenAI model, while its domestic rival SK Telecom (SKT) plans to launch its own AI chatbot, having already launched a beta version dubbed 'A.' in May 2022. And China Telecom is planning to build an AI foundation model to develop an industrial ChatGPT version for the telco industry. "With several telcos testing and exploring new use cases for ChatGPT, investment in the telecommunications sector is set to increase in the short to medium term," noted Kantipudi.
The analyst firm predicts that enterprise AI spending in the communications sector will reach $2.9bn in 2026, up 81% from the $1.6bn that was estimated for 2022.
The topic of generative AI has been met with significant controversy recently, with tech leaders, such as Elon Musk and Apple co-founder Steve Wozniak, calling for a temporary pause of generative AI development over concerns that "AI systems with human-competitive intelligence can pose profound risks to society and humanity."
Meanwhile, the UK government is mulling its approach to AI regulation, while Italy has placed an outright ban on the use of ChatGPT. Following Italy's move, the European Data Protection Board (EDPB) launched "a dedicated task force to foster cooperation and to exchange information on possible enforcement actions conducted by data protection authorities" – see What's up with… Orange, Vodafone UK and Three, generative AI.
- Yanitsa Boyadzhieva, Deputy Editor, TelecomTV
Email Newsletters
Sign up to receive TelecomTV's top news and videos, plus exclusive subscriber-only content direct to your inbox.