What's up with… Orange, Vodafone UK and Three, generative AI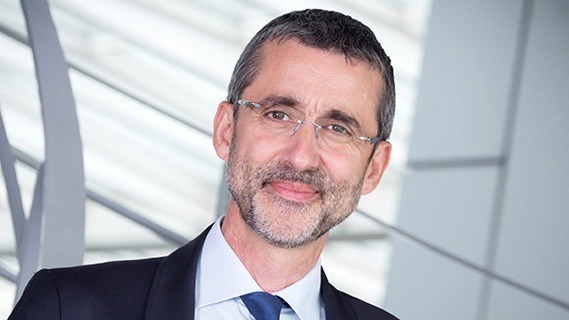 Orange names its new CFO
Vodafone UK and Three close in on merger details announcement
Amazon and EU add to the generative AI news agenda
In today's roundup of industry news announcements: Orange has named its new chief financial officer; senior executives from three's owner CK Hutchison court UK government favour for the mobile megamerger with Vodafone; Amazon and the European Data Protection Board add to the generative AI news noise; and more!
Orange has announced that Laurent Martinez, currently CFO of railway company Alstom, will be its new executive director in charge of finance, performance and development from 1 September 2023. Until then, Orange's deputy CFO, Jean-Michel Thibaud, will act as interim manager for the group. Martinez will effectively be the full-time replacement for Ramon Fernandez, who announced his departure at the end of last year. "I am delighted to welcome Laurent Martinez to head the Group's finances. His experience in business transformation will be of great value for the deployment of our new strategic plan Lead the Future", commented Orange CEO Christel Heydemann who took the helm at the company a year ago. Martinez has been Alstom's CFO since July 2018, with Orange noting that his role in the French company's transformation has been "key". His past experience also includes an extensive career at aerospace company Airbus, with his education spanning a number of fields, including electrical and telecommunications engineering, as well as finance and accounting. Read more.
Senior executives from CK Hutchison, the current owner of UK mobile operator Three, have held "positive" meetings with senior UK government officials ahead of the expected formal announcement of a merger between Three and Vodafone UK, a deal that was initially announced in October 2022, according to a Reuters report. According to the sources cited by the news agency, the CK Hutchison delegation was seeking political support for the deal, full details of which are expected to be announced in the coming weeks. The merger will be a real test for the UK's regulatory regime, as the Competition and Markets Authority (CMA) will essentially rule on whether shrinking the number of infrastructure-based mobile service providers from four to three will still provide enough competition for customers to have access to the best possible deals. News of the rumoured meetings and talks comes only days after the UK government's Department for Science, Innovation and Technology issued a wide-ranging policy document on the UK Wireless Infrastructure Strategy that not only included coverage and spectrum plans for 5G and 6G but also highlighted the current administration's "openness to market consolidation, noting that merger decisions are taken on their merits by the Competition and Markets Authority." While such a statement could be construed as more focused on the fixed broadband market, where consolidation among the UK's many dozens of fibre access builders is already underway, it's hard to imagine this is anything but a signal of UK government approval for the planned Vodafone UK/Three merger that might help tip the balance in the CMA's corridors.
Speaking of UK fibre altnet consolidation… Trooli, which is aiming to pass 1 million premises in rural and semi-rural areas in the south-east of England by the end of 2024, and which has been seeking a buyer or a new investor for a few months (having failed to secure a new funding round last year), has a new owner, it seems. While recent reports had linked Virgin Media O2 and Zzoomm to potential offers for the company, which has apparently been carrying a price tag of about £100m, it seems that French investment firm Vauban Infrastructure Partners, has stepped up to the plate to acquire a 75% stake in Trooli for an unknown sum, according to ISP Review. The name of the business entity that has acquired the stake in Agnar UK Infrastructure, but this is part of the Vauban empire, which has replaced Trooli's former directors with two of its senior team. The expectation now is that Trooli will be merged with Axione UK, another of the fibre altnet hopefuls that is building out access networks in multiple towns across Scotland and which is backed by Vauban.
In the wake of Italy's decision to ban the use of Open AI's ChatGPT (Chat Generative Pre-trained Transformer) on privacy grounds, the EU's European Data Protection Board (EDPB) has decided to "launch a dedicated task force to foster cooperation and to exchange information on possible enforcement actions conducted by data protection authorities," it noted in this announcement.
But such moves are not deterring further generative AI developments. Amazon, which has been using AI and machine learning (ML) for years across multiple products and applications for years, is the latest to up the ante with its launch of Bedrock, a "new service for building and scaling generative AI applications, which are applications that can generate text, images, audio, and synthetic data in response to prompts." According to the digital services giant, "Amazon Bedrock gives customers easy access to foundation models (FMs) — those ultra-large ML models that generative AI relies on — from the top AI startup model providers, including AI21, Anthropic, and Stability AI, and exclusive access to the Titan family of foundation models developed by AWS [Amazon Web Services]. No single model does everything. Amazon Bedrock opens up an array of FMs from leading providers, so AWS customers have flexibility and choice to use the best models for their specific needs," it adds.
Intel appears to be getting itself into a bit of a tussle with Germany's state purse-holders over its planned construction and future operations in the country. The semiconductor giant is set to build two chip fabrication plants (fabs) at the so-called Silicon Junction in Magdeburg, capital of the German state of Saxony-Anhalt, the plans for which were initially announced in March 2022 at a cost of €17bn and as part of a broader, decade-long European investment strategy. The government had promised to contribute €6.8bn towards the construction, But costs have risen significantly for everyone in the past year, Intel delayed the start of construction from this year to 2024, and in February it was reported by German newspaper Handelsblatt that Intel wanted the German state's contribution to increase to a whopping €10bn. Now, according to The Financial Times (subscription required), the German government has told Intel it will only increase subsidies if Intel increases its investment. The government obviously wants INtel to proceed with its plans, as the chip giant is due to create 7,000 construction jobs over a number of years and up to 3,000 permanent Intel jobs once the sites are up and running, but at the same time the state doesn't want to be seen to be giving into the demands, and handing over taxpayers' cash, whenever a private company decides to play hardball.
Opposition to Broadcom's planned US$61bn acquisition of VMware, originally announced last May, is growing. Only weeks after the UK's Competition and Market Authority (CMA) referred the deal for a Phase 2 in-depth probe, the European Commission "has informed Broadcom of its preliminary view that its proposed acquisition of VMware may restrict competition in the market for certain hardware components which interoperate with VMware's virtualisation software." The EC had opened an in-depth investigation late last year, and as a result is "concerned that Broadcom may restrict competition in the global markets for the supply of FC HBAs [Fibre Channel Host-Bus Adapters] and storage adapters by foreclosing competitors' hardware by delaying or degrading their access to VMware's server virtualisation software." Read more.
- The staff, TelecomTV
Email Newsletters
Sign up to receive TelecomTV's top news and videos, plus exclusive subscriber-only content direct to your inbox.