BT to cut up to 55,000 jobs in AI-enabled efficiency drive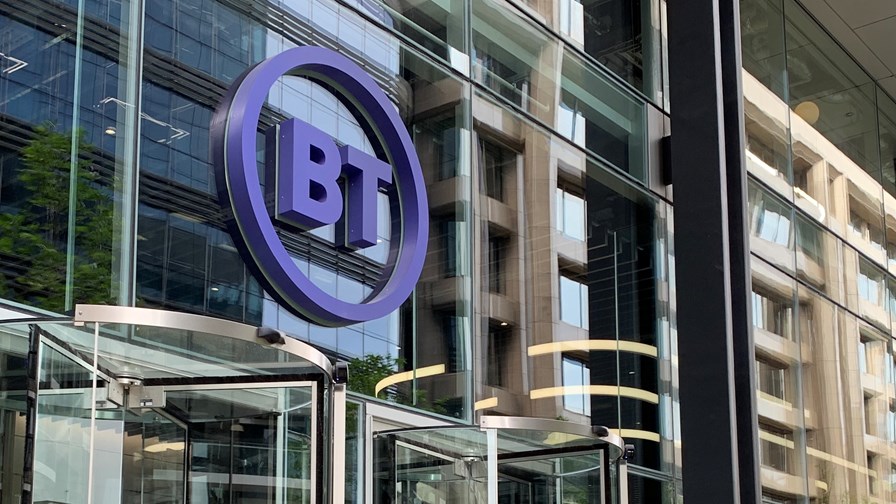 BT has unveiled a massive human resources transformation
It currently employs 130,000 full-time staff and contractors
By the end of the decade that number is to drop by up to 55,000, or 42% of the current total
At least 10,000 of those are linked to automation and digitisation efforts, with AI playing an increasing role in the telco's operations
The news comes as BT announces an increase in full-year revenues and margins
UK national telco BT has unveiled plans to create a more "lean, agile and efficient organisation" by reducing its labour force by up to 55,000 roles, from the current 130,000, before the end of this decade. News of the major headcount reduction came as part of the telco's full financial year results announcement and only days after Vodafone announced plans to cut 11,000 jobs over the next three years.
The 55,000 number is at the top end of the scale: BT said its "total labour resource" will be reduced by between 40,000 and 55,000 roles, a cull of between 31% and 42%. It uses the phrase "total labour resource" because the current 130,000 number includes contractors that are undertaking work for the telco but are not direct employees.
BT's CEO Philip Jansen broke down the "40,000 roles we don't think we're going to need" during today's financial results webcast, noting that of the 130,000 staff in its current labour force, 30,000 are contractors.
He said 15,000 roles are related to current network rollouts: "When it's built, it's built… you only build it once, right?" he stated, referencing the current massive fibre-to-the-premises (FTTP) rollout being carried out by the company's quasi-autonomous fixed access network division, Openreach, as once the fibre is in the ground, the contract construction crews will no longer be needed (more on the FTTP rollout later).
Another 10,000 roles will be lost in the teams that service and repair BT's networks, as the current new 5G and fibre networks being rolled out "just need less servicing and repair – they go wrong less often, and you can fix things much more easily without truck rolls, without people."
And then there are the 10,000 roles that will be affected by "digitisation, automation… using technology to do things much more efficiently."
A further 5,000 jobs will go from "conventional restructuring, most of which we have already announced," such as the roles that are going as a result of the amalgamation of the Enterprise and Global divisions to form BT Business. BT already has a plan to reduce its annual costs by £3bn by the end of 2025, and pointed out today that it is already a long way towards achieving that target.
But 40,000 appears to be the minimum: Jansen did not detail how the other potential 15,000 job cuts might be achieved.
But he is excited about automation. The use of artificial intelligence (AI)-enabled tools is having a growing impact on the automation of various roles and on other parts of BT's business, noted the CEO (pictured below).
BT "will be a beneficiary of AI unequivocally, because we're a volume business. We've got 30 million customers, we've got lots of people, we've got lots of activities, and AI can help us do that more efficiently. [BT] has filed more AI patents than any other UK-based company… we're not [using] it everywhere and we're being very thoughtful" about how AI is used, said Jansen, noting that it already has a customer care chatbot called Amy that is delivering positive customer care results.
"And on the network side, the dark NOC [network operating centre] already exists, with no people… and network planning can be done automatically with AI in a way that couldn't happen two or three years ago," added the CEO. He noted that tasks such as network planning and network traffic management and analysis, all of which are currently "people-intensive", will be automated, adding "we've got AI and all the data that can help create self-healing networks. So we're going to be a massive beneficiary [in terms of AI's impact on] efficiency and cost, which is why we know we won't need all these roles in the future. My plan is to manage it really professionally, really carefully, and take great care of our people, so we don't have to do mass restructurings and compulsory [cuts] because we [will have] attrition, reskilling, and plenty of time to do that over the next five to seven years – we've been taking out roles at about 5,000 a year already," noted the CEO, but that process has had no impact the overall number because of the additional contractors and staff needed to build out the fibre and 5G networks.
"AI will help us enormously [to] be more efficient and deliver things for our customers in a more seamless way. And there's another opportunity – the new services and products that might come from artificial intelligence, specifically generative AI and large language model AI, which we all know has enormous potential… We've got a few ideas, but it's very early days and that needs to be treated with great care and that's what we're doing," added Jansen.
While the total number of roles to be cut is large and shocking, it's hard to imagine how this could come as a major surprise to BT's staff and contractors, and the industry in general, as even over a six- to seven-year period, a potential cut of up to 42% of the workforce is sobering, to say the least.
"As BT targets annual cost savings of £3bn per year by the end of 2025, a major job cull was on the cards," noted CCS Insight director of consumer and connectivity, Kester Mann. "But the depth of the redundancies has shocked the sector. This brutal move, just days after Vodafone confirmed 11,000 job losses, reflects consistent underperformance by telecom operators, despite continued strong demand for its services. BT has struggled as much as anyone: Its share price is down around 40% since Philip Jansen took the helm in February 2019. The CEO, whose own position has reportedly been under threat, will expect the [cuts] to hasten BT's migration to a much more lean, simple and efficient organisation," added Mann.
Indeed, the CEO will want the cuts to speed up the move to a more agile operation, but it's not a decision that has been made in haste and concocted at short notice, Jansen pointed out. The CEO said talks have been ongoing with the two major unions that represent BT staff, the CWU (Communication Workers Union) and Prospect, and that "we've been talking to the unions throughout this whole process" and will work with them on "the transformation and reengineering and modernising of BT."
The CWU's response to BT's announcement was measured, with the union noting that the news came as "no surprise". "The introduction of new technologies across the company, along with the completion of the fibre infrastructure build replacing the copper network, was always going to result in less labour costs for the company in the coming years."
But, as you'd expect, there's a but… "However, we have made it categorically clear to BT that we want to retain as many direct labour jobs as possible and that any reduction should come from sub-contractors in the first instance and natural attrition. We have also stated that it's imperative that we should be in the room discussing and shaping the new skills required of the workforce as they move to a more digital network to ensure our members have a stable, secure career within BT well into the future, to which the company has agreed ongoing discussions with the CWU on these matters."
Prospect seemed a bit more surprised. The union is "deeply concerned by the scale of these cuts. Announcing such a huge reduction in this way will be very unsettling for workers who did so much to keep the country connected during the pandemic. As a union, we want to see the details behind this announcement in order to understand how it will impact upon members and have demanded an urgent meeting with the chief executive," stated Prospect's national secretary, John Ferrett.
"We have always opposed compulsory redundancies in BT… [Prospect] has been able to ensure over the years that any reductions have been achieved on a voluntary basis. Prospect has a partnership agreement with BT which governs how the company and the union manage change in the organisation. We will be ensuring that the partnership agreement is fully adhered to during any consultations with BT over job reductions."
Delivering the numbers
The job cuts announcement will dominate headlines, naturally, but Jansen was also keen to highlight during the results webcast some positive financials. For the 12 months to the end of March this year, BT hit its financial targets and reported an increase in like-for-like revenues and earnings, with pro forma sales up by 1% year on year to £20.43bn and pro forma earnings before interest, taxes, depreciation and amortisation (EBITDA) up 3% to £8bn.
"We are actually really pleased with what we've announced today. For the first time in six years, revenue and EBIT are growing. And that's a really important milestone, and we're saying we are now on a growth trajectory," stated Jansen.
Also growing, though, is BT's debt, up by £850m to £18.86bn, while the operator's capital expenditures (capex) came in higher than expected at £5.06bn, with capex levels set to stay at around that mark for the next few years.
That's because BT still has a lot of fibre access network build to complete and is still in the process of rolling out its 5G network, and these investments – in particular Openreach's fibre rollout coupled with ongoing investments in cloud-enabled, increasingly automated service delivery and network management platforms – will be vital for the telco's future profitability and have to be invested in now to gain those future benefits, according to Jansen.
"We know we can deliver a fantastic future state BT… because once we're into the world of new technology [with] fantastic next-generation networks on a digitised virtualised cloud, all the new products and services that haven't been invented yet are going to fit perfectly onto our network in a seamless fashion. That, in a nutshell, is the strategy – a brilliant network [that] allows other people to plug in and deliver outstanding [services] for customers on a very low-cost base," he enthused.
The fibre network infrastructure, which BT says is attracting better-than-anticipated demand from retail ISPs, is key to delivering these services and supporting the 5G network as well. BT says it is on course to reach 25 million UK premises with its FTTP infrastructure by the end of 2026, and currently Openreach (which, remember, is a wholesale operation) has fibre in place that can connect 10.3 million homes and businesses on behalf of its retail ISP customers. That investment won't stop in 2026 but will slow down after that year, and by the end of the decade BT believes it could reach as many as 30 million premises.
With its mobile network infrastructure, BT currently reaches 68.1% of the UK population with its 5G services and aims to reach more than 98% by the end of the decade (see the chart below).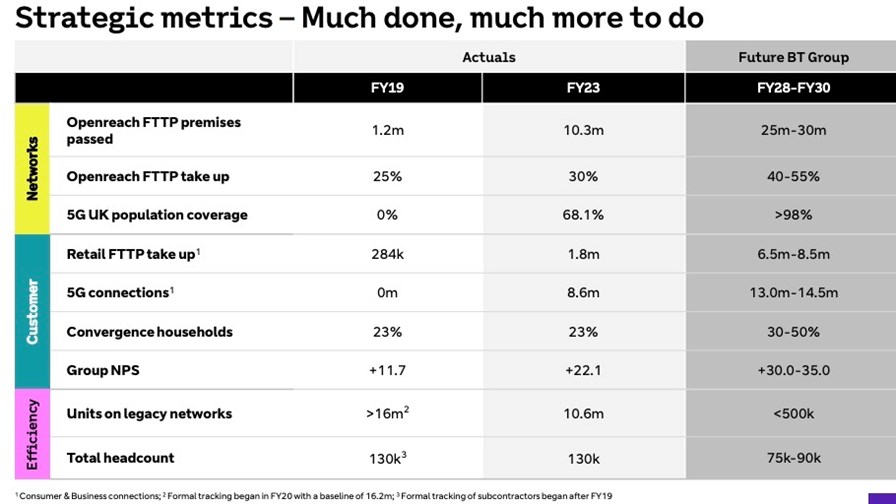 All the while, legacy networks and systems – fixed line copper, 3G mobile, hundreds of outdated business services platforms – will be phased out, lowering costs, improving energy efficiency and improving service delivery efficiency. According to BT, legacy networks still account for 10.6 million connections, but by the end of the decade this will be reduced to less than 500,000.
So Jansen painted a broad picture of a telco that is improving its sales and margins and will become much more efficient as the decade wears on. "​​We will continue at pace to move from legacy to next-generation networks, delivering better customer experiences and lower costs," stated the CEO. "We will continue to drive the transformation of BT Group into a lean and agile organisation with superior digital AI and automation capabilities, and we will do all this whilst remaining a responsible inclusive and sustainable business. Future BT Group will be a leaner business with a brighter future, delivering sustainable growth and value," he boasted.
His biggest challenge might be persuading others that this is reality and not a fantasy. BT's share price crashed by 6.4% to 139 pence on the London Stock Exchange and there was clearly some scepticism amongst the analysts who made the journey to BT headquarters in London for the earnings briefing that the long-term future is as bright as Jansen wants them to think it is.
Andrew Lee from Goldman Sachs opened up the Q&A session by asking Jansen how he can reassure investors that the plan to continue investing heavily in BT's networks "isn't just classic telco – spending more to prop up a sinking ship."
Jansen's response is that BT's numbers are improving and that it has greater certainty about where the company is going, that "success is more obvious" and that FTTP is going to deliver great results in the future.
But there has been talk in the past of greater efficiencies and streamlining that will improve telco financials, sadly without any tangible outcome, so taking any possible actions to improve the overall cost base is only to be expected, noted PP Foresight analyst Paolo Pescatore.
"For all providers it's an opportune moment to focus on efficiencies," said the analyst. "This is only part of a successful long-term strategy. Encouragingly, there is a focus also on driving revenues. The bigger question is the effectiveness of delivery and execution: History has taught us that telcos typically do not have a good track record" on delivering against their promises, noted Pescatore, who believes that the CEO is doing just about as well as could be expected, given the current telco market and macroeconomic conditions. "Naturally, the job cuts will grab the headlines, but BT under Jansen is a different organisation and the strategy is working so far. He has helped navigate the group through a difficult period," he added.
Let's see if he is given the chance to continue to steer BT through this planned monumental overhaul.
- Ray Le Maistre, Editorial Director, TelecomTV