Vodafone CEO axes 11,000 jobs, says performance is "not good enough"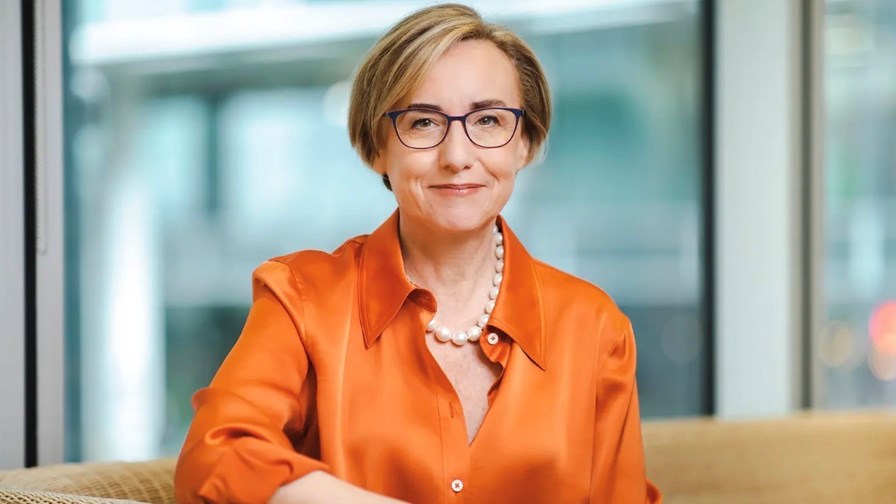 Strategies of previous CEOs were "too incremental," says new head honcho Margherita Della Valle
There's pain in Spain, where the Vodafone unit could be offloaded, and donnerwetter und drang in Deutschland
Flat end-of-year results not cheered by ongoing delay to merger with Three in the UK
Focus on "customers, simplicity and growth" will sort out all the problems, apparently
Margherita Della Valle, Vodafone Group's recently appointed CEO (and still CFO), today demonstrated that she's tough and prepared to swing the axe when necessary by announcing that the telco's full-year financial results are "not good enough" and that 11,000 jobs, more than 10% of the total workforce, will be cut over the next three years.
Della Valle (pictured above) said such cuts are necessary now if she is to "simplify" the CSP and make it attractive again to customers, investors and the stock market. That 'simplification' will hit hard at the operator's Paddington, London-based group offices, where "layers are to go".
The CEO, who was awarded the full-time CEO role following a five-month stint as temporary head of the telco, clearly has to do something: Vodafone suffered a series of financial and strategic embarrassments that resulted in Della Valle's predecessor, Nick Read, "stepping down" (for which read "being pushed out") in December last year after his oft-trumpeted strategy entirely failed to revamp the company's portfolio and reverse the more than 40% decline in Vodafone's share price that happened during his four years at the helm.
The new CEO says she had no option other than to decimate the workforce because the company's "performance has not been good enough". Her mantra for the telco now is "customers, simplicity and growth", a message she rammed home several times during this morning's video Q&A session with financial analysts and journalists.
Della Valle's links with Vodafone as a global company go back 30 years, so she knows exactly where the telco has been, why it's where it is now, and what it must urgently do to redeem itself.
She started work with Omnitel Pronto Italia (which later became Vodafone Italy) when she graduated from university: Her critics say that after a generation and more at the company, her statements should be regarded with a dose of healthy scepticism because she is likely to turn out to be as much a part of the problem as able to provide an innovative solution to it.
However, Della Valle this morning told her audience that the strategies devised by her predecessors had been "too incremental" and added, "We will simplify our organisation, cutting out complexity to regain our competitiveness" and will concentrate on the "quality service our customers expect" and are not currently getting: As at 31 December 2022, UK regulator Ofcom revealed that Vodafone was the second-most complained about mobile service provider in Britain, while its customer relationship management and call-centre responses are widely regarded as abysmal.
In addition to culling more than 10% of the group staff, the CEO said she will also simplify Vodafone's operations in Europe in general, and in Germany (Vodafone's biggest market) and Spain in particular. Vodafone's German operation has been underperforming for years as sales have fallen and customer satisfaction rates have plummeted along with them, a state of affairs that the CEO laments as "unacceptable". The turnaround plan for Germany will have to be comprehensive and be implemented quickly.
As far as Spain is concerned (and Italy too for that matter), Vodafone has lost out to fleeter-footed competition offering better and often cheaper services. Della Valle announced that the Spanish operations will be the subject of a "strategic review", coyly hinting that such a move could lead to divestment of the company.
Merger talks with Three UK still dragging on
The CEO's video call came as Vodafone published its "somewhat disappointing" year-end figures. Revenues were basically flat, up just 0.3% at €45.7bn (£39.7bn), well below what analysts had expected. Adjusted EBITDA fell by 1.3% to €14.7bn, below the company's earlier forecast of between €15bn and €15.2bn.
Unsurprisingly, Vodafone's share price fell by 7.2% to 83.6 pence on the London Stock Exchange as the news percolated through the markets.
The presentation to analysts and the media paid almost no attention to the mooted merger in the UK of Vodafone and Three. The €17bn deal has been bubbling away for more than half a year, yet seems to be no nearer to resolution than it did in October 2022, when the M&A plan was first unveiled. If the merger passed regulatory scrutiny, Vodafone would own 51% of the combined business of what would then be the UK's biggest mobile operator, with CK Hutchison, Three's current owner, taking a 49% stake. Della Valle said talks are continuing but "there can be no certainty that any transaction will ultimately be agreed" and "it will take as long as it takes to get a good deal."
Elsewhere, Vodafone is in a new strategic partnership with e& (formerly Etisalat). The state-owned telco of the United Arab Emirates (UAE) now has a 14.9% holding in Vodafone and has said it wants to up that to 20% or even closer to 25%. If (when) that happens, e& will have two seats on the Vodafone board.
The last question asked of Della Valle on the earnings call morning was from a Bank of America analyst. He wanted to know what the CEO would do about the group's African holdings and how the telco can create value from Vodacom in South Africa, which provides voice, messaging, data and converged services to over 55 million customers and makes good money. The questioner was angling to determine if Vodafone might sell the company, but Della Valle said, "The board always considers options but Vodacom is a very strong asset." So, the answer is probably a 'no'.
Remember when, almost a decade ago now, Vodafone sold its 45% stake in US telco giant Verizon? At the time – 2 September 2013 – it was the third-biggest corporate buyout in history and Vodafone pocketed US$130bn. One wonders, in retrospect, if Vodafone's management now rues the day?
Verizon paid the UK mobile operator enormous dividends but always had operational command of itself and the Vodafone top-brass of the time didn't like playing second fiddle so, to considerable analyst disquiet, they sold up. Shareholders, who got a very welcome windfall, were told that the money would pay for transformation and allow Vodafone to "regain lost momentum". Since then, Verizon's management seems to have done a better job of things in the US than Vodafone's management has done in Europe (just saying).