CTIA and Deloitte envisage an "Ecosystem of Connectivity"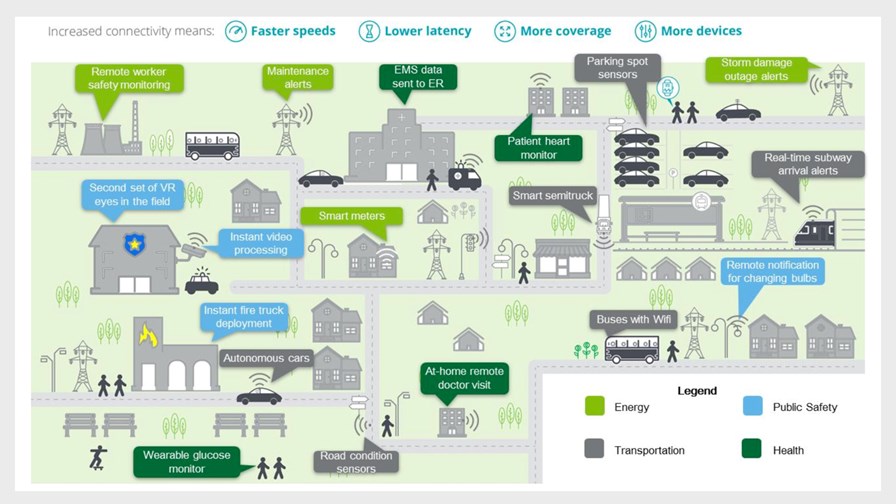 Study looks at the impact of wireless on key verticals
Focuses on the energy, health, public safety and transportation sectors
Plays into the campaign for a rapid introduction of 5G in the US
CTIA continues to lobby for more streamlined regulation for cell sites
The CTIA trade association for North American telcos has been ramping up its lobbying for changes to municipal regulations and fees for installing new cell sites. First there was the report it commissioned from Accenture Research on how 5G can make cities "smart", but only if there is a favourable regulatory climate. Now we have a related report, this time from Deloitte, that looks at how wireless promotes innovation across various industries – but, you guessed it, only if there is a favourable regulatory climate.
The Deloitte paper investigates how four key industries – energy, health, public safety and transportation – are using wireless technologies and services to innovate and grow. However, the CTIA stresses that much of this growth will depend on 5G, and of course that also means small cells. "This means streamlining zoning regulations in localities around the country," said Kevin Ryan, AVP and Senior Advisor for Strategic Comms & Advocacy at CTIA. "Policymakers at all levels of government must act quickly, because 5G networks – and the economics of deploying those networks – are structured differently than tall cell towers."
Pulling together some recent research that spanned the selected verticals, Deloitte came up with the following:
Energy: As estimated by the Electric Power Research Institute, smart grid adoption enabled by wireless connectivity could create $1.8 trillion in additive revenue to the US economy and could save the average consumer hundreds of dollars per year;
Health: Goldman Sachs estimates that connected devices could create $305 billion in annual health system savings from decreased costs and mortality due to chronic illnesses;
Public Safety: Improvements enabled by wireless connectivity have the ability to reduce crime and the cost of law enforcement, and save lives – a study in the Journal of Health Economics estimates that a one-minute improvement in response time translates to a reduction of 8 per cent in mortality;
Transportation: Deloitte itself estimates that self-driving cars enabled by wireless connectivity could reduce emissions by 40 to 90 per cent, travel times by nearly 40 per cent and delays by 20 per cent. Furthermore, a 2013 study by the Eno Center for Transportation estimated that self-driving cars could save 21,700 lives and $447 billion per year.
The report argues that to some extent, the current stage of economic growth across these sectors is propelled by improvements in efficiency and other rapid gains. Information that was previously difficult or impossible to acquire is now easily accessible, enabling businesses to better analyse the performance of assets, and more quickly identify opportunities to improve operations. Obviously IoT is playing a major role here.
The next stage of growth, says the report, will come not just from continued efficiency gains, but also from reductions of failure rates, increased productivity and new functional capabilities.
"A fundamental catalyst of this innovation cycle will be the network effects of ubiquitous wireless connectivity brought about primarily by the advancements in wireless technology," says the report. Deloitte concludes that realising this future, and the benefits for energy, health, transportation and public safety industries, will require a number of gaps to be addressed:
Making the permitting and regulatory process more efficient. In some cities, for example, small cells are regulated as if they were large cellular towers, with corresponding license requirements, fees and paperwork that inhibit the rollout of innovative wireless technologies;
Establishing public rights-of-way policies that allow the responsible deployment of small cells near consumers in urban areas;
Lowering costs and fees required to install new wireless infrastructure, as many municipalities carry fee structures that deter investment;
Adapting the siting process to provide more flexibility in placing wireless infrastructure, particularly small cells, in urban areas;
Continuing to support innovation in manufacturing and research to development the next generation of devices and equipment.
The report concludes that "the bottom line is that communities will miss out on opportunities if action is not taken to streamline the deployment of the wireless infrastructure required for 5G and smart cities. The communities and industries that offer the most … flexible platforms and regulatory processes will be the ones that benefit the most from innovation and economic growth."
Ryan chimes in with a further reminder to regulators and policy makers: "If communities take action, billions in investment dollars are ready to go – to unlock 5G and speed the growth of every sector of the U.S. economy."
Email Newsletters
Stay up to date with the latest industry developments: sign up to receive TelecomTV's top news and videos plus exclusive subscriber-only content direct to your inbox – including our daily news briefing and weekly wrap.