Barbarians at the gate! T-Mobile leads the charge into the WiFi domain with LTE-U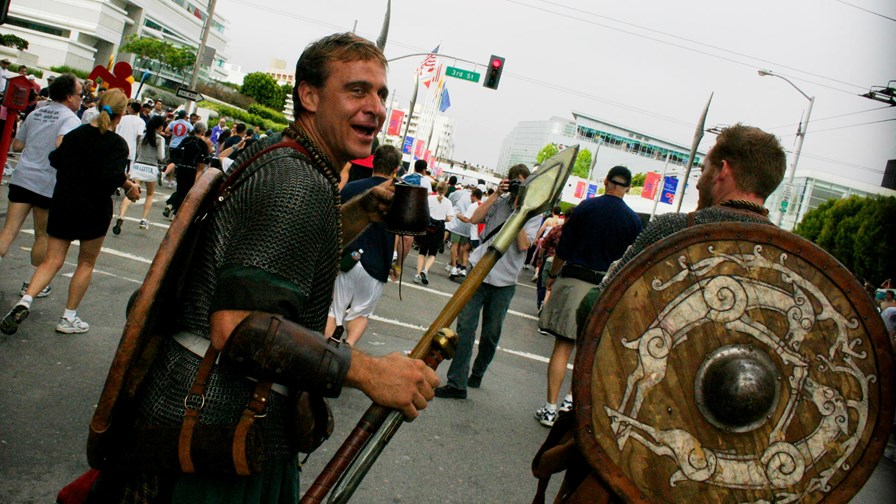 FCC authorises the use of LTE-U devices operating in the 5GHz spectrum
Chairman Ajit Pai claims it a "big win for wireless consumers"
T-Mobile announces a commercial LTE-U launch in Spring 2017
Rival AT&T will demonstrate 1Gbit/s LTE-LAA with Orange, Ericsson and Qualcomm
No sooner had the US regulator, the FCC, removed its objections to the use of LTE technology in unlicensed WiFi spectrum, than T-Mobile boldly announced that it is now deploying LTE-U technology in its LTE network ready for a commercial launch in the 5GHz space in Spring. Given the years of arguments, claims and counter-claims that have polarised opinion about the use of licensed cellular in unlicensed spectrum, this is quite a defining moment – especially for the US market.
There are two similar yet different takes on this approach; LTE-Unlicensed (LTE-U) and Licence Assisted Access (LAA). The latter is being baked into the 3GPP's cellular standards, whereas the former is more vendor-driven. No surprise that Qualcomm plays nicely with both approaches. Much of the difference revolves around "listen before talk" mechanisms that are part of LAA, being requirements in the European Union, whereas the situation in the US is more relaxed.
"Today, the Commission announced authorisation of the first-ever LTE-U devices in the 5GHz band," said FCC Chairman Ajit Pai, who is already proving to be a champion of telcos in his first few weeks in charge. "This is a significant advance in wireless innovation and a big win for wireless consumers."
The FCC's Office of Engineering and Technology has now certified that the LTE-U devices from Ericsson and Nokia are in compliance with FCC rules, and the commission says that voluntary industry testing has demonstrated that both these devices and WiFi operations can co-exist in the 5GHz band.
"LTE-U and WiFi stakeholders worked together under the auspices of the Wi-Fi Alliance to develop co-existence guidelines and an evaluation test plan that was released last fall," said Julius Knapp, Chief of the FCC Office of Engineering & Technology. "The LTE-U devices that were certified today have been tested to show they meet all of the FCC's rules."
However, this testing and certification is not the same as cellular certification. As Knapp explains: "The circumstances in this instance were unique. We understand that the LTE-U devices were evaluated successfully under the co-existence test plan. However, this is not an FCC requirement and – similar to conformity testing for private sector standards – the co-existence test results are not included in the FCC's equipment certification records."
First to market
Minutes later, T-Mobile issued a press release detailing its plans for LTE-U. It announced that it is now deploying LTE-U technology in its LTE network, paving the way for the telco to introduce new network capabilities and devices for consumers this spring. At which time, its customers will be able to access the first 20MHz of "underutilized unlicensed spectrum on the 5GHz band" (T-Mobile's words) and use it for additional LTE capacity.
T-Mobile says it already has more capacity per subscriber than AT&T and Verizon, and the addition of LTE-U will extend that lead and further improve its "blazing-fast speeds", eventually making it possible for T-Mobile to bring its forthcoming Gigabit LTE to more places across the US.
T-Mobile's CTO, Neville Ray, had nothing interesting to say, merely extoling T-Mobile's innovation prowess. However, the company added that the FCC's certification follows more than three years of research, development and testing to ensure LTE-U works well alongside WiFi technologies. T-Mobile had started testing LTE-U equipment as part of early field trials in December 2016.
According to T-Mobile, LTE-U devices and equipment intelligently tap into and share underutilised unlicensed spectrum without affecting other users on the same band, including those using "conventional WiFi". It adds that LTE-U constantly seeks the least utilised channels to maximise efficiency and performance for everyone. Then, as demand on the WiFi network increases, LTE-U backs off, and as WiFi demand wanes, customers can tap into that unused capacity for LTE. Sounds simple.
"It means [consumers] get to enjoy the best of both worlds: a more robust, seamless experience when their devices are using cellular networks and the continued enjoyment of WiFi, one of the most creative uses of spectrum in history," added FCC Chairman Pai. "I remain committed to ensuring a competitive and vibrant unlicensed ecosystem that fosters innovation and promotes the efficient use of spectrum."
"Ericsson welcomes the FCC's approval of LTE-U," commented Glenn Laxdal, Head of Network Products, Ericsson North America. "The use of this technology will bring an even better customer experience while using LTE."
Meanwhile, in the realm of LAA…
And speaking of Ericsson, the Swedish vendor has announced that it is collaborating with AT&T, Orange and Qualcomm to showcase Gigabit LTE using LAA technology. It will present a joint live demonstration of Gigabit LTE using the aggregation of licensed and unlicensed spectrum with a commercial modem chipset at Mobile World Congress next week.
The demonstration is designed to show that 1Gbit/s is achievable by aggregating up to 80MHz in licensed and unlicensed bands, using a Qualcomm Snapdragon 835 processor together with X16 LTE mobile test device. Fair coexistence between systems operating on the same unlicensed bands is supported using the "listen before talk" mechanisms defined by ETSI.
"Through the deployment of small cells and the use of technologies like carrier aggregation and LTE-LAA, we expect to enable theoretical peak speeds up to 1Gbit/s in some areas in 2017, offering an experience similar to what we're showcasing at MWC," explained Tom Keathley, SVP Wireless Network Architecture and Design, AT&T.
"The LAA feature offers the reliability and seamless mobility of LTE in licensed spectrum supplemented with a throughput boost via the use of unlicensed spectrum," added Arnaud Vamparys, VP Radio Networks and Microwaves, Orange. "It is a promising solution for some deployment scenarios, such as next-generation small cells located in high usage areas."
"Cooperation in first-time demonstrations like this one ensures that developing chipsets and network functionality all go hand-in-hand," said Serge Willenegger, SVP Product Management, Qualcomm Technologies. "As a result, consumers can expect smartphones and other mobile devices with Gigabit LTE, including support for LAA, this year."
Email Newsletters
Stay up to date with the latest industry developments: sign up to receive TelecomTV's top news and videos plus exclusive subscriber-only content direct to your inbox – including our daily news briefing and weekly wrap.