BBC to stream live UHD HDR coverage of World Cup, along with VR trials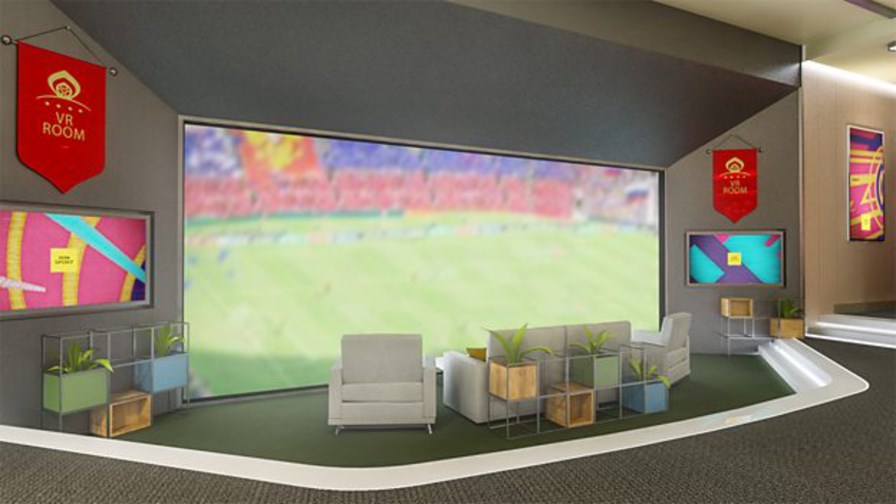 29 FIFA World Cup games to be streamed via iPlayer in 4K
BBC to provide limited number of 3840 pixel UHD and HDR streams
Massive 40Mbit/s connection required to view, on first come basis
VR app will add multiple viewing angles and match statistics
UK and global broadcast giant BBC is taking another tentative step towards the 4K world, to the obvious joy of the millions of viewers who have been persuaded to upgrade their TVs to Ultra HD – despite a woeful lack of content. The broadcaster has today announced that it will screen the FIFA World Cup in Russia in June in UHD – or rather 29 of the 33 games the BBC has rights to broadcast. The BBC will use the Hybrid Log-Gamma version of HDR it invented with Japanese broadcaster NHK, which has been lauded by the industry as providing improved picture quality not only to HDR UHD devices, but also to most Standard Dynamic Range UHD devices. However, there's a catch…
This remains a trial (following on from the Blue Planet experiment) and will be restricted to its iPlayer streaming app; so no terrestrial broadcast unfortunately. It will also be restricted to just "a limited number" of streams per game. The actual number remains a mystery, but the BBC says that the trial will be available "to tens of thousands of people to watch on a first-come, first-served basis".
And there's another catch – to receive the true 50 frames per second, 3840 pixel Ultra HD and HDR picture quality, the BBC warns you will need an Internet connection "of at least 40Mbit/s". Even for the less than scintillating 2560 pixel UHD image you will still need upwards of 20Mbit/s. Compare this to the BBC's bandwidth recommendations of 2.8Mbit/s for HD and just 1.5Mbit/s for SD. Having access to a consistent 40Mbit/s or more is still a luxury for most parts of the UK (for example, although I pay for a 72Mbit/s line, the real-world speed just about hits the 40 to 45 mark, on a good day).
Well, they did say it was a trial. Although one wonders what the objectives are? The BBC surely knows this is not going to scale to the wider populace, and that better codecs are going to be needed and compromises made – they can't wait for the entire country to receive Gigabit broadband upgrades. It also restricts how the matches will be watched – forget LTE, and forget (for most people) WiFi. You're going to have to use Ethernet cable to ensure maximum connectivity speeds – in an age where we are being persuaded to ditch wired and go all-in with wireless.
The BBC says the experience and data gathered from this trial will help it to optimise UHD delivery in the future. The trial also helps the BBC and wider industry prepare for a time when delivering such large-scale events in such high quality, for larger audiences, over the open Internet is normal. In what must surely produce a groan from telcos, the BBC says it sees the Internet as an important distribution channel in the future. Waiter, more bandwidth please.
The virtual experience
In a second, related trial, the BBC has announced its "first VR World Cup", via a new "BBC Sport VR - FIFA World Cup Russia 2018" app. The free app is available for Gear VR, Oculus Go and PlayStation VR, as well as Android and Apple devices.
"Anyone with a smartphone or compatible VR headset can open the app and find themselves inside their very own luxury private box in a Russian stadium," said the press release. "If there's a game on, they can watch from the best seat in the ground by heading over to the box's giant viewing window and looking out onto the pitch from their BBC Sport sofa. From here, audiences can access a range of live match stats that pop-up from the virtual coffee table, or they can switch their view and choose to sit behind either one of the goals to get up-close to the action."
We've seen something similar earlier this year with SK Telecom's "Oksusu Social VR"platform, which enables users to watch video content with friends and colleagues all around the world and communicate with each other in a virtual space. The BBC's app is not so social, and appears to be more of a solitary experience.
The broadcaster also warns that this trial is also bandwidth-hungry, with connections of 10Mbit/s or more required – so again, LTE users beware; you are best retreated to the safety of a decent WiFi connection. Also, those trying to access the app from an iPhone might be disappointed, as you'll likely need a compatible headset (the BBC was not clear on this, but how else can it be VR without a headset?). The problem is, there are very few iPhone compatible devices – Google Cardboard is the cheap and cheerful option, but a couple of other manufacturers also support the iPhone, including Zeiss and View-Master (yes, I know! View-Master, from the 1970s…!)
"The BBC has brought major live broadcasting breakthroughs to UK audiences throughout the history of the World Cup," said Matthew Postgate, BBC Chief Technology & Product Officer. "From the very first tournament on TV in 1954 and England's finest hour in 1966, to the first colour World Cup in 1970 and full HD in 2006. Now, with these trials we're giving audiences yet another taste of the future."
Email Newsletters
Sign up to receive TelecomTV's top news and videos, plus exclusive subscriber-only content direct to your inbox.