Arqiva kicks off the first Euro field trial of 5G Fixed Wireless Access in London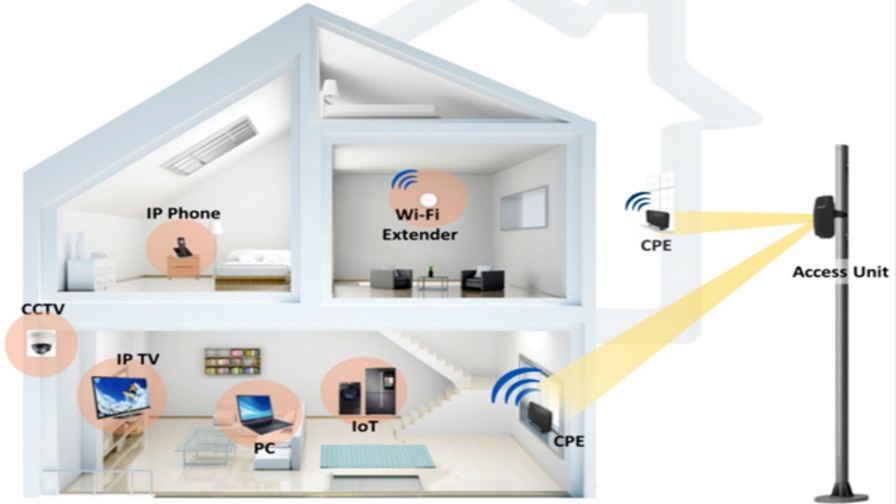 5G Fixed Wireless Access (above)
28GHz trial to test stability of 1GB per second services
Arqiva is running trial on its mmWave spectrum
Samsung is supplying radio kit both ends plus virtualised core
5G Fixed Wireless Access (above)
Arqiva and Samsung Electronics have today launched what they claim is the first field trial of 5G Fixed Wireless Access (FWA) technology in Europe. The London trial will use Samsung's 5G network solution and customer premises equipment (CPE), and Arqiva's 28GHz millimetre wave (mmWave) spectrum – establishing a two-way mmWave link with downlink speeds of around 1GB per second, it's claimed
The trial is set to run for four-months and the major objective is to prove out the stability of the fixed radio solution in a market where it will be competing with fibre to the premises (FTTP) and ultra-fast DSL. FWA's big advantages - should that stability be proven - is thought to be its potential speed to market and its cost-effectiveness.
During the trial, the radio access unit is to be located on the rooftop of Arqiva's Fitzrovia, Central London office from where it uses beam forming technology to wirelessly link to a router by a window inside Arqiva's nearby headquarters.
If and when the solution starts rolling out, the compact access unit can be mounted on lampposts or on other 'street furniture' to provide reliable gigabit-per-second service to neighbourhoods and businesses.
Samsung's virtualized core, running on Arqiva's servers, has also been enlisted to manage the user connections and the routing of data from Arqiva's network to the internet.
Despite a link distance of several hundred meters, Arqiva says the system has established a stable two-way mmWave link with downlink speeds of around 1GB per second at the CPE - this could handle simultaneous streaming of more than 25 UHD 4K TV channels, far above the needs of today's typical household so able to cope with considerable growth in usage.
The trial will run for a four-month period, during which time anticipated visitors include representatives from the UK Government, Mobile Network Operators (MNOs), Fixed Network Operators, media companies, analysts and more. There are also plans to extend the trial's coverage to additional nearby buildings over its duration.
To register interest visit Arqiva5G.com.
Email Newsletters
Sign up to receive TelecomTV's top news and videos, plus exclusive subscriber-only content direct to your inbox.