AI and automation are key to telco efficiency efforts – poll results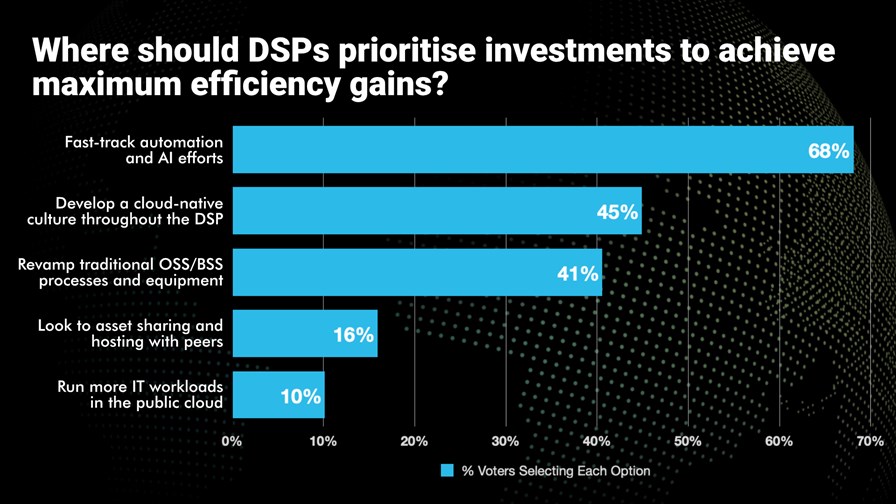 All network operators are striving for greater efficiency
Focused efforts to lower opex while better serving customers were discussed during the recent DSP Leaders World Forum
Network operators should accelerate their automation and AI efforts to achieve their efficiency goals, according to the results of our forum poll
Network operators should accelerate their automation and AI projects if they are to become more efficient and lower their operating expenditure (opex) without having a negatively impact on customer experience metrics, according to the results of a poll conducted during the recent DSP Leaders World Forum 2023 that was held in-person in Windsor, UK, and streamed live.
The poll was linked to the forum's second session, Achieving maximum operational efficiency: How service providers can best operate at speed and scale.
That session was co-hosted by Iain Milligan, chief network operator (CNO) at UK operator Three, who outlined how the multiple unexpected challenges of the past few years, such as the pandemic and supply chain issues, have been the catalyst for accelerated efficiency efforts and increased automation – see From adversity comes efficiency and automation – Three CNO.
Milligan noted that in early 2020, when Covid-19 lockdowns began and the UK workforce largely shifted to home working within days, Three initiated moves "we had talked about for years," such as "doing a certain level of automation for a simple thing like telephony systems for our contact centre. We'd said that would take years to do – people need to adapt to a new way of working… [but] we managed to launch and change our telephony system within about three days when previously we said it would take a year," he explained.
And it's that kind of accelerated effort, though hopefully not spurred on by another global disaster, that our poll respondents believe should be the focus of network operator efficiency drive efforts.
The poll asked: In which areas should DSPs [digital service providers] prioritise investments to achieve maximum efficiency gains?
Respondents were able to select all options that they deemed relevant.
As the chart above shows, by far the most popular option was 'Fast-track automation and AI efforts' – no doubt made even more popular by the current focus on how emerging generative AI tools might broaden and enable the automation of current staff-intensive processes – see ChatGPT and its ilk can help telcos cut costs and improve services – GlobalData.
And there's no doubt that telcos believe the introduction of AI-enabled processes will enable them to slim down and cut operating costs in the coming years – see BT to cut up to 55,000 jobs in AI-enabled efficiency drive.
While AI and automation attracted the most votes, the ongoing migration towards cloud-native practices is also regarded as key to greater efficiency, with 45% of the poll respondents selecting 'Develop a cloud-native culture throughout the DSP' – and there's evidence that such moves can indeed lead to multiple benefits, as Orange's Arnaud Vamaprys explained during the forum.
One aspect of any cloud-native transformation would be the assessment of existing operational and business support system tools – the OSS and BSS – to ensure that day-to-day operations and business processes are as efficient and streamlined as possible and, indeed, the poll option 'Revamp traditional OSS/BSS processes and equipment' attracted votes from 41% of respondents.
Perhaps surprisingly, the option 'Look to asset sharing and hosting with peers' attracted votes from just 16% of respondents, suggesting that network sharing might not be as important to efficiency drives as some might have thought.
And even more surprisingly, prioritising investments to 'Run more IT workloads in the public cloud' attracted hardly any support, with only 10% of voters selecting that option. Is the economic case for shifting IT workloads to public cloud platforms not resonating with telecom industry executives? It seems that way, if this poll result is anything to go by.
- Ray Le Maistre, Editorial Director, TelecomTV