From adversity comes efficiency and automation – Three CNO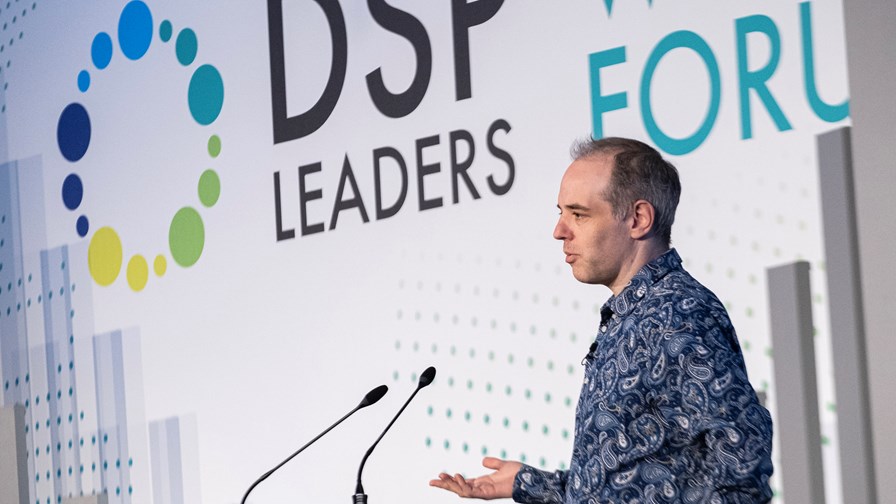 Telcos have faced a perfect storm of challenges over the past few years
UK operator Three has had to adapt quickly to be more efficient and drive automation
Skills and 'smartsourcing' challenges are paramount, noted chief network officer (CNO) Iain Milligan during his co-host address at the recent DSP Leaders World Forum
The shift towards the techco model is an ongoing evolution, he noted
WINDSOR – DSP Leaders World Forum 2023 – Telcos are constantly searching for ways to reduce their operating expenditure (opex) and become more efficient, but sometimes it's the impact of unexpected events, such as the global pandemic and the ongoing supply chain challenges, that are the catalysts for accelerated and positive change, noted Iain Milligan, chief network operator at UK network operator Three, during the recent DSP Leaders World Forum 2023.
Milligan, the co-host of the forum session entitled Achieving maximum operational efficiency: How service providers can best operate at speed and scale, who has been at Three since 2005 in various roles (and in his current role since August 2022), kicked off the discussion with an update on Three's efforts to become a more efficient operator, a struggle that he described as a "perpetual problem to solve".
He noted that Three looked at revamping its operations along the lines of what is now dubbed the 'techco' model as long ago as 2016 as one of its ongoing efforts to reduce the operator's cost base and become leaner and more efficient. "The big issue, obviously, is always with the opex," and that's something that weighs heavy on an operator's earnings before interest, tax, depreciation and amortisation (EBITDA), which is the key "measure of success… having too much opex is never going to help you, but that is the constraint we've got."
Three currently appears to have that under control, though, as despite a 6% year-on-year increase in the number of active customers last year to more than 10 million and a 3% increase in revenues to £2.52bn, the operator's EBITDA also grew at the same rate, even when you factor in inflationary pressures and ongoing 5G network rollout investments (basically, opex isn't running away from Three).
But those most recent numbers have come after a few years of massive and unexpected disruption that, noted Milligan, forced Three into an accelerated programme of opex reduction, efficiency gains and process automation efforts.
"There are some elements [that have been] successful in the past number of years, some learnings along the way, but there's been a real shift since about 2020, driven by external necessity rather than an internal drive for efficiency. Obviously, every day was impacted in lots of different ways by Covid – you had to adapt. An example within Three [was something] we had talked about for years – doing a certain level of automation for a simple thing like telephony systems for our contact centre. We'd said that would take years to do – people need to adapt to a new way of working… [but] we managed to launch and change our telephony system within about three days when previously we said it would take a year," explained Milligan.
That provided the impetus for further efforts, taking that "use case and driving it into other aspects of automation" to achieve greater efficiency, and that was "borne out of the need to change, rather than looking at an opportunity to be efficient. So it's a mindset change we've had to go through."
And Covid-19, of course, was followed by other major opex hurdles. "In the past 18 months, we've seen another challenge, which again we're all very familiar with – the hot topic of energy efficiency. There's also the supply chain challenges, and the cost-of-living crisis that has impacted the ability of consumers to be able to afford services."
All of these challenges put further pressure on telcos to "drive down costs whilst improving services, whilst also being really smart with your capex. The reality is that this is something which every [network operator] has to adapt to – it's in the telco environment, it's a perpetual problem to solve."
And then there's the techco-related question: How to structure the team, reskill and upskill staff and figure out the way that cloud-native processes impact day-to-day operations, especially as operators move towards the deployment of 5G standalone core platforms. Such transitions are necessary but also need to be done in a cost-efficient and agile way.
"How do you structure yourself?" asked Milligan rhetorically. "How do you work in a way that [is] cost efficient, drive efficiency [in] opex and drive the right behaviour to also generate the best customer experience and the best products? These can sometimes be contradictory [goals]," he noted.
For major Tier 1 telcos, such as Vodafone, with operations across multiple markets, adopting a techco model and reshaping the operations and software development team with a new recruitment and training strategy is possible and affordable, but it's tricker for smaller players. Do they compete to attract developers with cloud-native and AI experience?
"Another big discussion we've had is around insource versus outsource" in terms of skills and human resources, noted Milligan. "It's mainly around smartsourcing. We went from one side of the pendulum to the other… we've gone on a journey to insource, but it's all about the right balance, having the right partnerships with the right suppliers… that's a key part of our overall operating model and it's a big topic around that drive to automation… having the right technical knowledge, the right process knowledge, and the right insight [and] be absolutely laser-focused on where you get your efficiencies."
And there's another external development that Milligan didn't mention that could soon take that internal discussion out of the Three team's hands, and that's the impending merger of Three with Vodafone UK to create a much bigger operator that would have the scale for greater efficiency and, one would imagine, benefit from Vodafone's ongoing techco transformation, which Vodafone Group CTO Scott Petty discussed in the session that preceded Milligan's – see Vodafone CTO: Insourcing is key to the techco transition and From telco to techco: The impact of next-gen operations on skills, talent acquisition and retention.
The skills challenge, and how to smartsource for ultimate impact is, of course, a massive one, but there's the bigger picture of network and process automation by design that, as telcos rollout next-generation networks, can be considered from day one.
Milligan says the whole process needs to be considered, from planning and procurement strategies to operations. "We're looking at this… how do you [strike] win-win contracts? How do you then look at your design and your architecture to be automatable from the start? How do you have the right skills within your operations to be able to leverage that? And how do you [develop] the right skills to identify the problems to solve?"
The Three executive is certainly asking the right questions, but it'll be tough to answer them all until there's some certainty around the planned merger with Vodafone UK (the full details of which, according to relentless speculation, could be shared with the market any day now).
And what did Milligan's fellow session speakers from BAI Communications, ConnectiviTree, Rakuten Symphony, Sandvine and Wind River have to say in answer to his many questions? Check out the full session here.
- Ray Le Maistre, Editorial Director, TelecomTV