The RFFE: back in front where it belongs?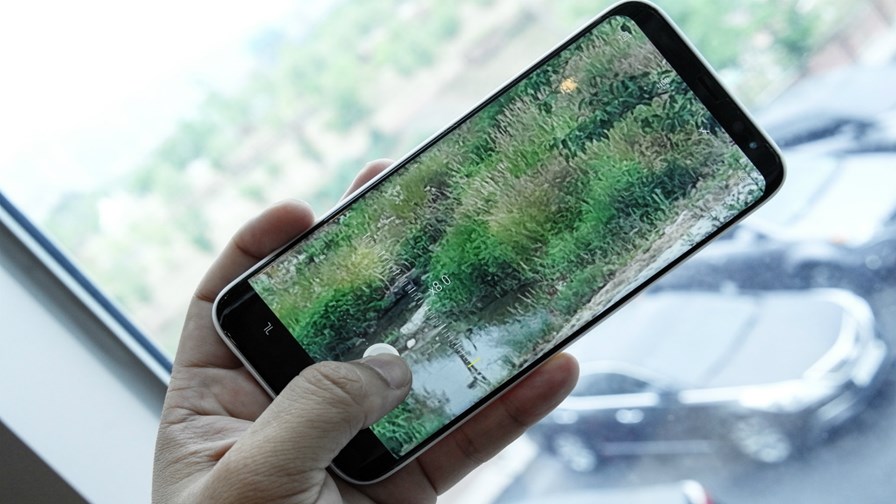 Time to reaffirm the importance of the RF front end
Carrier aggregation and a general increase in complexity makes it a hero component
Today Samsung's Galaxy S8 and S8+ are arguably sporting the most complex smartphone RF designs
Mobile phones once seemed to be about RF (radio frequency) more than anything else - or so it seemed way back in the 80s and 90s. Then came the smartphone and the emphasis changed. Apps, screens, memory and processors were to the fore and RF performance became a sort of hygiene factor, at least to the users and smartphone marketeers.
But times are always a-changin' and researchers, IHS Markit, decided it was time to flag up and re-establish the importance of the RF Front End (RFFE) as (perhaps) the crucial smartphone differentiator as the industry gallops into the more mature iterations of 4G (LTE Advanced and LTE Advanced Pro) and onto the sunlit uplands of 5G New Radio (NR).
We're essentially talking about carrier aggregation here. To get to the eye-popping gigabit per second speeds promised by LTE-A Pro - which are essentially a sort of warm-up act for 5G - you have to aggregate multiple radio carriers at the terminal. And to do that you need to pay a whole lot of attention to the RFFE which is the technology sitting between the antenna(s) and the transceiver, says IHS Markit. It includes components such as power amplifiers (PAs), low noise amplifiers (LNAs), switches, duplexers, filters, and other passive devices.
Because of the need to support multiple carriers and radio transmission standards, including public spectrum protocols such as WiFi and LAA, not to forget the previous cellular standards from 2, 3 and 4G (which aren't going away for a while yet), the task for the coming generation of RFFEs has not only become much more demanding, but the front end has to fight for space inside the enclosure with other increasingly important features, such as larger screens, bigger batteries and a shrinking bezel.
One villain is network video and user generated content. That's meant larger screens, greater power consumption and bigger battery sizes which have essentially delivered a double whammy to the RFFE. It has to be more stringent on its power consumption while as the same time being allocated less space to be stringent in.
Agro in the aggregation
But the big challenge is the move from LTE-Advanced to LTE Advanced Pro and IHS Markit considers that this migration may bring the most drastic increase in RFFE complexity to date. In the case of the Qualcomm Snapdragon-driven Galaxy S8 (on which IHS Markit did a 'teardown' to inspect its insides) Samsung had included an RFFE designed to cope with the necessary aggregation and sheer range of RF standards to be supported.
One measure of this increasing complexity in the RFFE, says IHS Markit, is the number of transmit and receive paths present in a device. This generally correlates with the number of antennae used in RFFE designs and the number of supported spatial data streams. By the time Samsung hit Cat 16 with the Galaxy S8 it was supporting nine antennae.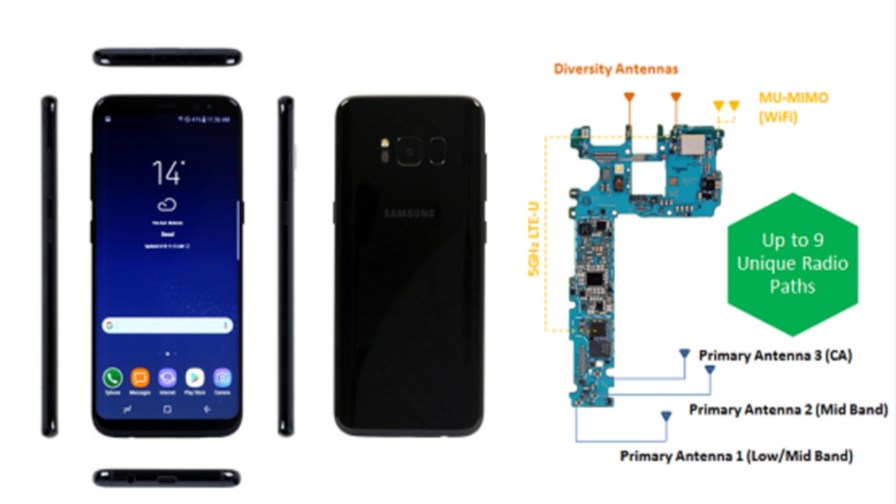 "With their expanded carrier aggregation abilities, higher orders of modulation, more complex antenna architectures, increasing number of spatial streams, and LTE-U capabilities, the RFFE of new premium smartphones like the Galaxy S8 and S8+ are arguably the most complex smartphone RF designs deployed at the time of their release," says IHS Markit.
So the RFFE is back. Not that it went anywhere, it just took a backseat for a decade or so. Now it's back in the front where it belongs.
Email Newsletters
Sign up to receive TelecomTV's top news and videos, plus exclusive subscriber-only content direct to your inbox.