What's up with… Orange, China/US tech war, TelcoDR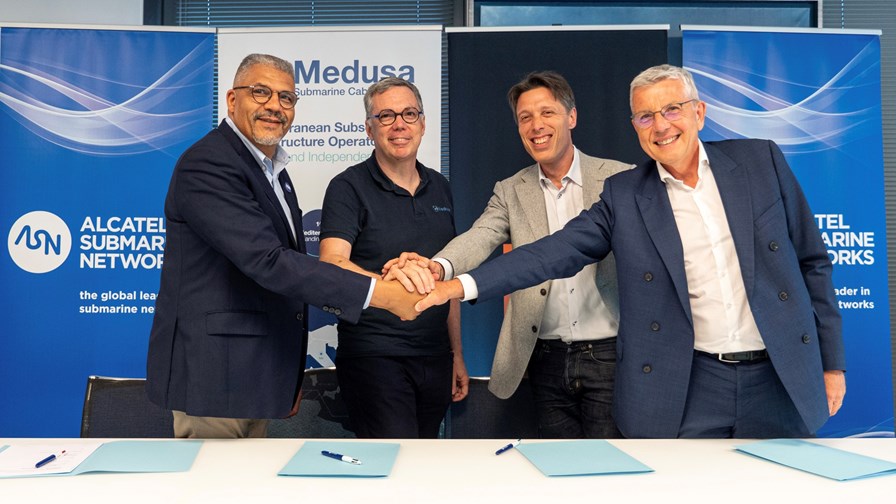 Orange is part of a major Mediterranean subsea network rollout
The China/US tech supply chain battle is intensifying
TelcoDR is promising cut-price AWS deals to telcos
In today's industry news roundup: Orange and Alcatel Submarine Networks are among the companies set to build the Medusa subsea cable network in the Mediterranean; China and the US are now exchanging blows in the tech supply chain battle; TelcoDR is trying to tempt telcos with some AWS discounts; and more!
Orange is one of the major names involved in the planned construction of "the longest cable in the Mediterranean Sea", connecting north Africa and southern Europe. The so-called Medusa Submarine Cable System is set to span more than 8,700 kilometres and deliver connectivity between Morocco, Portugal, Spain, France, Algeria, Tunisia, Italy, Greece, Cyprus and Egypt. The project is a joint effort between Alcatel Submarine Networks (ASN), Elettra, Medusa and Orange, and installations are planned for 2024 and 2025. According to Orange, the system is built on "state-of-the-art" 24-pair fibre optic open cable technology, with 20 Tbit/s minimum capacity per fibre pair. The network operator said that the subsea cable system will unlock "unprecedented opportunities" for collaboration, innovation and economic development in the Mediterranean and Atlantic regions, as well as helping to bridge the digital divide. The construction of Medusa is funded by African internet service provider (ISP) AFR-IX Telecom, Orange and the European Union through CEF (Connecting Europe Facilities) grants. The CEO of Medusa, Norman Albi, explained that the cable system is expected to be in service in the fourth quarter of 2025. Read more.
The technology supply chain battle between China and the US just shifted up a gear. As has been well documented, the US has been imposing trade sanctions for years that have restricted the supply of US technology (hardware and software) to Chinese companies and that has had a dramatic impact on a number of companies, particularly Huawei (an impact exacerbated by successful US pressure on a number of countries to impose bans on the deployment of Chinese technology infrastructure, including 5G core and radio access network [RAN] systems). Now, China's Ministry of Commerce has, "in order to safeguard national security and interests…, decided to implement export controls on items related to gallium and germanium," it announced on Monday. Companies in China will need an export licence to ship the metals or products containing the materials with effect from 1 August. The restrictions apply to eight gallium-related products (gallium antimonide, gallium arsenide, gallium metal, gallium nitride, gallium oxide, gallium phosphide, gallium selenide and indium gallium arsenide) and to six germanium products (germanium dioxide, germanium epitaxial growth substrate, germanium ingot, germanium metal, germanium tetrachloride and zinc germanium phosphide). The move is notable because the metals are used in the production of compound semiconductors, some 5G antennas, optical cables and other technology products. While China is the leading producer of both metals – 60% of the world's germanium and 80% of gallium, according to industry association the Critical Raw Materials Alliance (CRMA) – the export restrictions will be disruptive rather than disastrous, as the metals can be mined elsewhere. China is currently the leading producer because it has traditionally offered the metals at low prices, so restrictions might push up prices and cause some supply chain issues, especially in the near term. The news came just days after reports suggested the US is gearing up to impose new restrictions on the export by companies, such as Nvidia and AMD, of AI chipsets to China, reported Reuters and was followed by the news that the US might even seek to restrict access by Chinese companies to public cloud platforms run by US companies, such as Amazon Web Services (AWS), Microsoft Azure and Google Cloud.
Danielle Royston, the founder and CEO of TelcoDR, has long positioned herself as a public cloud evangelist and has been very vocal and active in her efforts to get telecom operators to shift their workloads onto public cloud platforms but has often encountered pushback from telco executives who claim that public cloud pricing is not always cost-effective. Well, now Royston has arranged special discount pricing for telcos wanting to use the Amazon Web Services (AWS) cloud platform. TelcoDR has brokered a partnership with CloudFix, a provider of SaaS-based AWS cost optimisation solutions, saying that the agreement "empowers telcos to unlock unprecedented savings on their AWS costs. The partnership will provide exclusive pricing offers to telcos who purchase CloudFix through TelcoDR," Royston's company has announced, noting that the offer is ideal for those network operators with an annual AWS spend of more than $20m. "CloudFix's laser focus on telcos' largest area of spend, compute, generates monumental savings for our customers," noted Royston. "By liberating wasted spend, telcos can redirect these savings" towards other important areas of capital expenditure (capex) and operational expenditure (opex), though Royston, who never misses a promotional opportunity, suggests any savings could be put towards an investment in her own Totogi telco software products… Read more.
Meta, Facebook's parent company, will reportedly launch its new social media app, Threads, on Thursday. The service, which will be linked to Meta's Instagram, is set to be a direct competitor of Twitter. The launch comes just as Twitter has introduced a number of restrictions, such as preventing users from seeing tweets if they are not logged in and limiting the number of posts they can read per day. The launch of Threads also follows a pact between Meta CEO Mark Zuckerberg and Twitter owner Elon Musk to battle out their differences in a cage fight.
The competition is heating up in Ethiopia where the Ethiopian Communications Authority (ECA) has put a second private telecoms licence out to tender, inviting "world-class" operators to take part in "this exciting opportunity to operate within Ethiopia's rapidly growing economy." The authority has issued a request for qualifications (RFQ) inviting telecom companies to participate and express interest in the bidding process by 15 September. State-owned Ethio Telecom was the sole telco in Ethiopia prior to 2021 when the country finally opened the doors to its telecom market by granting a licence to Safaricom Telecommunications Ethiopia, a local telecoms operating company owned by a consortium that includes Vodafone, Vodacom and Safaricom. The new tender process will determine the second private player in the market and, according to previous media reports, e&, Orange and Veon have already expressed interest. The ECA pointed out "several positive developments" that have taken place in the sector since the arrival of Safaricom Telecommunications Ethiopia and the "beginning of the liberalisation process", including strong legal and regulatory frameworks for telecom and mobile financial services, as well as the availability of additional spectrum. Find out more.
Swedish telco Tele2 has been issued with a 12m Swedish kronor ($1.12m) fine for breaching GDPR regulations. The penalty was issued by the Swedish Authority for Privacy Protection (IMY) as part of a broader clampdown examining the ways in which some Swedish companies have been using Google Analytics, following a complaint. According to its findings, Tele2 had, until recently, been transferring personal data to the US via Google Analytics since August 2020. GDPR rules state that personal data may be transferred to third countries, such as those outside of the European Union (EU) and the European Economic Area (EEA), if the European Commission has decided the country in question has "an adequate level of protection for personal data". However, a ruling by the European Court of Justice deemed that the US could not be considered to have an adequate level of protection, such as that found within the EU/EEA. The IMY has added that Tele2, alongside another Swedish company, has not taken the same "extensive protective measures" as other enterprises being investigated. The regulator noted, however, that Tele2 has recently stopped using Google Analytics "on its own initiative".
UK business communications service provider Spitfire Network Services has struck a mobile virtual network operator (MVNO) deal with BT Wholesale to connect its core platform with the 4G and 5G radio access network infrastructure of EE, BT Group's mobile network and retail services division. Once connected and ready to launch its own mobile services (expected in the autumn time this year), Spitfire plans to "offer first-class connectivity, better security and, flexible and innovative billing plans to SME, enterprise and IoT [internet of things] customers across the UK with the potential for greater efficiency via the integration of fixed and mobile networks," the company noted in this announcement. Spitfire already provides businesses with "fixed-line fibre and private network connectivity, including direct access into Amazon AWS/Microsoft Azure and other cloud providers through Spitfire's Cloud Connect solution," to which it will add mobile voice, high-speed data and cellular IoT connectivity.
- The staff, TelecomTV