NEC goes digital with 28GHz multi-user MIMO beamforming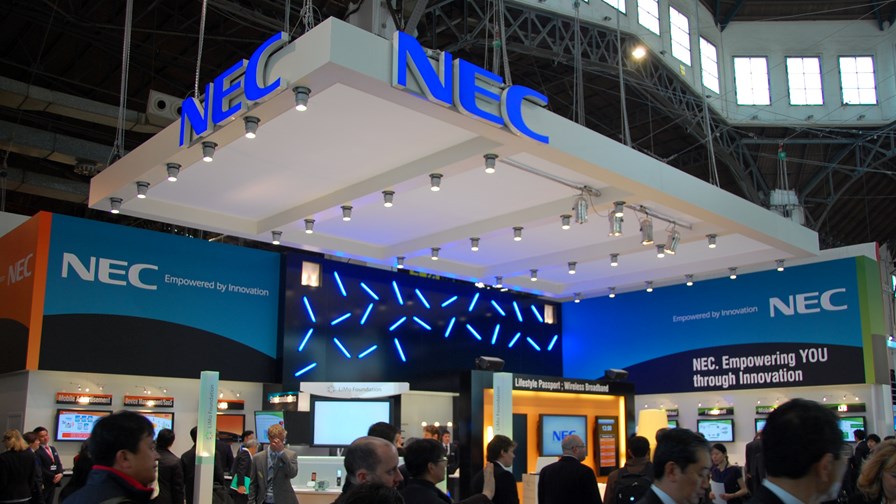 Simultaneous digital beamforming across 28GHz band for 5G systems
Test used a single massive-element active antenna system (AAS)
Four MU-MIMO communicated with four terminals from a single AAS
NEC achieved 3.1Gbit/s cell throughput across 300MHz
NEC has announced that it has completed a successful transmission of digital beamforming with a massive-element active antenna base station system in the 28GHz band. It says this is the first industry demonstration of simultaneous beamforming transmission (in this case using four multi-user MIMO) from a single massive-element active antenna system (AAS) to four terminals. NEC report that it achieved a 3.1Gbit/s cell throughput when using a frequency block of 300MHz.
The key behind NEC's massive-element AAS is a fully digital control system, which improves the precision of beamforming. This fully digital control system enables simultaneous beamforming in multiple directions from a single massive-element AAS unit and efficiently implements high-speed and high-capacity communication without interfering with adjacent users through spatial multiplexing. In contrast, analogue control systems require the installation of the same number of massive-element AASs as the number of beams, resulting in a much larger physical footprint.
Transmission at 28GHz, and mmWave signals in general, is tremendously more complex than today's low-band cellular, or indeed the mid-band systems that will first be deployed for 5G. Using a digital control system, NEC says its solution is also capable of beamforming that takes into account multipath, a non-direct wave signal, and moderately adjusts beam directions. This is in addition to beamforming that cancels out interference through multipath and reduces performance deterioration caused by inter-cell interference.
Yet a fully digital control system alone is not going to be enough – traditionally they require a large number of digital/analogue signal and frequency converters, all of which increases power consumption, capacity and thus cost for the entire system. NEC says it has successfully developed a massive-element AAS that adopts a fully digital control system with less power and more compact conversion functions through its custom technology.
"In order to effectively implement sophisticated services that apply 5G features from 2020 onward, it is essential to utilize 28GHz and other high frequency radio bands, which enable the securing of wide bandwidth, and the utilisation of beamforming," said Katsumi Tanoue, Deputy General Manager, Wireless Access Solution Division, NEC. "Moving forward, NEC will continue its efforts in development and demonstration tests for a massive-element active antenna base station system that delivers high speed, high capacity and massive connectivity."
As we mentioned yesterday, antenna systems are going to play a crucial role in 5G and will be a key part of operators' attempts to minimize their new investment whilst also preserving backwards compatibility with existing bands.
Email Newsletters
Stay up to date with the latest industry developments: sign up to receive TelecomTV's top news and videos plus exclusive subscriber-only content direct to your inbox – including our daily news briefing and weekly wrap.