Building on private 5G deals, Verizon Business EMEA chief targets regional growth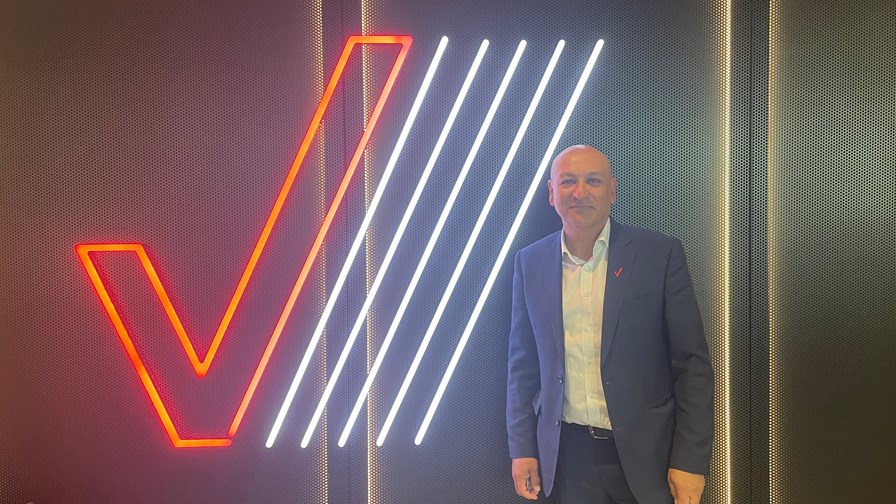 Verizon Business recently opened the doors of its revamped London Hub
It has already scored multinational customers in EMEA, especially in Germany and the UK
New deals are mainly for secure access service edge (SASE), network security and private 5G
Its EMEA head, Sanjiv Gossain, envisages footprint growth in the region, despite competition from European telcos
Following a year of management-level turbulence and renewed competitive vigour from some of its major telco rivals, Verizon Business is on a mission to grow its client base in Europe, with group VP and head of EMEA, Sanjiv Gossain (pictured), bullish that its proposition is strong enough to shrug off the challenges and seize lucrative deals in the region.
On the sidelines of the international service provider's recent London Hub launch – in which the service provider has committed "a significant investment" of an unspecified amount, both in terms of space and technology, such as 5G connectivity and multi-camera setups that can support automated industrial operations – Gossain was optimistic about the company's potential to capture new opportunities outside the US and, specifically, in the EMEA region.
Boasting operations in most European markets, as well as teams serving customers in the Middle East and Africa, Gossain told TelecomTV that, despite high-profile competition in the region from the likes of BT Business (a new unit with new leadership), Orange Business (with a revamped focus under new leadership), Telefónica Tech (boasting significant growth) and Vodafone Business (leading the way in the economy of things market), the service provider has some unique offers for enterprise users in EMEA.
"For companies that operate across borders and internationally, especially globally, Verizon is one of the few telecom companies that provides connectivity securely, reliably across the globe, and manages that capability ourselves," he noted, adding that the business unit serves as "a global provider of managed connectivity services almost anywhere in the world."
Verizon Business has found this to be "a strong value proposition for our customers" because, he explained, they can "go to one company across the globe for all their needs, they're able to know that we have a strong technology backbone and network globally, and that we have one network team – and they provide that capability, whether it's in North America, here or anywhere else."
Another selling point, as outlined by Gossain, is that Verizon provides managed service capabilities using "best-of-breed technology", whether this is on the networking or the security side.
The third staple in its value proposition pitch is that the company tries to work with customers to "make an impact on their business" and to be innovative. "Since the pandemic in 2020 or so, customers have accelerated their digital transformation. And [for] part of that digital transformation, they're relying on technology and connectivity more and more. That means for many of them, their network has to transform as well. Whatever technology they were using 10 years ago, isn't necessarily going to be fit for the future from a network point of view", Gossain explained.
In its London Hub, Verizon is offering "innovative examples" of how network advances are enabling enterprise transformation and showcasing the capabilities of private networks, fixed-line connectivity and next-generation Wi-Fi. And this strategy, it seems, has proven to be "appealing to a lot of our customers," he claimed.
Customer gains
Verizon Business has recently signed up "some great new clients", all of them European, that the company hadn't worked with before, Gossain said. "We won a few in Germany, which is going well. And what we're finding there is that clients are now engaging on the SASE [secure access service edge] journey," which he described as one of the big trends in the market as enterprise networks increasingly need to be accessed securely from anywhere using a mobile device-centric, cloud-first strategy.
A notable example is its recent deal with German multinational conglomerate and industrial manufacturing company Siemens, which will see the telco deploy "Zero Trust network capabilities" – see Verizon Business deploys Zero Trust network capabilities for Siemens.
Verizon Business has also scored "a number of new clients in the UK," claimed the EMEA head. He couldn't say what proportion of its customer base in the EMEA region are major Fortune 500 companies, but he stressed that most of the companies are multinational.
Without mentioning any specific names, he did reveal that one new client is a UK-based company with about 130 sites globally, for which Verizon Business is providing a solution comprising SASE, software-defined wide area network (SD-WAN) and consistent security across all its locations.
Another new win is a multi-year contract, focused on security and networking capabilities, with a German company (not Siemens) that has around 55 sites around the world, while yet another is with a Germany-based energy company that is setting up new sites and requires quick connectivity provision to those, according to Gossain.
Verizon Business is focusing on private 5G networks as an area for growth, building on a deal it struck in 2021 to deploy, in partnership with Nokia, a private 5G infrastructure at the Port of Southampton, part of the Associated British Ports (ABP) empire in the UK – see What's up with… Verizon Business & Nokia, Airtel Africa, MATRIXX Software.
Gossain said the service provider has won a deal with a municipality in Germany to provide a 5G-enabled innovation hub, details of which are due to be made public soon. And it has also landed a private 5G network deal with a manufacturing company based in Germany. "We've won a number of proofs of concept [PoCs] deals as well" as some companies want to try out the emerging private wireless network technology before committing to a major deployment, he explained.
The goal for Verizon Business in the EMEA region is not unusual but very clear – it intends to boost revenues by winning additional clients, protecting its existing client base by ensuring "we are serving them well", and being "responsive and agile".
Top-deck reshuffle
And Verizon Business needs some stability after a tumultuous year, during which it has undergone a number of major managerial changes – the service provider has had three different CEOs in the past year alone. In May 2022, the unit's former chief, Tami Erwin, announced her departure after 35 years in a number of roles at Verizon. A month later, former chief revenue officer of Verizon Business, Sowmyanarayan Sampath, was selected as Erwin's successor – but he didn't keep the seat warm for long, because in March 2023 he was appointed as CEO of Verizon Consumer. At the same time, the top job at Verizon Business was given to Kyle Malady, who used to lead Verizon's global networks and technology.
There have also been changes further down the management stack. When Verizon Business welcomed the media to its London premises just over a year ago in May 2022, Scott Lawrence was Verizon Business group vice president for EMEA – a role that is now served by Gossain.
Commenting on these moves, Gossain said he took on the role on 1 June 2022 as Lawrence was always going to head the EMEA unit on "a short-term basis" as his responsibility in the region was to lead the team while tasked to "find someone to lead the business".
On the CEO changes, he said that despite "some changes... there is a lot of continuity within the company, I think that's important."
For the upcoming year, he explained he will focus on bringing in more customers and "trying to help our customers [as we] expand our footprint across Europe. The customers we work with are very supportive, very engaged [and] we provide a good service to them – I want to continue that. But I also want to grow our footprint here as well", he stated.
While Verizon does not share a regional breakdown of its enterprise services unit's financial performance, its full year financial report for 2022 shows that Verizon Business generated revenues of $31.1bn last year (around 23% of its parent company's total consolidated revenues), about the same as the previous year as "strong" wireless performance was offset by wireline declines.
- Yanitsa Boyadzhieva, Deputy Editor, TelecomTV