Is the economy of things a new telco revenue opportunity? Vodafone thinks so…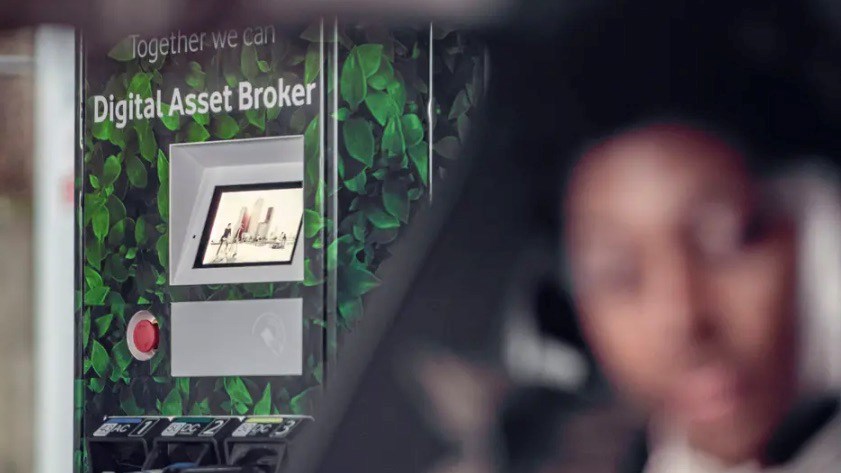 Vodafone is already a major IoT services player
But revenue opportunities are limited
The economy of things (EoT) takes machine-to-machine services to the next level
New report suggests massive upcoming growth in autonomous machine-to-machine communications and trading
Vodafone has positioned itself to take advantage, but it won't be alone in targeting EoT opportunities
Having positioned itself as one of the leaders in the internet of things (IoT) services sector following years of investment and strategic focus, Vodafone now has its sights very firmly set on being ahead of the game in the next major phase of the IoT market's evolution – the development of the economy of things (EoT), which not only enables machine-to-machine (M2M) communication but enables those connected devices to interact, trade and transact.
And it's keen to tell the market why the EoT will be a big deal and how it is well positioned to take advantage of the potential business opportunities – and, to be fair to Vodafone, it's not just talking the talk, as it has already invested in the supporting technology and industry relationships that support its confidence. That investment has built upon Vodafone's current IoT business, which ended the operator's most recent full financial year (to the end of March 2023) with 162.3 million IoT SIM connections, up from 150.1 million a year earlier, and €1bn in annual IoT revenues – that's enough to make it the telco market's leading IoT player, according to Transforma Insights, which has tracked the IoT sector for years.
The supporting EoT technology is its Digital Asset Broker (DAB), a secure global platform unveiled in early 2022 that uses blockchain technology to verify all devices and machines connected to the DAB and automatically allow those verified assets to exchange and trade data and money over secure and encrypted connections. Using the DAB, "companies can launch new products that are quickly authenticated as being safe to do business with, no matter where they are, and devices are ready to make real-time financial transactions," Vodafone noted when it launched the platform.
And Vodafone is excited about its potential: Earlier this year, Vodafone Business CEO Vinod Kumar (who is retiring at the end of 2023), noted: "In the not-too-distant future, you will have 'things' exchanging value between them, and we call this the economy of things. We have a platform, currently called Digital Asset Broker… [that] allows things to recognise each other, authenticate each other, and then exchange value between them."
He gave the example of an electric vehicle (EV) and an EV charging station. Currently, you drive up to a charging station and figure out which chargers might work with your vehicle. "In the future, you'll be able to go to any one and the charger will recognise the driver and the car, and then based on the time to power or charge used, the payment will be settled without you having to take your credit card out or open an app," he explained. That's an example of an automated model that can be applied to a lot of use cases in logistics, industrial warehousing and more.
Then a month ago, Vodafone announced the formation of a new EoT standalone venture with Japanese conglomerate Sumitomo: The telco will hold an 80% stake in the new business, into which it is transferring the DAB along with related intellectual property, contracts, technology and software, while Sumitomo will invest in the new business and work with Vodafone to attract additional investors, partners, and customers.
Its latest EoT pitch comes in the form of a market research document based on an industry study undertaken by respected analyst house STL Partners. According to the STL team's forecast, the number of IoT devices that have the capability to independently and securely trade with each other, and are therefore regarded as "EoT-enabled", will grow from 88 million devices in 2024 to almost 3.3 billion, about 10% of all IoT devices, in 2030 (see chart below).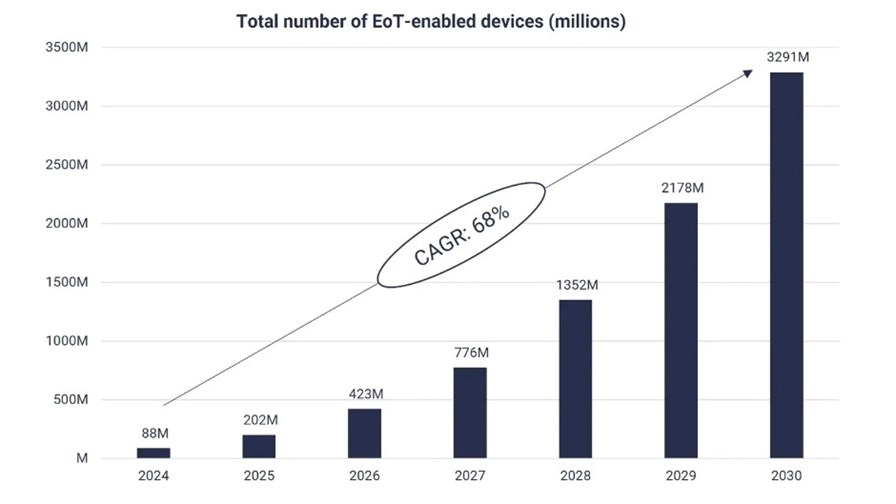 According to STL, of those EoT devices, up to 20% will be connected via cellular/ mobile signals by 2030. "Vodafone's EoT platform currently uses SIM-enabled cellular technology to authenticate devices and verify their identity, however, we expect EoT solutions in the future to be able to address both the cellular and non-cellular market," noted the STL team, which believes the EoT sector will really take off meaningfully from 2028 onwards as "businesses look towards the EoT to enable the monetisation of their IoT data."
The STL team identifies multiple use cases, but believes connected vehicles, asset tracking and monitoring, and smart grids (including electric vehicle charging) offer the greatest potential. "Connected vehicles is the use case we predict will have the most EoT-enabled devices by 2030, due to the relative maturity of vehicle telematics and the high value of the data collected by vehicles for others in the ecosystem. The unique capabilities provided by EoT provides a means of communication and coordination between connected vehicles and smart infrastructure, such as EV charging points, parking space sensors and traffic lights," according to STL, which expects connected vehicles to account for more than a third of all EoT-enabled devices by 2030.
But that's years in the future: The situation is somewhat different just now.
According to STL Partners, "Around 75% of the data currently generated by connected IoT devices cannot be shared across different devices and systems, which is a vast untapped resource of value that is yet to be realised."
Jorge Bento, who heads up Vodafone's DAB unit, is understandably enthusiastic: "IoT has always operated in siloes, with devices only communicating within the domain of the supplier of the device. Frictionless interoperability between devices, people and sensors in the IoT domain and beyond provides an enormous monetisation opportunity for our partners and business customers."
And Vodafone is aiming to take a slice of the action by having EoT-enabled devices connected to the DAB and being able to analyse the data flowing over the platform using AI tools. "The huge opportunity and primary source of revenue for the EoT comes from generating data from IoT devices and sensors in real time," noted Vodafone's David Palmer, head of product management for DAB. "These incorporate AI algorithms to generate monetisable events for subsequent transactions through smart contracts," he added.
The Vodafone team will be hoping some of that huge opportunity arrives sooner rather than later. In delivering its most recent financial statement, the operator's management team provided a rather downbeat assessment of its current fortunes, initiated a restructuring process, and noted in its financial presentation that while it has a "leading B2B and IoT position", the company currently has "limited commercial agility." The new CEO Margherita Della Valle, and whoever is appointed as Kumar's successor as the CEO of Vodafone Business, will be looking to the new EoT-focused joint venture to provide an example of cutting-edge commercial agility.
But, as is increasingly apparent across the entire communications and technology sector, new business opportunities, insights and agility all seem to stem from the ability to harness large volumes of real-time, authenticated data and analyse it using AI tools.
This also appears to be key to the EoT monetisation opportunity – and that means Vodafone will face plenty of competition in the coming years, not only from its IoT rivals in the communications service provider sector (such as Telefónica Tech, NTT, Deutsche Telekom's T-Systems, Orange Business, Verizon Business, AT&T, Kore and more, all of which will also want to explore new ways to further monetise their existing IoT positions and make use of the increasing number of AI platforms that can be put to work) but also from the giants of the data processing and analytics world – the hyperscalers. As edge computing systems get widely deployed and are able to pool, store and analyse data locally and then, if needed, share and combine the results with other connected systems, so the likes of Amazon Web Services, Google Cloud and Microsoft Azure are likely to play a role in what is, after all, a data analytics and transport opportunity.
What Vodafone has right now, though, is first-mover advantage and a good track record, and that positions it well, at least for now, to take advantage as sectors offering great potential, such as electric vehicles and smart grids, gain international scale and EoT opportunities arise.
- Ray Le Maistre, Editorial Director, TelecomTV