More change at Vodafone's top table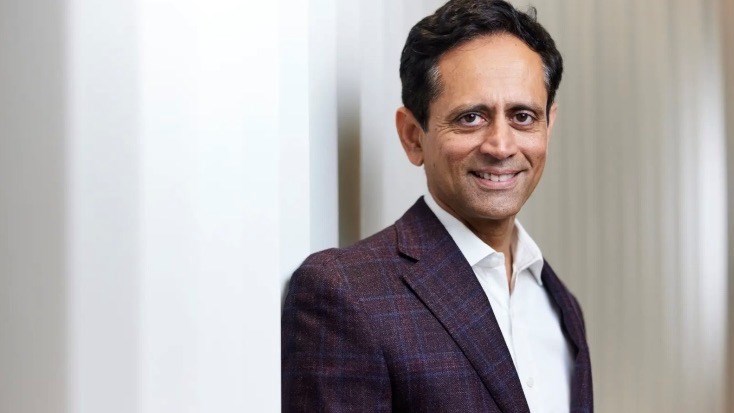 Vodafone Group is currently searching for a new CEO
Now it also needs to find a new chief for its enterprise services arm
Vinod Kumar, CEO at Vodafone Business, is retiring at the end of 2023
He spoke recently about the 'beyond connectivity' focus of Vodafone Business
Vodafone Group's human resources team is busier than ever. With the international telco giant still searching for its next CEO following the resignation of Nick Read at the end of 2022, the company is now also seeking a replacement for Vinod Kumar, head of the operator's enterprises services division Vodafone Business, who is retiring at the end of 2023.
Kumar joined as Vodafone Business CEO in July 2019 when he filled the seat vacated by Brian Humphries, who had left the operator in late 2018: Prior to Vodafone, Kumar had been the managing director and CEO of Tata Communications since 2011.
He will "continue to lead Vodafone Business until the end of the year with specific focus on driving the development of our internet of things IoT activity, including Digital Asset Broker, leading Vodafone's valued external partnerships and alliances and delivering our growth priorities," noted the operator, which added that under Kumar's leadership, Vodafone Business has "consistently outperformed its large telco peers and expanded its services to businesses across Europe and Africa, in addition to launching platforms like VHub and Digital Asset Broker."
Whoever replaces Kumar, who is set to "pursue a portfolio career" from next year (which sounds like he will take multiple directorships), will take charge of a large business.
At a recent Vodafone briefing in London, Kumar noted that Vodafone Business, which offers services to business users of all sizes and has more than 6 million customers, is currently a €10.5bn annual service revenues operation, roughly 27% of Vodafone Group's total service revenues.
He claimed that the unit is "outpacing" its peers in Europe as well as those with an enterprise focus in North America, and that in Vodafone's fiscal third quarter (to the end of December 2022) his Business unit generated revenues of €2.6bn, representing organic growth (excluding currency exchange changes) of 2.4% year on year, "and we expect to keep that kind of momentum," he noted.
And Kumar thinks there's plenty of growth to be had in the enterprise sector. "We think there's a lot of upside potential in business… the growth will come from both our core business, which is mobile and fixed [connectivity services], as well as what we call 'beyond connectivity', or digital services," which comprises internet of things (IoT), cloud & security, and unified communications.
"Financially our objective on revenues is to grow faster than the market in core connectivity… but obviously it's a highly competitive market – you can outpace competitors a little bit, but you can't double your revenues there. Where we see the bigger opportunity to grow is to maintain and pick up pace on the double-digit growth we have in the 'beyond connectivity' services… but be very strict about doing things where customers give permission to telcos to play. For example, we don't try to be a systems integrator and we don't try to be an application developer. But there are services that are adjacent to our core connectivity, where telcos have a very strong right to play. In many segments, especially SME, customers prefer to buy services like security from telcos rather than from software companies or systems integrators. So we've been very careful in choosing where we will play," noted Kumar.
And key to any growth is relevant and strong partnerships with cloud players, such as AWS and Microsoft, and IT services firms. One example he provided is Accenture for cybersecurity services, with which Vodafone Business developed and built a set of services that has been rolled out across all of Vodafone's markets. The operator then invests in network capabilities that optimise performance for those services and then develop managed service offerings on top, such as Microsoft 365 and SD-WAN, while mid-sized business often need advisory services, "because many businesses don't have the in-house capability to navigate through a very complex landscape of connectivity, IT services, cloud services, security, data privacy, and so on, so they increasingly rely on Vodafone to offer those services using a platform called V-hub."
Kumar's empire also includes the operator's IoT services, an area in which Vodafone has invested a lot of resources in the past decade. "We are the global leader when it comes to managed IoT connectivity. We have nearly 160 million connections and it's growing steadily," he noted.
And there are exciting developments to come. "In the not-too-distant future you will have 'things' exchanging value between them, and we call this the economy of things." This has traditionally been known as machine-to-machine (M2M) communications, but what Kumar is talking about is taking M2M to the next level.
"We have a platform, currently called Digital Asset broker, though we need to find a cooler name for it," joked the Vodafone exec. "It allows things to recognise each other, authenticate each other, and then exchange value between them." He gave the example of an electric vehicle (EV) and an EV charging station. Currently, you drive up to a charging station and figure out which chargers might work with your vehicle. "In the future, you'll be able to go to any one and the charger will recognise the driver and the car, and then based on the time to power or charge used, the payment will be settled without you having to take your credit card out or open an app," he explained. That's an example of an automated model that can be applied to a lot of use cases in logistics, industrial warehousing and more.
There are also ongoing Vodafone Business trials and proofs of concept in edge computing and 5G private networks within the business division, so it encompasses many of the areas where telcos believe they can generate sales growth in the future.
Of course, Vodafone Business is hardly unique in taking this broader, digital approach to the enterprise market and Kumar's replacement will face increasingly stiff competition from the likes of Verizon Business, BT Business, NTT, T-Systems (Deutsche Telekom), Telefónica Digital and, in particular, Orange Business, which itself appointed a new leader, Aliette Mousnier-Lompré, last year and is now very focused on security and cloud services. Check out what Mousnier-Lompré had to say during MWC23 – see MWC23 interview: Aliette Mousnier-Lompre, CEO, Orange Business.
- Ray Le Maistre, Editorial Director, TelecomTV
Email Newsletters
Stay up to date with the latest industry developments: sign up to receive TelecomTV's top news and videos plus exclusive subscriber-only content direct to your inbox – including our daily news briefing and weekly wrap.