Yahoo sale: If at first you don't succeed, move the goalposts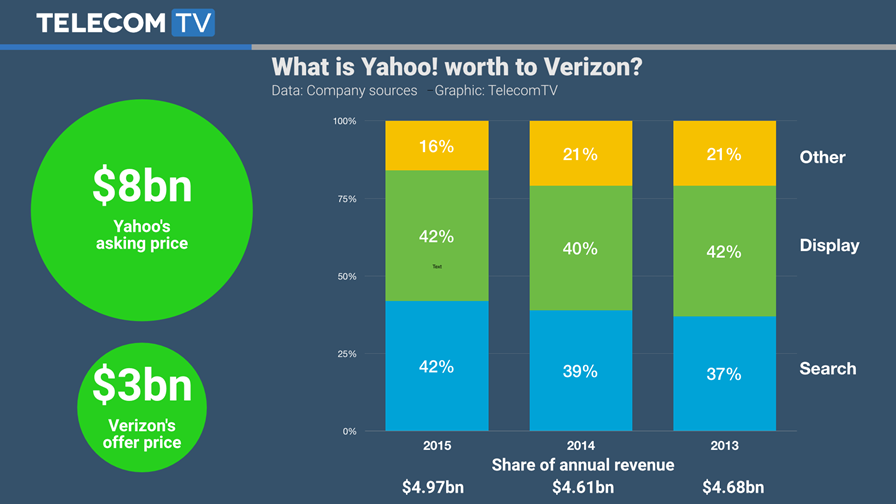 There's fantasy and wishful thinking - and then there's reality
Market disdains Yahoo's over-inflated expectations
Verizon's prices under pressure from rivals as US mobile market hits saturation
Content and digital advertising seen as the way forward
The fading former Internet behemoth Yahoo has come up with cunning plan to try to push up the the price it hopes to get for the sale of its core assets. After a second round of bids failed to meet Yahoo's evidently unrealistic expectations the company has decided to go for another round. And then what if that fails to flush out increased offers? Yet another round perhaps? A third? A fourth? A fifth? And so on ad infinitum and ad nauseam until Yahoo gets what it wants - or as is much more likely, the destruction of the company's value continues to the point where it will have to sell for more or less anything it can get.
Verizon, having made it plain that it has no interest in bidding either for Yahoo's patent or property portfolios, has offered just US$3 billion for Yahoo's core business but Yahoo wants $8 billion - and that that is one hell of a gap in terms both of perceived value and credibility.
Two months ago Yahoo wanted $10 billion for assets that Verizon then valued at $8 billion, but that included IP, search technology and real estate.
Yahoo reckons that Verizon's bid is little more than a speculative outrage mounted by a rapacious company with its eye on the main chance and willing to maintain a poker face in the expectation that it won't be the first one to blink. Any similarity to Yahoo in its erstwhile pomp is, of course, purely coincidental.
Verizon holds a mighty pot of cash that it can dip into if needs must - and it will if arch-rival AT&T (also a bidder for Yahoo's core business interests) ups the ante. However, whatever happens, the bidding process will now drag on into midsummer. Indications are that no resolution is now likely before mid- to late-July at the earliest. Meanwhile life in the real world trundles along as usual and Yahoo's share price continues to erode even as its cash flow slows further.
Despite its decline Yahoo maintains that it still has about a billion 'regular' users but, as far as the company's financial mainstay of digital advertising is concerned, it was long since overtaken by the likes of Facebook and Google. Indeed, despite that headline gross user number, Yahoo now has just 1.5 per cent of the digital advertising market, down from the paltry 2.1 percent it had in 2015.
Verizon heads the pack at the moment but there are others interested in acquiring at least part of Yahoo, if not all of it. They include the aforementioned AT&T plus a consortium headed by Bain Capital and Vista Equity Partners, Berkshire Hathaway, the private equity group TPG and YP Holdings, amongst others.
It's all part of Verizon's strategic plan to dominate digital advertising
Verizon wants Yahoo as an integral part of its grand plan to become a big player in the burgeoning media sector. Don't forget that it isn't that long ago since Verizon was generally derided when it acquired AOL for a whopping $4.4 billion. Last year the acquisition brought Verizon revenues of $2.7 billion and the critics have gone very quiet.
And now, by snapping up Yahoo, Verizon could quickly and easily parlay a much bigger presence for itself on the web. A combination of Yahoo and AOL would provide Verizon with a jemmy strong enough and long enough to prise open the door to digital advertising domination. And there's also the tantalising possibility that Verizon might do something innovative with Yahoo's live-streaming video capabilities and services to boost mobile data usage (and thus revenues) by its cellular subscribers.
The clues are there. recently the CEO of Verizon, Lowell McAdam said, "The network will always be the foundation, but if you just do that you're going to be relegated to being a commodity. You've got to really build on that foundation in order to be relevant going forward."
Hence buying AOL and the pursuit of Yahoo. AOL provided the base platform on which Verizon is now building the superstructure of its new media play to compete head-to-head with the likes of Amazon, Facebook, Google and the rampant Netflix. It doesn't really matter that Verizon itself knows next to nothing about content-creation, it can buy that capability. What it does have, (in spades given that it is the biggest wireless provider in the US) is a tried and tested broadband and mobile network eminently able to reach millions of subscribers.
Verizon was one of the first big US carriers to offer fibre to the home and has been building out its 'FiOS' bundled fibre-optic Internet access, telephone, and TV network and service for more than 10 years years now and Verizon EVP and President of Innovation and New Businesses, Marni Walden, has the job of turning Verizon's media division into a $5 billion per annum revenue stream within three years. Interestingly, it's the same ballpark figure that has been assigned to the executives in charge of Verizon's IoT and M2M business units. As Ms. Walden says, "Media gets there first. And then telematics gets there second."
Verizon has to do something. The US mobile and smartphone market is close to or at saturation point and Verizon is infamous for being expensive and so rivals such as AT&T and others are attacking Verizon's market position by undercutting it on prices.
And as for Yahoo? Well, if the next round of bids don't meet CEO Marissa Mayer's expectations she has indicated that she might refuse them all, take the company off the market and attempt to turn it around from the inside. Now that really would be the kiss of death. It has been tried before, by her, several times and all attempts ended in failure. Investors and the market won't give her another chance, nor should they.
Email Newsletters
Stay up to date with the latest industry developments: sign up to receive TelecomTV's top news and videos plus exclusive subscriber-only content direct to your inbox – including our daily news briefing and weekly wrap.