Twitter's jitters make shareholders bitter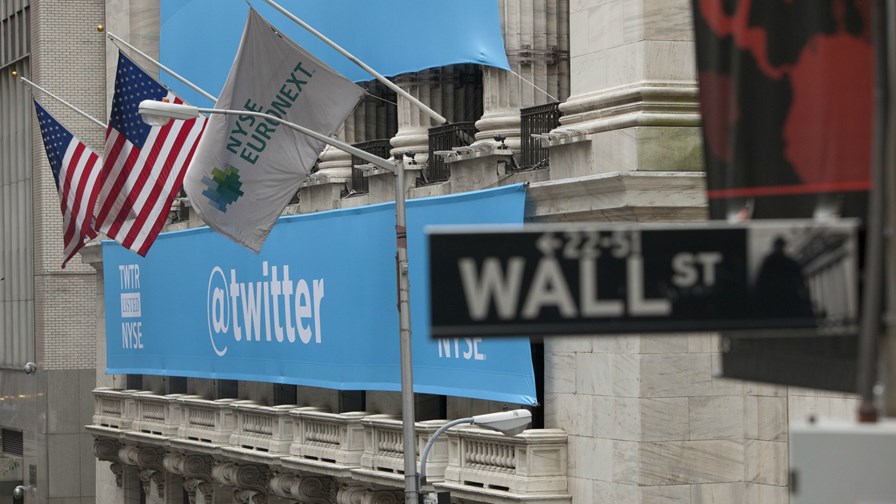 Share price plummets again. This time by 14 per cent
User base just won't grow, despite the liberal use of Manure
New features and live content fail to increase "user engagement"
Q2: bigger net loss, reduced revenues
In August 2015 the value of Twitter stock first fell below its IPO price. But Twitter's user numbers had been on the slide for more than a year before that. With much fanfare and brou-ha-ha the company went to Initial Public Offering in September 2013 but the gilt on the gingerbread quickly tarnished and since 2014 Twitter has been casting around trying to grow its user base. It has met with no permanent success. In fact, despite all its efforts, user numbers have either fallen or stagnated.
Just take a look at these headlines: "Twitter plunges on weak user growth (Business Insider, Feb 2014), "Twitter stock falls below IPO price. (Wired. Aug 2015), "Twitter user base falls by 33 per cent in two years". (Guardian. Jan 2016) "Twitter shares tumble as users disappear". (Forbes. Feb 2016), "Twitter advertising revenue falls. Shares drop more than 10 per cent." (Reuters. Feb 2017). There are many more in similar vein but you will have got the message by now.
Twitter is in trouble. Despite the 'bread and circus' distraction still effected in some US quarters by the endless asinine and self-aggrandising postings and posturings of a phalanx of narcissistic 'celebrities', the reality is that users are deserting the social media site in their droves. In Q1 Twitter reported that it had an average of 70 million monthly active users in the US. In Q2 it was 68 million and falling.
However, Twitter is taking consolation, and claiming that things are alright really, because the number of users worldwide remained more or less constant at a growth rate of zero. Twitter shareholder's aren't quite so sanguine, indeed they are hopping mad as they watch the value of their investments whittled away quarter-by-quarter. Yesterday, on publication of the latest set of weak results, Twitter stock fell in value by 14 per cent.
Incredibly, in a conference call with analysts, both Jack Dorsey, Twitter's CEO, and Anthony Noto, the CFO, played down the dismal figures and said what they are most interested in are the average number of daily active users because such metrics provide 'more detailed' data. They claim that by applying such a measure, (which no other social networks do) usage in the US actually grew by nine percent in Q2 and that growth rates are "stable'. No they are not. A plateau is a plateau and many of them are atop vertiginous cliffs that are all too easy to trip over and fall off.
And believe it or not, Twitter's latest spin gets even harder to understand. Without adducing any supportive empiric evidence the company is simultaneously claiming that daily active user growth has risen by 12 per cent on Q2 2016 but is also down by 14 per cent from Q1 this year. It also says the absence of growth is the result of "seasonal effects" but hasn't said what they are.
Silver lining hard to discern amidst the gloom
Twitter has been hoist with its own petard. It has always hitched its corporate star to the notion that user growth equates to revenue growth but that user growth, such as it has been, has proven very hard to achieve and has fallen markedly over the past couple of years. The site does retain a core user base (although it is slowly withering on the vine) but is experiencing great difficulty in attracting and retaining new users - and this despite Twitter's efforts to boost its appeal via live streaming services. No sooner had the company announced its latest user engagement strategy than it failed in its much-trumpeted attempt to seal a deal to stream US National Football League games. The NFL went to Amazon instead. Twitter viewers went with it.
Occasionally there have been a couple of bright spots to lighten the pervading gloom but they were false dawns. For example, in September 2016, Twitter shares rose by 20 per cent on rumours that the company was being considered as an acquisition target by Google's parent company, Alphabet, as well as Microsoft, Salesforce, Verizon and even the Walt Disney company. In the end though the excitement petered out and nothing happened. And then there was a spasm of optimism in April this year when the share price rose by 40 per cent on expectations of a forecast growth in users numbers and revenues. It was a flash in the pan and the share price soon fell back - and back again.
And this is where Twitter was at close of business in San Francisco yesterday. Revenues in Q2 fell by five per cent year-on-year. Twitter's Q2 net loss rose by nine per cent to US$116.5 million from the $107.2 million loss posted for the same quarter in 2016. The company took a $55 million "impairment charge" on it's less than sound investment in SoundCloud, the German audio distribution platform company. Advertising revenue also fell year-on-year, down by eight per cent to $489 million.
To make matters worse, the decline came in spite of "user engagement with advertising" (i.e. the number of times users click on or view ads) actually growing by an astonishing 95 per cent. They might be looking, but they're not buying. In an investor note Twitter let it be known that its total revenue growth will not improve over the six months to the end of calendar year 2017 "due to headwinds in the second half associated primarily with de-emphasized revenue products." Whatever that might mean it comes with an associated cost of $75 million.
Not to worry though. CEO Jack Dorsey announced, "We're encouraged by the progress we're making, executing against out top revenue, generating priorities as we focus on making Twitter the best place to see and share what's happening." And Twitter investors can indeed see exactly what's happening, and it's not a pretty sight.​
Email Newsletters
Sign up to receive TelecomTV's top news and videos, plus exclusive subscriber-only content direct to your inbox.