Study finds new services and cost savings should offset telco revenue decline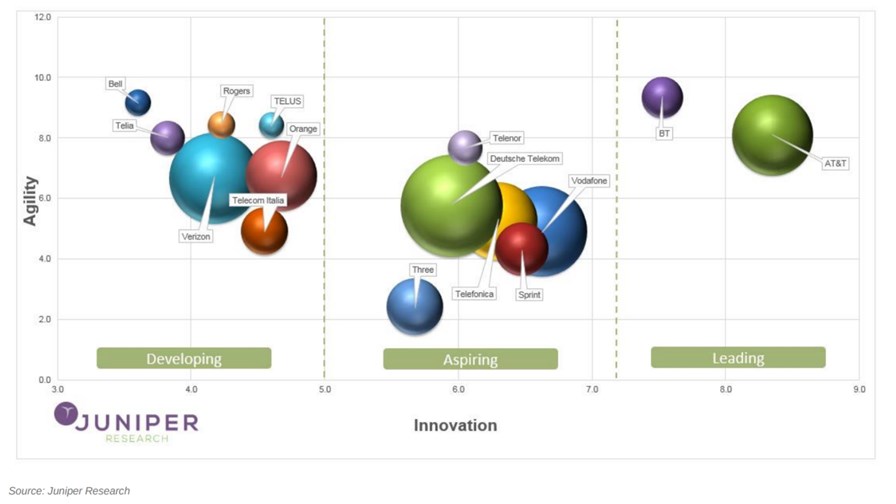 Mobile operator core revenues to fall by $50bn over next 5 years
But with the right innovations, telcos should be able to sustain, or even increase, margins
Researchers crown AT&T and BT as the global innovation leaders
The issue of how to find new revenues to offset the shrinkage of the old ones has been a constant refrain from the very beginning of telecoms competition in the 1980s. It's usually presented as something close to 'unfair'.
"Look," the argument goes, "we invested all this money in infrastructure and now we are being forced to spend even more because users are using more than we projected and/or we're being shafted by unwelcome competitors" or something similar. In the 1980s it was competition from alternative voice providers, then came problems with too much Internet dial-up traffic; then it was data congestion due to OTT video, and probably many more.
In nearly every case, when it came to it, operators adapted and usually ended up making more revenue than before by upgrading infrastructure, trimming costs, and, with the rise of the Web, selling profitable broadband access services, both fixed and mobile, which helped cause the data congestion problems in the first place.
Challenges can usually be turned into opportunities because they spur action. And, after all, some operators are still doing rather well.
Which is really the dynamic Juniper Research is giving an outing to with its latest study: Future Mobile Operator Business Models: Challenges, Opportunities & Strategies 2018-2022.
A big part of the problem is that mobile has ceased its long growth spurt and prices have dropped as the operators compete more vigorously with each other. Juniper estimates that annual global operator-billed revenues from voice and data services are expected to fall by over $50 billion over the next 5 years, from $837 billion last year to $785 billion by 2022.
Over that period users are expected to further their migration to OTT messaging and social media, while data bundle price erosion through competition will also kick in.
Boosting margins
But there are opportunities too. Juniper says it's identified new revenues and cost savings which might see operators sustain, or even increase, their margins. At the top of the list is Internet of Things (IoT). Juniper reckons IoT could return $8 billion by 2022. Application to Person (A2P) messaging across key verticals could provide another revenue uplift, it claims.
On the cost side there is considerable scope for real reductions. Technologies such as network virtualization, SDN and, in the future, network automation, along with churn-reducing improvement to telcos' often dismal customer relationship management could also make a big difference.
In another paper, Mobile operators: 5 mission critical strategies to future-proof your business, Juniper lays out some growth strategies in depth, including:
Carrier billing: this is a perennial opportunity that for at least a decade has been urged but seldom grasped. Juniper maintains that where carrier billing is offered as a payment mechanism, conversion rates are typically far higher than for credit card billing. However, it warns operators that they must accept a revenue share far lower than in the 'pre-App Store' days when they often negotiated 50% of the revenues, Juniper reckons 10% should be nearer the mark, calculating that 10% of a big number is far better than 50% of nothing.
Network sharing: Juniper points out that there are now approximately 4.4 million cell towers worldwide. While some MNOs still own the sites and operate the infrastructure on them, approximately 65% of sites involve at least a degree of shared ownership, whether with another MNO or a dedicated tower management company. Historically, many governments were actively opposed to the idea of operator network sharing, seeking to maximise competition in all stages of the mobile value chain.
But in recent years government vetoes on network sharing have been quietly dropped, largely because of the growing perception that, operator complaints on unnecessary capex notwithstanding, there is a quantifiable environmental benefit from the network sharing process.
Opportunities are easy enough to identify, but what matters is operators' innovation DNA - their ability to take advantage of those opportunities as they're presented. Juniper has assessed 15 leading operators against an 'innovation index' (see above), and it crowns AT&T and BT as the leaders.
"AT&T is a market leader in terms of IoT implementations and adoptions, while both AT&T and BT are at the forefront of research into (and deployment of) virtualization of the network," claims Juniper's research author, Dr Windsor Holden.
Email Newsletters
Sign up to receive TelecomTV's top news and videos, plus exclusive subscriber-only content direct to your inbox.