Driving smart mobility in Hong Kong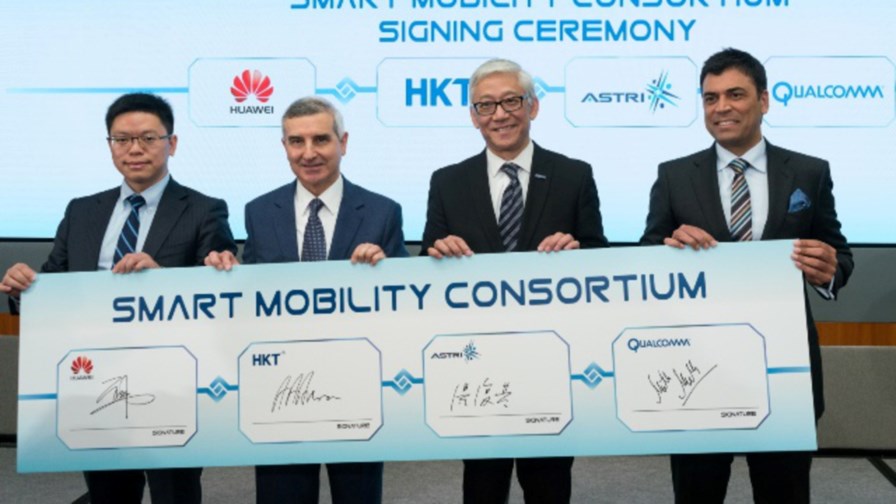 Hong Kong ASTRI research institute partners with Huawei, Qualcomm and HKT
Aims to develop cellular V2X technologies in the 5.9GHz band
Part of overall objective for Hong Kong to become a leading smart city
Stepping stone towards full autonomous driving in Hong Kong
Huawei and Qualcomm have entered into a consortium with Hong Kong Telecom (HKT) and the Hong Kong Applied Science and Technology Research Institute (ASTRI) to further the development of cellular-based Vehicle-to-Everything (C-V2X) technologies.
C-V2X technologies have been standardised in the 3GPP Release 14 specification and are designed to operate through both network-based communications on commercial cellular infrastructure, as well as direct communications over the 5.9GHz band. Whilst the 5.9GHz band is already allocated to Intelligent Transport System (ITS) services in the US, Europe and Japan, it is currently being considered for ITS services in mainland China.
C-V2X promotes the concept of "co-operative awareness" between vehicles, pedestrians and the road environment, leading to improved mobility safety as well being an enabler for autonomous driving. It can also support the efforts of local government and traffic authorities to better plan and monitor the safety and effectiveness of traffic.
According to Hong Kong's Transport Department, over 10 million passenger journeys are made on Hong Kong's public and private transport system every day. However, over 60 per cent of all road accidents involve vehicle-to-vehicle (V2V) or vehicle-to-pedestrian (V2P) collision. There were over 16,000 vehicle-related accidents reported in Hong Kong in 2015, of which 117 involved fatalities.
The government says that some of the most common contributors to traffic accidents include stationary or parked vehicles on busy roads, driving too close to the vehicle in front, inappropriate changing of lanes, careless cycling, jaywalking pedestrians, and drivers losing control of their vehicles.
The consortium aims to use C-V2X to introduce a series of ITS services in Hong Kong including a warning mechanism for collision and control, assistance for cruise control and parking, and alert systems for speed and lane violations. It plans to work alongside the government, automotive industry and other relevant industry bodies to make this happen. It's hoped that when completed, the project could to lead to further opportunities for related sectors including ridesharing and home-delivery, as well as insurance, infotainment and even mobile healthcare.
"Hong Kong is a well-connected city with good infrastructure," said Wong Ming-yam, Chairman of ASTRI. "If we complement these strengths with the latest innovation in science and technology, Hong Kong can become one of the most sophisticated and advanced smart cities in the world."
"Smart Mobility is the key to transform urban transport in a smart city," added Alex Arena, Group Managing Director of HKT. "With the application of C-V2X technology, assisted driving alerts vehicles and pedestrians in advance about emergency traffic conditions, which will make the roads safer and Hong Kong a better living city. And with the emerging 5G technology, autonomous driving will revolutionise the experience of transport in Hong Kong."
Email Newsletters
Stay up to date with the latest industry developments: sign up to receive TelecomTV's top news and videos plus exclusive subscriber-only content direct to your inbox – including our daily news briefing and weekly wrap.