A moral vacuum: when robot cleaners do the dirty on their users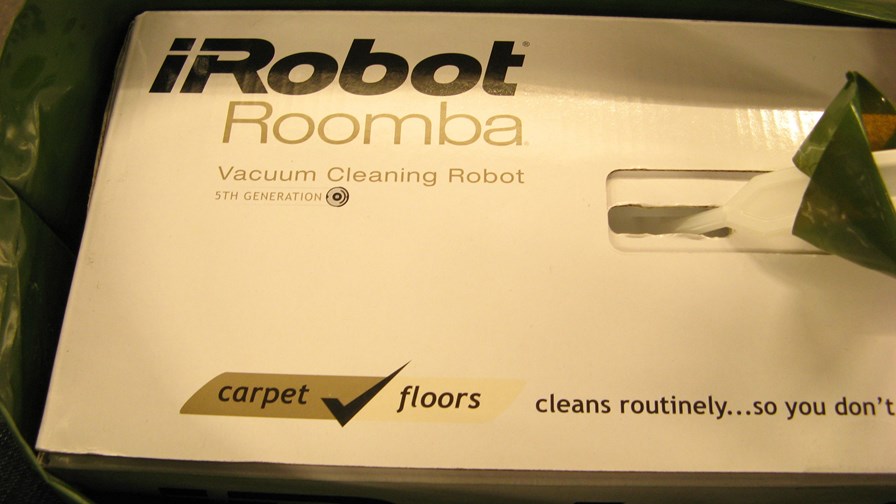 iRobot's Roomba devices Hoovering up owner data along with the dust
Maps the home as it navigates around it
Company 'considering' selling resultant data to the likes of Amazon, Apple and Google
"We cannot guarantee the security of our systems 100%."​
In the US, top of the range Roomba's come with cameras and sensors to identify, map and remember the plan of the house or apartment in which they are set to work. They log where the walls and doors are and where the furniture is situated. If things are moved, the Roomba simply remaps the space again - and again and again. The devices transmit all sorts of data back to parent company iRobot. Other models require the addition of a couple of bits of cheap and effective comms technology to be able to upload a welter of data into the cloud via the IoT and into iRobot servers but make no mistake, that capability is on the way for all of them, not just the flagship product.
Colin Angle (an apt moniker given that he's obviously the man with them), iRobot's CEO, believes Roomba devices could soon be transmitting a map of your 'home, your hearth, your haven in a heartless world' back to a company server. He says, "There's an entire ecosystem of things and services that the smart home can deliver once you have a rich map of the home." Yes, and there's also the strong likelihood that a security system failure and a hack attack could see maps of users homes being sold on the dark web to America's nationwide fraternity of house breakers, burglars, kidnappers and itinerant perverts. But best not to mention that, eh? It might frighten the punters.
So at the extreme end of the bell curve of possibility is the chance that burglars will break into a Roomba-equipped house pre-armed with a floor plan - as well as any guns they might be carrying. But in the middle of the graph is the looming El Capitan of probability that if a Roomba map of a house is sold off to Google or its ilk the owner will soon be bombarded by barrage after barrage of 'personalised' and very 'localised' marketing and advertising.
A look over iRobot's "Privacy Policy" (with the help of a jeweller's loup and a fine tooth comb) reveals that iRobot has already garnered a wealth of data (see what I did there?) on the layout of Roomba users premises. It reads, "Some of our Robots are equipped with smart technology which allows the Robots to transmit data wirelessly to the Service…. We use telemetry and location mapping data to analyse statistics and usage data, diagnose and fix technology problems and improve user experience."
"Where's the rub in that?" you might ask. Well, it's here. As iRobot says, "We may use this information to provide you personalized communications, including marketing and promotional messages, such as emails…" I wonder how many proud Roomba owners are aware that they signed-up to such personal intrusion when they bought a snazzy vacuum cleaner?
To be fair, the Policy does add; "Our Robots do not transmit this information unless you register your device online and connect to WiFi, Bluetooth, or connect to the internet via another method. It is possible to use our smart technology Robots without WiFi or Bluetooth data transmission, simply by disconnecting your WiFi or Bluetooth from the device or by never connecting it at all." However, what iRobot has not disclosed is how many of its customers routinely register their devices and then connect them to the Internet in much the same way as they do with smart TVs, fridges and, these days, even kettles.
A robot company that cares about data security but can't guarantee it
It also says, "iRobot cares about the security of your information and uses physical, administrative, and technological safeguards to help to preserve the integrity and security of all information we collect and that we share with our service providers. However, no security system is impenetrable and we cannot guarantee the security of our systems 100%." And then a little further on it adds, "iRobot may process your personal information on servers not in your home country." So that's alright then. No chance of anything being breached - anywhere.
In response to some trenchant media reports and hard questions from the Fourth Estate about iRobot's putative plans, the company later rowed back a bit and issued a statement saying, "We are committed to the absolute privacy of our customer-related data." It went on, "No data is sold to third parties. No data will be shared without the informed consent of our customers." However, the company does not define what constitutes "informed consent." Will it be an opt-in or an opt-out? Mr. Angle also said, "We have not formed any plans to sell data." He did not add the word "yet" so we will have to watch and wait.
This whole area is a minefield for users and iRobot alike. For example, what will happen if a homeowner goes overseas to work and lets his place furnished? Would the tenants be able to have a Roomba map of the house they are now living in deleted? The ramifications are enormous and there is sure to be litigation and court action.
The Roomba range, which first hit the market back in 2007, is already a pretty successful product and iRobot is profitable. The company's Q2 figures show sales of US$183.1 million, up 23 per cent on the same quarter in 2016. Net income was $7.9 million up 64 per cent on Q2 last year. But there's always more than can be made as the IoT evolves. In a world where just about anything can be connected, those connections will be made - and data will be harvested from them. In this particular instance we may well be about to witness a manufacturer of robot vacuums morphing into a data farming and data mining company that also sells connected robots. It's the way the world is going - but it doesn't make it right.
Email Newsletters
Sign up to receive TelecomTV's top news and videos, plus exclusive subscriber-only content direct to your inbox.