Partizan politics hamstrings the US regulator in run-up to Trump inauguration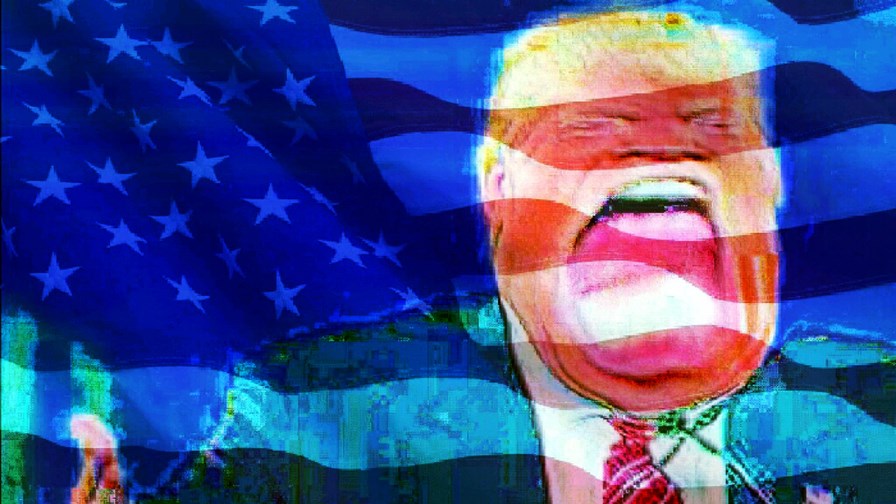 US Senate adjourns without confirming second term for Democrat FCC board member
Non-decision means US regulator likely to be paralysed for at least six months
Meanwhile, Carly Fiorina, ex-CEO of HP, touted as next Director of National Intelligence
Former enemies now the best of friends
Politics has always been a grubby business and 2016 will surely go down in history as one of the dirtiest years ever - with 2017 already shaping up to be even nastier. Here's just one straw of many blowing on the polluted wind. The US Senate has adjourned until the New Year without confirming the Democrat Jessica Rosenworcel for a second term as a member of the Federal Communications Commission (FCC). The deliberate non-decision will effectively force her out of office on December 31 and leaves the agency open to a period of party-political deadlock just as Republican president-elect Trump takes office.
Last week the Senate Minority Leader, Harry Reid, a Democrat from Nevada, complained that the Senate Majority Leader, Mitch McConnell, a Republican from Kentucky, has been playing partizan politics by refusing to set aside the time for a vote to confirm Ms. Rosenworcel for a second term at the FCC.
Speaking from the floor of the House, Senator Read said, "I spoke with him [Mitch McConnel] yesterday on the telephone, again urging him to move her forward and he said to me, 'We'll do it next year". Next year, she's out of a job. Her term expires at the end of this year. Her career will basically be over because of my accepting my counterpart's word."
With Rosenworcel's departure the FCC will have two Republican and two Democrat representatives on the FCC's five-member Board and the agency will be hamstrung for at least six months until the Senate, under the Trump administration, can confirm a Republican Commissioner and so gain the majority.
Thereafter the stage will be set for for the dismantling of regulations enacted by the regulator when it had a Democrat majority. Most at risk are net neutrality, privacy and ownership regulations. The FCC Chairman, Tom Wheeler, can stay in post until 2018 but whether he'll want to remains to be seen.
Ex-CEO of Hewlett Packard could become new Director of National Intelligence
Donald Trump has yet to reveal who he thinks should be the next FCC Chairman but given today's news that he is considering Carleton 'Carly' Sneed Fiorina, the woman who almost single-handedly brought Hewlett Packard to its knees during her dire tenure there as CEO, as his Director of National Intelligence, it could easily be someone equally unqualified.
The Director of National Intelligence is a post that was created in the aftermath of the terrorist attacks of 9/11 and the Director "serves as principal advisor to the President and the executive offices of the National Security Council, and the Homeland Security Council about intelligence matters related to national security. The Director also serves as the head of the sixteen-member United States Intelligence Community and directs and oversee the National Intelligence Program."
"Under ordinary circumstances, it is desirable" that either the Director or the Principal Deputy Director of National Intelligence be an active-duty commissioned officer in the armed forces or have training or experience in military intelligence activities and requirements." The relevant statute does not specify what rank the commissioned officer will hold during his or her tenure in either position, but historically a four-star general or admiral has served. Carly Fiorina is neither. Neither has she held any political office having signally failed in her efforts to be elected either as Governor of California or as President of the United States.
Given the history of antipathy, not to say open animosity, between the president-elect and the former boss of HP it is surprising that Ms. Fiorina would for one minute consider working for him but history shows us that ego and ambition make for some peculiar partnerships.
During the Presidential primaries, Donald Trump said of Carly Fiorina, "Look at that face! Would anyone vote for that? Can you imagine that, the face of our next president?" Among other insults he also said that she had "failed miserably at HP".
For her part Ms. Fiorina called Trump "the Kim Kardashian of politics" and later, after the leaking of the infamous pussygate tapes, she called for Trump to "step aside" from the presidential race.
Now though all is sweetness, light and rank hypocrisy. Yesterday, after visiting Trump Tower in New York City, Carly Fiorina gushed "It was such an honour to meet with the president elect. He has really cool stuff in his office. All of these athletes have given him this really cool memorabilia. I was particularly taken by Shaq O'Neal's shoe which is huge. I guess it takes a champion to know a champion." (Mr. O'Neal is a retired basketball player. Mr Trump is US President-Elect).
And then in a demonstration of the breadth of her political knowledge and depth of analytical ability, Ms. Fiorina continued, "We [she and Trump] talked about hacking. Whether it's Chinese hacking or purported Russian hacking. We talked about the opportunity the president has to literally reset things. To reset the trajectory of this economy, to reset the role of government, to reset America's role in the world and how we're perceived in the world. And I think that's why he's getting such fantastic people in his administration. The high quality of people that he's named already says so much about his executive abilities but it also says that people recognise the opportunity that our new president-elect has to really make a huge impact on people's lives".
As a statement it is beyond satire or parody - "literally" as the lady said.
Email Newsletters
Sign up to receive TelecomTV's top news and videos, plus exclusive subscriber-only content direct to your inbox.