Ofcom finds UK internet use has doubled in the past decade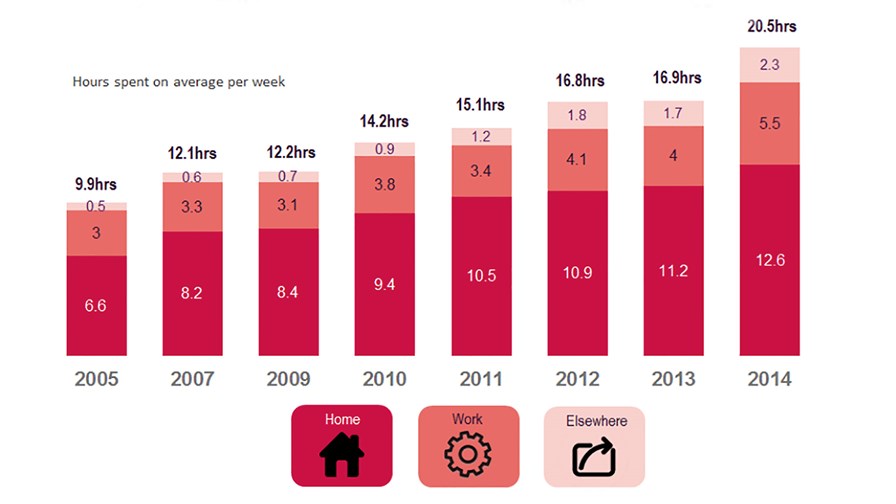 UK Regulator Ofcom has published the tenth edition of its annual Media Use and Attitudes report, which shows that the average adult internet user in the country claims to spend over 20 hours online per week, and that 39 per cent of adults use a tablet device to go online. In fact, people are spending twice as much time online compared to ten years ago, mirroring the growth of the internet and its accessibility.
The biggest increase in internet use in the UK is among 16-24 year olds, almost tripling from 10 hours and 24 minutes each week in 2005 to 27 hours and 36 minutes by the end of 2014. And the trend is accelerating, perhaps as usable mobile data proliferates and home broadband improves its speed and reach. According to Ofcom, 2014 saw the biggest increase in time spent online in a decade, with internet users spending over three and a half hours longer online each week than they did in 2013.
Using a smartphone for online access has more than doubled in five years, from 30 per cent of adults in 2010 to 66 per cent in 2014. Correspondingly, the amount of time people are online while away from home or work (in other words mobile, but not necessarily on cellular networks whilst travelling) has increased five-fold over the past ten years, from 30 minutes in 2005 to nearly two and a half hours in 2014.
Mobile messaging is also increasing, driven by apps such as Facebook Messenger and WhatsApp. Instant messaging on mobile has risen in just a year from 29 per cent of mobile phone users in 2013 to 42 per cent in 2014. Mobile email use has also increased, with 52 per cent of users regularly using their phone to email, compared to just 5 per cent ten years ago when the survey was first conducted. Not to be outdone, SMS remains the most widely used messaging service, with 90 per cent of mobile users regularly sending texts in 2014, compared to 70 per cent back in 2005.
Video is the big winner in online services; 27 per cent of internet users regularly watch TV or films online, compared to less than 10 per cent in 2007. This figure is now not too far behind the number who watch video clips (aka YouTube), which is now at 39 per cent. Yet the humble TV set still dominates, and is the one device that UK adults would miss the most – although for 16-14 year olds, the TV came a distant second to their mobile phone.
You can access the full report here, and contains wealth of information, charts and facts There's also a fascinating question about the use of websites versus native applications, as shown in the illustration below. Of the choices given to respondents, it is clear that whilst apps win out for messaging, they have yet to break into general web searching – with 61 per cent of users saying they prefer to use a web page to search for information, rather than a native mobile app. How long before that trend gets reversed? Not for several years, probably, and certainly not until app content and deep links are fully integrated into search indexing and results.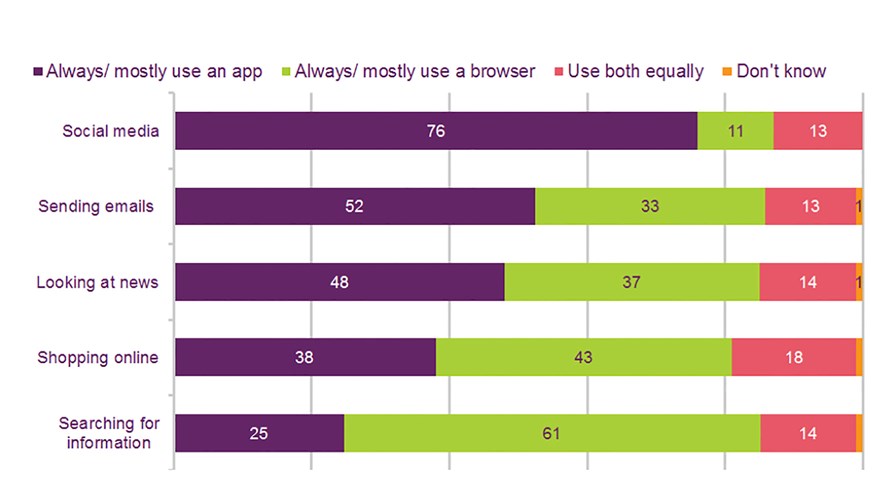 Email Newsletters
Stay up to date with the latest industry developments: sign up to receive TelecomTV's top news and videos plus exclusive subscriber-only content direct to your inbox – including our daily news briefing and weekly wrap.