NTT revs up for enhanced NFVi at the F1 Japanese Grand Prix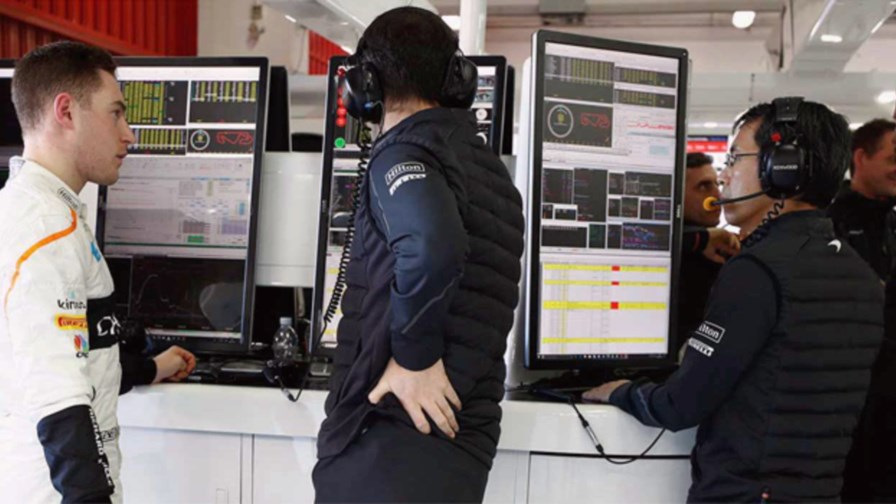 McLaren and NTT Com to deploy SDx technology at the Japanese Grand Prix
Connect the circuit with McLaren's UK Technology Centre and European cloud infrastructure
Comprises SD-WAN, WAN accelerator and UTM, with VNFs linked by service chaining
Also deploying uCPE with a White Box CPE base solution
Fast cars, loud noise, bucketloads of wealth and oodles of showbiz; what's not to love about Formula 1? Okay, for many it's all of the above. But for fellow petrol-heads and techno-geeks, there's something about F1 that, despite the layers of nonsense, politics, petulant young drivers and an antiquated obsession with Grid Girls, just can't be matched in any other sporting or entertainment event. It's also long been a good excuse for senior executives at telecoms companies to get exclusive Paddock access by sponsoring and partnering with race teams under the pretence of showcasing cutting-edge technology that will one day roll out to their mainstream customers.
And so to this weekend and Japan, where the F1 circus has already decamped to the Suzuka Circuit to prepare for Sunday's Grand Prix. Being the home of NTT, the vendor has unveiled the latest version of its communications technology for the McLaren Formula 1 Team, as its official Technology Partner. NTT Com has announced that it has deployed (on a temporary basis, as the circus packs its bags on Sunday night and heads off for the US Grand Prix in Austin) a new software-defined-everything (SDx) technology, dubbed the "Suzuka Special" network. NTT says it will speed up trackside communication for faster, more flexible in-race strategizing, including cloud-based telemetry data analysis. The network will also be deployed at the McLaren Technology Centre in Woking, UK as well as in the team's cloud infrastructure network in Europe.
The new NFV infrastructure will comprise an SD-WAN, WAN accelerator, unified threat management (UTM) and web proxy. The VNFs will be connected with service-chaining technology to enable flexible network settings. NTT Com will also deploy universal customer premises equipment (uCPE) at both Suzuka Circuit and the McLaren Technology Centre via a White Box CPE base. The NFVi will be used to establish an Internet gateway and SD-WAN at the F1 race track for a faster network to solve the issue of network latency, which has led to video jitter in the signal feed.
"It will increase transfer speeds and enable higher quality video, enabling us to do more, such as the ability for engineers in the UK to see higher quality video with improved zoom clarity, and for us to deploy higher resolution sensors to get more data to analyse," said David Emery, Head of Racing Solutions at McLaren. "[It] is vital in extracting every opportunity for future performance."
The Suzuka Special network will optimise direct routing to Microsoft's Azure and Office 365 by directly connecting the NFVi and Microsoft's cloud network. The NFVi and uCPE will also benefit from high-speed connection to a multi-cloud, including NTT Com's Enterprise Cloud hybrid environment. NTT Com says that this weekend it will test cloud utilisation via diverse circuits worldwide with NFVi and uCPE.
"McLaren has been using NTT Com's SD-WAN service with zero downtime for the entire 2018 season, beginning at the Australian Grand Prix," said Tatsuya Yamashita, Head of NTT Com's Technology Development Division. "We are now delighted to introduce our new NFVi for the Japanese Grand Prix. The superior ICT solutions NTT Com is providing as a trusted technology partner are not only giving McLaren a competitive edge in F1 racing, but also are providing us with invaluable insight into potential solutions for our general enterprise customers' digital transformations."
There you go, it's really all about the broader commercial base of enterprise customers. Although hanging around in the McLaren garage during race day is an added bonus! Hopefully it will also help McLaren finish the season on a high, as they are currently adrift in the Constructors' race in a very disappointing sixth place
Email Newsletters
Sign up to receive TelecomTV's top news and videos, plus exclusive subscriber-only content direct to your inbox.