Carly Fiorina, ex-CEO of HP, wants to run for the US presidency on a Republican ticket. What could possibly go wrong?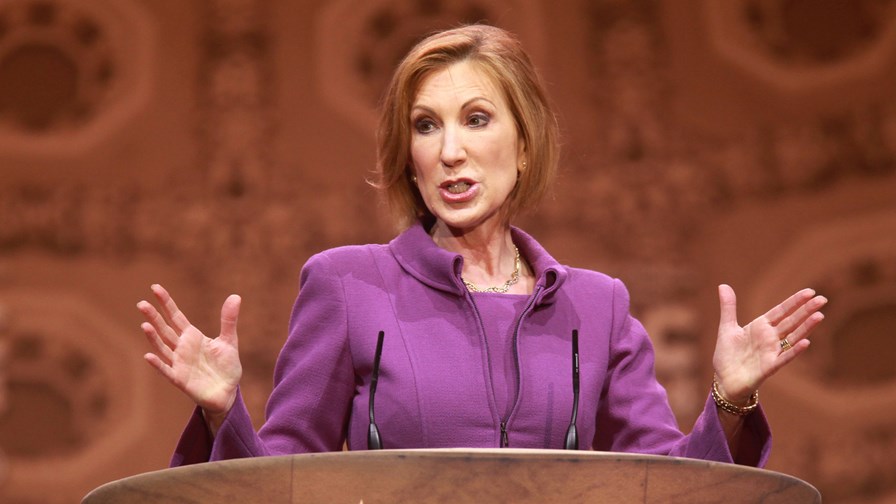 To all our readers in the US, here's a jolly little thought to send you chuckling along your merry way to the long holiday weekend. Carly Fiorina, the sometime Imperatrix of Hewlett Packard, is "actively exploring" standing as a Republican candidate in the 2016 US presidential election. It gives a whole new twist to the concept of Thanksgiving.
As America girds its loins for the turkey tomorrow and the madness of the Black Friday sales the day after, the venerable Washington Post is reporting that Cara Carleton Sneed Fiorina believes she has all the qualifications necessary to be President - not the least of which is her devastating stint as CEO of HP. Oh yes, she also points out that she is a woman.
Ms. Fiorina is seeking donors, is recruiting idealistic young staffers and has been turning up in various states that have early caucuses and primaries in an effort to gain traction with grass-roots Republican voters. She'll be on the stump in New Hampshire and Idaho next week.
Back in 2010 Ms. Fiorina stood in California as a Republican candidate for the US Senate taking a notably right-wing "No" stance on subjects such as abortion rights, global warming and greenhouse gas emissions. She lost, hands down, to the Democrat Barbara Boxer.
Before running for office Ms. Fiorina changed her image and her infamous hairstyle. Gone was the over-lacquered golden helmet that never moved and looked so brittle that were it to be touched (which Heaven fiorfend) would surely shatter like cheap glass. In its place came a feather-cut of suddenly dark hair highlighted with a few tints and hints of becoming patrician grey which is apparently deemed serious and appropriate enough when standing for political office. Suddenly she looked like Joan Baez. It didn't work.
During her time as boss of HP the company's share value halved. In 2002 she pushed through - against some very heavy opposition - the bitterly fought merger with the Compaq computer company, briefly making HP the world's biggest PC manufacturer. However, the marriage was unhappy from the start and took an unconscionable time to bed-in (as it were).
As CEO, Ms. Fiorina cut a controversial figure and was heartily disliked by many within the company she was running. She made matters worse by refusing to travel on scheduled airlines (even in First Class), preferring always to use a corporate jet and taking with her not business advisors, strategists and tacticians but a personal hairdresser and beauty therapist.
Everywhere she went she was preceded by a phalanx of acolytes, minders and fixers who bulldozed everything and everyone before them to ensure that what Carly wanted Carly got - be that a carafe of 'special' water, for stairs to be painted in advance of her climbing them or for the hoi-polloi and little people to be pushed aside to allow her to progress unimpeded on her magisterial way.
By the beginning of 2005, Carly Fiorina's "restructuring plan" (for which read outsourcing jobs to India and China and the sacking 28,000 US employees) was clearly failing. When she was appointed as CEO (over the internal candidate Ann Livermore) HP was the Number Two technology business after Microsoft and the likes of Apple and Google were also-ran's way, way, down the field.
Then came the revelation that she was spying on employees and that was the last straw. With staff deserting the company in increasing numbers and job losses globally topping to 50,000 mark she was forced to resign because of "irreconcilable differences" with the HP board. She was out, but she did not depart empty handed. HP paid her a severance fee of US$21 million.
Now aged 60, Fiorina has decided that it is time to make a play for the Big One - the trouble is her organisation "Carly for California" still owes upwards of half a million dollars to staff members and consultants accrued during her failed 2010 Senate bid. If she does stand as a presidential hopeful she have to answer some tough questions about that little matter among others.
Interestingly, when she stood for elective office to the Senate, Carly Fiorina had to file a declaration of her own net worth. She put it at "between $30 million and $120 million". Well, it does get so very tedious counting all those greenbacks once beyond the 30 million mark, doesn't it? These days it costs somewhere north of $30 million to run for the Presidency, but, if she should get that far, Carly won't be paying much of that out of her own pocket.
A few weeks ago Ms. Fiorina was asked on the NBC TV programme "Meet the Press" about her ambitions for 2016. She said: "When people keep asking you over and over again, you have to pause and reflect. So I'll pause and reflect at the right time." So we'll take that as a "yes, I'm standing" then.
The Washington Post also writes that on hearing the news "several prominent Republicans spoke about Fiorina with disdain, saying she has an elevated assessment of her political talents".
But that won't put her off. "One" of her spokespersons went on the record to say, "The challenges are obvious but Carly sees this as an opportunity to run as a non-politician offering a unique perspective." Yup, that the perspective is she almost brought HP to its knees. Just think what she'd be able to manage over four years with an entire nation to play with.
Email Newsletters
Sign up to receive TelecomTV's top news and videos, plus exclusive subscriber-only content direct to your inbox.