Intel unveils its Compute Card and device design kit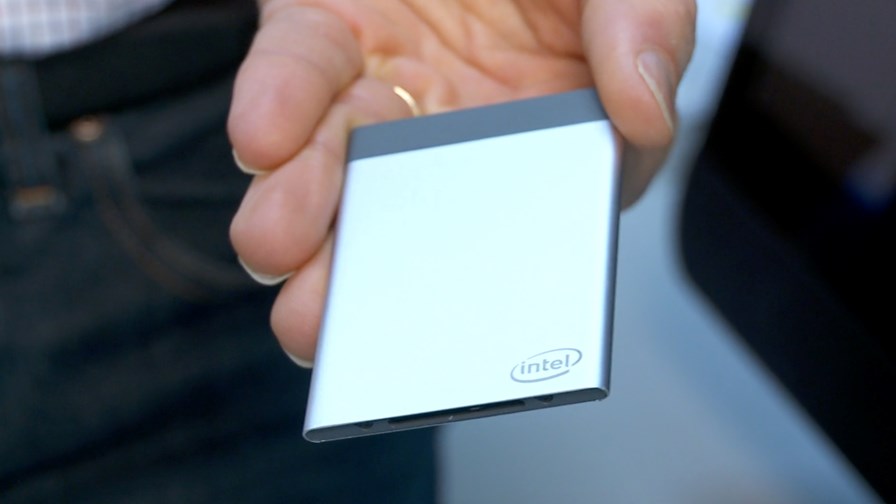 Intel OEM partners showcase solutions at Computex event
Compute Card available in four configurations, all with 802.11ac
Features a USB-C physical port with adapters for other data streams
Device design kit contains a set of guides and reference designs
Back in January at the CES trade show, Intel unveiled details of its Compute Card concept – a credit card-sized modular compute platform. The company promised that it was working with a number of OEM partners to commercialise the solution and bring it to the IoT market.
True to its word, Intel has used the Computex event in Taipei to showcase a variety of solutions utilising the Compute Card that are currently being developed by a range of partners, spanning laptops and tablets to digital signage and POS to AIOs and intelligent whiteboards. Intel promises that cards will begin shipping in August. Partners already showcasing solutions include Contec, ECS, Foxconn, LG Display, MoBits Electronics, NexDock, Sharp, Seneca, SMART Technologies, Suzhou Lehui Display and TabletKiosk. Other partners currently working on solutions, but not yet in a position to display their work, include Dell, HP and Lenovo.
The Compute Card includes Intel SoC, memory, storage and wireless connectivity with flexible input and output options so hardware manufacturers can optimise for their particular solutions – from connected home devices and smart kiosks to security cameras and IoT gateways. Device manufacturers design a standard Intel Compute Card slot into their product and then utilise the best Compute Card option for their performance and price needs. According to Intel, this reduces the time and resources needed to design and validate the compute block and helps speed up innovation.
The Compute Card will initially be available in four SKUs, ranging from a Core i5 vPro processor with 128GB SSD storage, to a Celeron processor with 64GB eMMC. All configurations use 4GB of memory and feature 802.11ac and Bluetooth 4.2 connectivity. Intel is also releasing a Compute Card Device Design Kit, a set of guides and reference designs that contain the information a device developer will need to create a product that supports a Compute Card.
"The Intel Compute Card offers the capabilities of a full computer but in the size of a credit card," said Gregory Bryant, corporate vice president and general manager of the Client Computing Group at Intel. "The applications are endless – smart screens, interactive appliances, smart factories and more – and it's a perfect complement to everything else we are doing to bring more compute power and connectivity into the home and beyond."
USB-C support
The Compute Card uses USB type-C for its physical port connectivity, with extensions to also enable PCIe, HDMI and other required signals between the card and the specific device. Just last week, Intel announced plans to make its USB 3 standard – also known as Thunderbolt 3 – freely available to the industry. As well as releasing the Thunderbolt specification royalty-free to the community next year, Intel has also pledged to integrate the technology into its future CPUs – an important move as this should alleviate issues with apparent battery drain and space requirements for extra components.
"We envision a future where high-performance single-cable docks, stunning photos and 4K video, lifelike VR, and faster-than-ever storage are commonplace," said Chris Walker, VP of the Client Computing Group and general manager of the Mobility Client Platform​ at Intel. "A world where one USB-C connector does it all – today, and for many years to come."
Email Newsletters
Sign up to receive TelecomTV's top news and videos, plus exclusive subscriber-only content direct to your inbox.