Drone usage in agricultural sector slow to take flight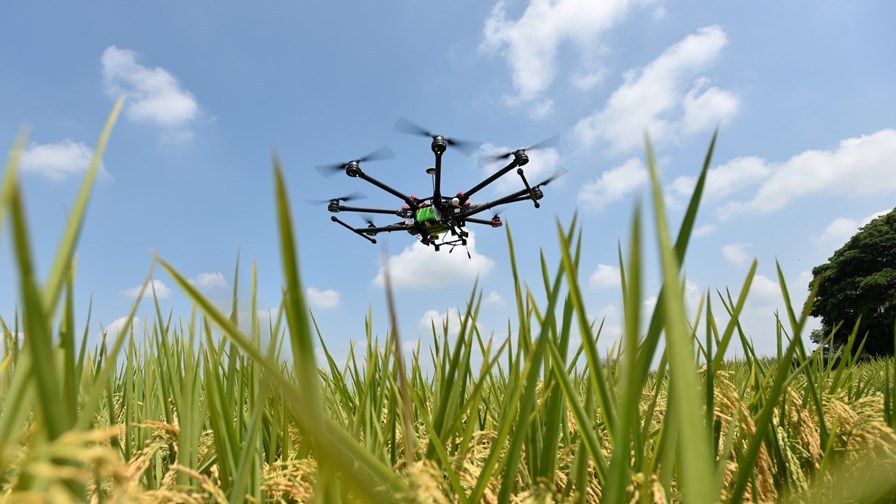 UAVs highlight the inherent complexities of IoT in agriculture
Value and growth opportunities, but not the explosion predicted originally
A reminder that it's the data that counts, not the hardware
Salutary lesson for those divining vertical sector use cases for 5G/IoT
A new study from ABI Research has found that the explosive growth in drone usage for agriculture forecasted by others is "hugely over-estimated". ABI Research's projected revenue for commercial-grade small unmanned aerial vehicles (sUAVs) agricultural services is $3.2 billion by 2025.
Agriculture was touted as one of the first industries that would leverage the rapid development of sUAVs – or drones – and incorporate them into its practices. Such were the obvious use cases for an aerial analytics platform that large numbers of drone solution providers entered the market over the past 5 to 7 years.
"The overenthusiasm and exaggeration in the early stages of the industry should be subdued by the fact that drones are not the only source of aerial imaging," said Rian Whitton, Principal Analyst at ABI Research. "Satellites and manned aircraft have been providing similar services for years, and have some identifiable advantages. This emphasizes a more important point that the discussion really does not centre on the hardware of drones, but on the actionable insights that are garnered by data-gathering."
The key resource therefore is not the drone, but the data from the aerial imagery and the ability to gain predictive and prescriptive intelligence from that data. With manned aircraft and satellites still providing services, drones are not the sole option. And whilst they may be cheaper to build and own than planes, hardware cost is not the main factor in an industry that is built around leasing technology.
ABI Research suggests that in most cases, agricultural companies will shift capital responsibility to the vendors, who will provide a service for aerial imaging, analysis and action. This is not, though, drones-as-a-service (DaaS), rather it would be more accurate to call it aerial-imaging-as-a-service (AIaaS).
Within a small timeframe, the sUAV-Agriculture ecosystem has evolved from a select number of hobbyists and drone manufacturers to a multi-billion-dollar industry that is now serviced by the world's largest aerospace giants, such as Airbus and Boeing. Whitton says that despite the early issues around the business model and take-up, it remains "an exciting technological and commercial development for a key primary industry".
Why does this matter? Because the telecoms industry is now in a period defined by identifying new use cases for 5G and IoT. It is these use cases that are being held up by vendors and operators to justify the significant investment required in these new networks. The lesson here is that use cases and business models are continually changing and evolving – picking a set of 8 or 10 verticals today and slapping proposed 5G/IoT solutions on them doesn't mean they will be fit for purpose by 2020. We should be extremely careful when predicting vertical sector use case solutions ahead of actual service deployment, and ensure we are not over-selling expectations.
Email Newsletters
Stay up to date with the latest industry developments: sign up to receive TelecomTV's top news and videos plus exclusive subscriber-only content direct to your inbox – including our daily news briefing and weekly wrap.