As NB-IoT nears completion, GSA predicts 20 commercial networks by late 2017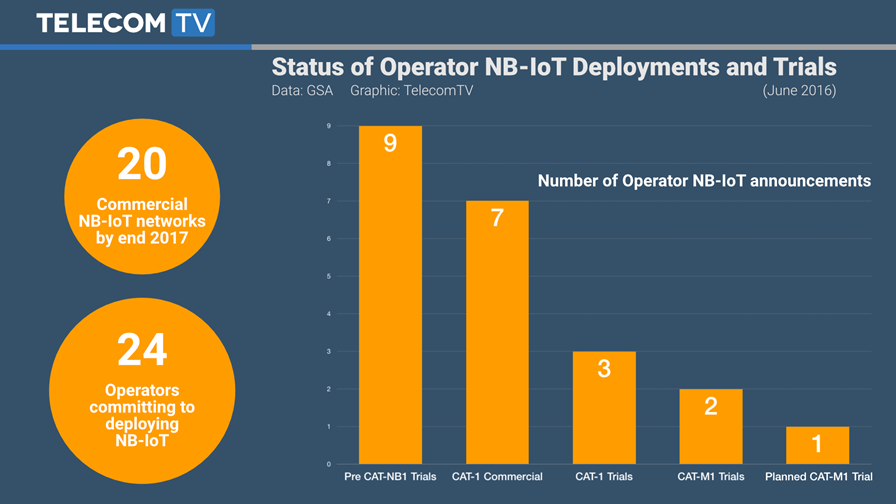 A new report from the GSA (Global mobile Suppliers Association) forecasts that there will be 20 narrowband NB-IoT networks in commercial operation by the end of 2017. The GSA is also forecasting 75 billion connected things by 2025 as mobile connectivity extends into multiple vertical markets.
To date, 24 mobile operators have committed to supporting the NB-IoT standard, which is being developed by the 3GPP cellular standards group as the main alternative to the emerging low power LPWA networks that are springing up to support IoT deployments (and which, for the moment, are usually a far better solution than cellular, although this is likely to change when NB-IoT gains momentum).
NB-IoT is not the only 3GPP-based technology being offered up as an IoT carrier service; there's also Machine Type Communications (eMTC) and EC-GSM-IoT, which in combination with Power Saving Mode (PSM) and Extended Discontinuous Reception (e-DRX) makes GSM/EDGE markets prepared for IoT. TelecomTV looked at this acronym soup a few months ago.
Whilst NB-IoT is part of 3GPP Release-13, which was frozen in March 2016, the finalisation of standard has been extended and is expected to be completed within the coming weeks. Two new categories of user equipment have been defined in Rel-13 – Cat-M1 and Cat-NB1 (previously Cat-M2). There are also customer pilots using pre-NB-IoT technology already underway. According to the GSA, 24 mobile operators are now committed to developing NB-IoT networks (as shown in the graphic above).
Commercial Cat-1 networks announced by:
AT&T
Verizon
T-Mobile US
Telstra
Korea Telecom
EE
Etisilat
Trial Cat-1 networks with:
Telefonica Mexico
Turk Telecom
LG Uplus
Cat-M1 networks being trialled by:
Cat-M1 network trial plans for 2016 announced by:
Pre-standard Cat-NB1 standard networks being trialled or planned:
AT&T
China Unicom
Deutsche Telekom
Etisilat
Orange
TIM
Vodafone Spain (planned for November)
Vodafone Australia
Vodafone UK
Cat-NB1 trials planned once the 3GPP standard is frozen this month:
Verizon
Telstra
Korea Telecom
China Mobile (with a launch planned for 2017)
China Unicom (with a launch planned for late 2016 or early 2017)
Vodafone Spain (announced this week with launch for 2017)
Registered users of the GSA site can download the report from here. It contains a wealth of information about the various operator NB-IoT trials, plus additional information about spectrum and equipment providers.
[Updated 15:00 with additional trial information from GSA]
Email Newsletters
Sign up to receive TelecomTV's top news and videos, plus exclusive subscriber-only content direct to your inbox.