Open Sesame! IPO gets Alibaba's foot in Uncle Sam's front door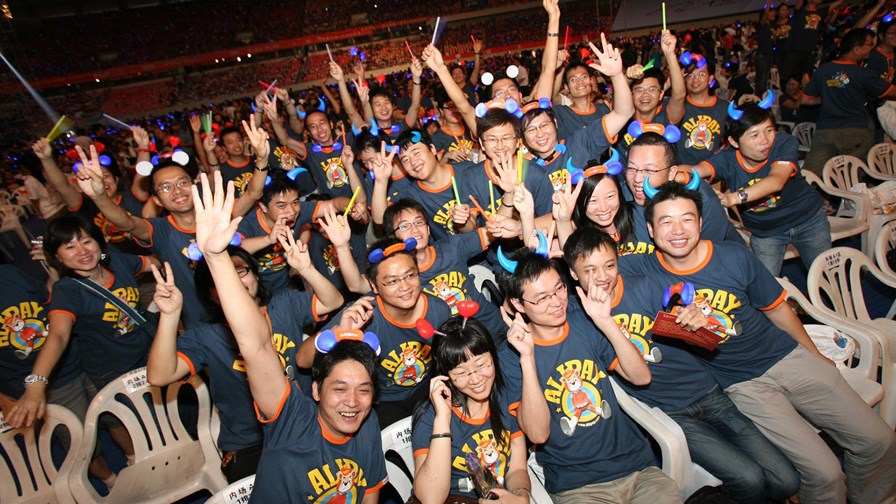 As was expected, last night the big Chinese Internet company Alibaba duly filed for floatation in the US. Now being trumpeted as the "biggest tech stock sale" in history (well, so far anyway) the IPO is expected to value Alibaba at US$200 billion making the company worth more than Amazon, eBay and Facebook. It will also puff-up the current tech bubble to close to bursting point.
Alibaba already has cash and has been on a buying spree in its home territories, taking out competitors and making itself a huge success in China as a result. Alibaba now dominates its home market completely having carved out for itself in excess of 80 per cent of the enormous and lucrative Chinese online shopping sector. Now it it turning its attentions to the US and has announced that it wants to raise a billion bucks bucks by selling off some of itself in New York. However, that figure is little more than a fig leaf to cover Jack Ma's hitherto undisclosed modesty. It seems likely that the floatation could raise $15 billion and perhaps even more.
And, as Alibaba finally gets it's foot into Uncle Sam's front door, the IPO will also give US investors the chance to buy into China, which, by the end of this year, will be the world's biggest economy.
Alibaba was founded in 1999 by the aforementioned Jack Ma. The one-time teacher of English cajoled 80 individuals to, between them, put up $60,000 as seed investment cash.The rest, as they say, is history. Mr Ma owns 8.9 per cent of Alibaba so, if the forecasts of the likely value of the IPO are correct, he will soon be worth $17.8 billion.
The IPO's going to be a big 'un and it remains to be seen if it will burst the tightening bubble. However, perhaps what is the most interesting thing in this matter is the effect it will have on the US Internet company Yahoo, which currently owns 22.6 per cent of Alibaba. You'd think that level of ownership must be a good thing, wouldn't you? But maybe not. Read on.
Yahoo! sell-off
To start with, Yahoo will have to sell 208 million of its Alibaba shares as the floatation progresses. That's a requirement of the share buyback deal concluded in 2013 whereby Yahoo must reduce its shareholdings in Alibaba by 40 per cent.
To compound the problem, relations between Yahoo and Alibaba have often been bad, and, from time to time they have been very bad indeed, and even today there's still little love lost between the two despite the efforts of current Yahoo CEO, Marissa Mayer to pour oil on troubled waters.
So, despite the potential of a welcome cash windfall, Ms. Mayer must be worried that the Alibaba floatation will flush out those investors who believe that Yahoo has a long term future and those who have been hanging-in-there with an eye on the quick profits to be made from an Alibaba IPO - whenever that might happen. Well, it's happening now.
Ms. Mayer has made much of her abilities and skills in driving up Yahoo's share valuation. It has more than doubled on her watch but could quickly fall if market sentiment proves to be in favour of Alibaba's prospects rather than Yahoo's.
And if that does turn out to be so Marissa Mayers's days could be numbered - and so could Yahoo's. And let us not forget that some US analysts have already concluded that Yahoo is a busted flush. They say simple arithmetic shows that Yahoo has no future because subtracting the value of it's stockholding in Alibaba (and in Yahoo Japan, which is an independent entity) brings Yahoo's own, core business value down to Sweet F.A.
And then, of course, there's Softbank of Japan. Softbank used to own a sizable chunk of Yahoo and now owns 34.4 per cent of Alibaba. Back in 2000, Softbank CEO, Masayoshi Son, paid $20 million to take a punt on the then little-known, year-old Chinese company. Less than 15 years later that investment could now pay out at $40 billion or more.
Mr. Son says he has no plans to sell off any of its stake in Alibaba - but then he would say that wouldn't he? The fact remains that having already bought US mobile operator Sprint, he is known to be interested in getting his hands of T-Mobile USA as well. The sale by Softbank of its Alibaba shareholdings would provide the wherewithal for Softbank to pursue that dream - and give AT&T and Verizon nightmares.
Email Newsletters
Sign up to receive TelecomTV's top news and videos, plus exclusive subscriber-only content direct to your inbox.