Contrasting fortunes for enterprise partners Apple and IBM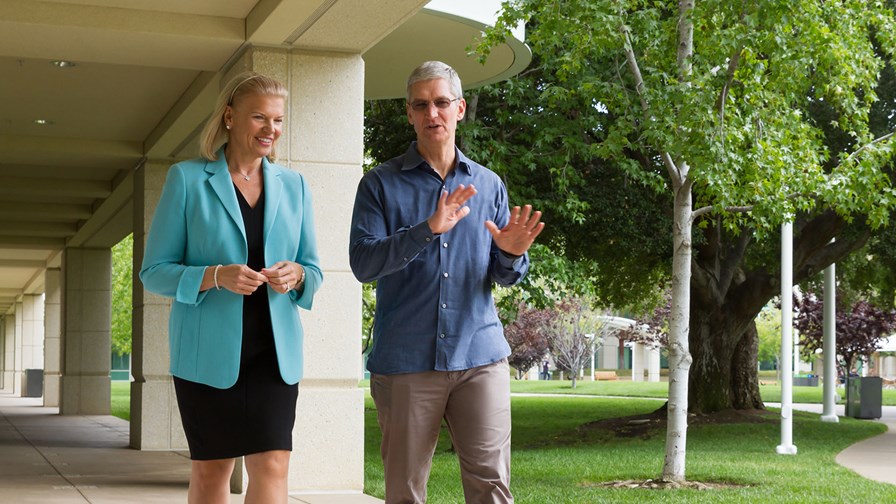 They may well be new partners in the enterprise tablet computing sector, but Apple and IBM have vastly different financial performances. Both companies announced quarterly results yesterday, and the only common ground was the obvious fact they do indeed need each other – Apple needs to revitalise its iPad sales, whereas IBM needs a mobile lifebelt.
The good news first. Apple exceeded all expectations with its Q4 results, beating financial estimates and iPhone sales. In fact, the only area in which it under-performed was iPad sales.
Quarterly revenues were up 12 per cent year-on-year to $42.1bn and net profit was up 13 per cent at $8.5bn, with gross margin edging up slightly to 38 per cent. It reported a record $13.3bn in operational cash flow, with international sales now accounting for 60 per cent of the company's business.
"We are heading into the holidays with Apple's strongest product line-up ever," said CEO Tim Cook. "We are also incredibly excited about Apple Watch and other great products and services in the pipeline for 2015."
Indeed, Apple's strongest quarter is always Q1, which covers the gift-giving holiday season. It now expects revenue for this coming quarter to be in the region of $63.5bn and $66.5bn, with a possible half a percentage point improvement on its gross margin.
As for products, the launch of its new iPhone 6 range proved highly successful, with total iPhone sales of 39.2m – up 16 per cent year-on-year and with a revenue value of $23.7bn, or 56.2 per cent of Apple's total revenue. Apple's Mac range is the next largest contributor to revenues (15.7 per cent) and unit sales were up 21 per cent year-on-year. Software and iTunes revenue was also up by 8 per cent to $4.6m.
However, the iPad range disappointed, leading to speculation that the iPhone 6 Plus is seen as a replacement for the iPad Mini – strengthened by the fact that SVP Phil Schiller spent just 29 seconds talking about the new model at last week's product launch. Sales were down 13 per cent year-on-year at 12.3m units. It really does need to start to see results from its collaboration with IBM.
Down to the core
Talking of which, IBM published its Q3 financials yesterday, and they were quite a contrast to those of Apple. It also announced that it has offloaded its loss-making microelectronics business to New York-based Global Founders – paying the company $1.5bn for the privilege. It also indicated that there would be job losses in the near future.
Revenue for the quarter was down 4 per cent year-on-year at $22.4bn and net profit down 17 per cent at $3.5bn, with a gross margin of 48.6 per cent. In the words of chairman and CEO Ginni Rometty; "We are disappointed in our performance. We saw a marked slowdown in September in client buying behaviour, and our results also point to the unprecedented pace of change in our industry."
She added though that; "While we did not produce the results we expected to achieve, we again performed well in our strategic growth areas – cloud, data and analytics, security, social and mobile – where we continue to shift our business. We will accelerate this transformation."
Breaking down these strategic growth areas, IBM says it saw a 50 per cent increase in cloud revenue, analytics up 8 per cent, and mobile doubled in the year to date. However, its accounts do not break out these areas for closer scrutiny. What we do know is that the Global Technology Services unit reported a revenue fall of 2.9 per cent year-on-year to $9.2bn, Global Business Services fell 2.2 per cent to $4.5bn, Software fell 1.6 per cent to $5.7bn and Systems and Technology fell 15.0 per cent to $2.4bn. It's very difficult to see any upside there.
"We are executing on a clear strategy that is moving IBM to higher value, and we've taken significant actions to exit nonstrategic elements of the business," added Rometty. "This includes the announcement that we will divest semiconductor manufacturing to focus on research and development that will differentiate our systems."
"This acquisition solidifies Global Foundries leadership position in semiconductor technology development and manufacturing," said CEO Sanjay Jha, adding that the company has capex plans of $10bn over the next year.
Meanwhile, both IBM and Apple wait anxiously for the fruits of their enterprise tablet collaboration.
"Developer teams have been working closely to develop the first wave of Mobile First solutions," said Cook during an earnings conference call, "and these solutions will be ready for customers beginning next month, across six sectors: banking, government, insurance, retail, travel and transportation, and telecommunications."
Email Newsletters
Sign up to receive TelecomTV's top news and videos, plus exclusive subscriber-only content direct to your inbox.