Let's work together to get Facebook's 3.57 degrees of separation much higher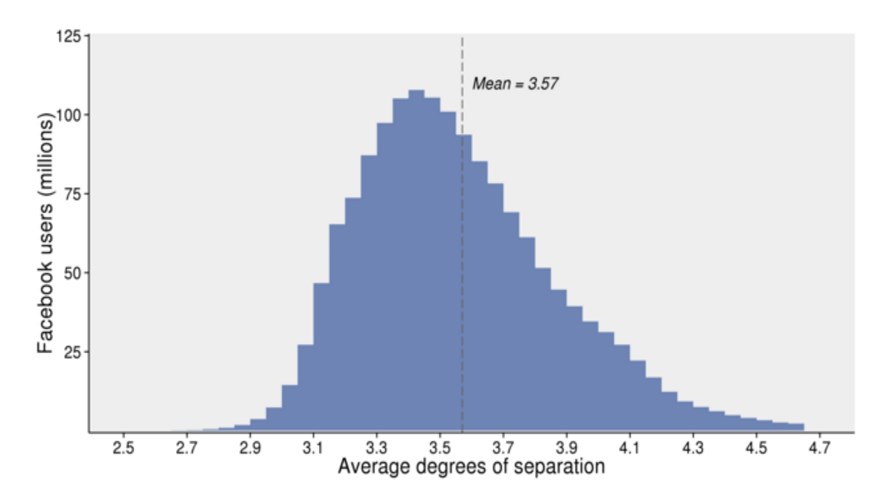 According to Facebook each of its users is an average of 3.57 connections away from all the others. I'm (Yes I looked at my connectedness, so will you!) 3.53 which, according to Facebook, is 'better' than average but not as promiscuous, friends-wise, as Mark Zuckerberg who scores 3.17 or, heaven forfend, Facebook's Sheryl Sandberg who must be out there friending just about everyone, going by her score of 2.92.
The site has used some high-powered number crunching to complete what it describes as a 'monumental task' to get the calculation.
"Imagine a person with 100 friends," it gushes in the blog post. "If each of his friends also has 100 friends, then the number of friends-of-friends will be 10,000. If each of those friends-of-friends also has 100 friends then the number of friends-of-friends-of-friends will be 1,000,000. Some of those friends may overlap, so we need to filter down to the unique connections. We're only two hops away and the number is already big. In reality this number grows even faster since most people on Facebook have more than 100 friends. We also need to do this computation 1.6 billion times; that is, for every person on Facebook."
Facebook is implying, of course, that despite all those big numbers, Facebook is drawing us all closer together. The old physical world (supposedly) implied 6 degrees of separation while Facebook has now proved that it can use technology to rope us all together in a tighter, cosier little knot.
Maybe. But I'm not so sure I want to be in a club that so indiscriminately wants to have me as a member. If I take a little journey into 'no friends land' by clicking on friends' friends via their likes and taggings it only takes one or two de-separations before I find myself in very 'other' social territory, where the language is monosyllabic, the sentiments neanderthal, the postings awful and the likelihood of my making a 'friend request' somewhere below zero.
Keep those degrees of separation high, I say.
Email Newsletters
Stay up to date with the latest industry developments: sign up to receive TelecomTV's top news and videos plus exclusive subscriber-only content direct to your inbox – including our daily news briefing and weekly wrap.