What's up with… ID trials, Ant Group, big tech in India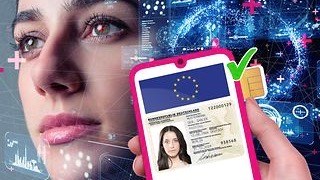 Major telcos trial EU digital identities
Ant Group and Jack Ma get a reprieve
India's TRAI plays with OTT fire
In today's industry news roundup: Germany's major mobile operators are involved in an EU digital identity trial: Jack Ma's Ant Group is handed a massive fine but also a way back into China's tech mainstream; India's regulator is proposing some tough restrictions on digital services giants; and much more.
Following the adoption of eIDAS (electronic identification, authentication and trust services) regulation in recent weeks, Germany's three main mobile operators – Deutsche Telekom, O2 Telefónica and Vodafone Deutschland – are participating in European Union digital identity field trials that aim to "further develop digital-ID functions and standardise them across the EU in order to provide citizens with a secure digital identity," according to this press release. The operators are part of a consortium called Potential, which is responsible for testing EU digital identity wallets in 19 countries, according to DT. "The consortium partners are testing digital identities for opening bank accounts, digital driver's licences or renting a rental car. Testing for online citizen services and approved electronic signatures are ongoing," noted the operator.
In fining the Ant Group 7.14bn yuan (almost US$1bn) and Tencent 2.99bn yuan ($413m), the Chinese authorities have signalled that their ongoing programme to "restructure" (i.e. cut down to size) the Middle Kingdom's big tech companies is just about over – for the time being at least. It brings to an end the saga of the group's once-seeming untouchability and what its founder, Jack Ma, began to believe was its (and his) overweening importance to the greater Chinese economy. The former school teacher set up Alibaba in 1999, and it quickly grew to become a sprawling multinational technology company with massive interests in e-commerce, retail and the internet, and a provider of consumer-to-consumer (C2C), business-to-consumer (B2C), and business-to-business (B2B) services, including electronic payments, online search, cloud computing, digital media and entertainment. It is now also an important artificial intelligence (AI) company. Ma then founded the Ant Group, an affiliate of Alibaba, in 2014. By the beginning of 2020, Ant was one of the world's largest fintech companies, with its mobile payment platform Alipay quickly gaining more than 1 billion users, and the enormous success of what Ma regarded as his very own empire went to his head. Eventually, in the classic arc of history down the millennia, his hubris met its nemesis when he went further than the Chinese Communist Party would stomach by publicly criticising the state regulators (and thus, implicitly, the country's leadership) for stifling innovation and being "overcautious" in financial matters. It is said that his pronouncements so angered China's president, Xi Jinping, that he personally intervened to put an end to the flotation of the Ant Group, and as a result the company's initial public offering (IPO) on the Hong Kong and Shanghai stock markets was pulled at the last minute. Had it gone ahead, it would have been the biggest flotation in history, with a putative value of at least $34bn. In the event, Bloomberg's subsequent estimation of Ant's value fell from $235bn to $63.8bn. Ma was later criticised by the People's Bank of China for "indifference" to Chinese laws, and in March this year regulators enforced a complete corporate overhaul "to improve transparency, strengthen corporate governance and establish a holding company". As a result, the Alibaba Group was carved into six new standalone companies each with its own CEO and board of directors. By late 2020, Ma had disappeared from public view. It is believed he was detained in China for several months and then later, a chastened, diminished and much quieter figure, re-emerged in the US before spending a considerable period in exile in Thailand. In his pomp, Ma owned more than 50% of the voting rights at Ant, but 'volunteered' to relinquish control of the company as it was being restructured. Now Ma, to some extent rehabilitated, under close scrutiny and probably on permanent probation, is back in China. He may yet even have a fairly prominent role to play in Alibaba's future but, having tested the patience of the Chinese tiger once too often, has been badly mauled and his glory days are over. Indeed, stories in the Chinese media have it that he may yet return to his former profession and spend his final working years as a teacher in a school in a rural idyll in a far-flung province. No doubt that will depend on how he acquits himself in the near future. Ant Group is now, ultimately, under the control of China's National Financial Regulatory Administration (NFRA), which itself comes under the aegis of the State Council. As a newly licensed financial holding company, it has no wriggle room, can't buck the system and absolutely will toe the party line. It seems the Chinese leadership wants Ant to prosper and grow and, eventually, go to IPO, but under very different circumstances from the previously aborted endeavour. Alibaba's share price rose on the news that Ant's restructuring is complete and the party's foot has been removed from the corporate throat, but it's worth remembering that in 2021 Alibaba itself was fined 18bn yuan for "antitrust violations". In China, the bigger they come, the harder, and further, they can fall.
India broke the mould when it came to the disruption of the telecoms status quo in September 2016 when Reliance Jio was launched operationally. Now it is the largest mobile network operator in the sub-continent, and the third largest in the world, with 433.3 million mobile connections (as of the end of April) and rising daily. Official figures from India's industry watchdog, the Telecom Regulatory Authority of India (TRAI), show that at the end of April there were 114.3 million mobile connections in India. Jio completely changed the dynamics of the Indian telecoms market and sector by offering free data and voice services for its initial customers, sparking an all-out price war, the net result of which was a huge wave of consolidation. Now, in a new publication, the TRAI reports that over the past decade, and particularly since 2016, the mass introduction and uptake of online apps and internet telephony has resulted in an 80% decline in voice calls and a 94% fall in SMS traffic. The TRAI figures come in a 'consultation paper', the Regulatory Mechanism for Over-The-Top (OTT) Communication Services, and Selective Banning of OTT Services, which it produced following a request from the country's Department of Telecommunications (DoT). It states: "In India, composition of the revenue basket of wireless access service providers has undergone a sea-change in the period from the year 2013 to 2022," and shows that in 2013 voice calls and text messages accounted for more than 60% of the average revenue per user (ARPU) while data services accounted for only 8% of ARPU. By the end of 2022, data services accounted for 85% of ARPU in India, while voice calls and texts generated little more than 10% of ARPU. The regulator then makes a serious play to be given the power to exercise extreme control over the likes of Amazon and Google via licensing OTT companies operating in India. If it gets the nod, not only will that bring in substantial licensing fees, but the OTT players would also have to "pay revenue share, facilitate lawful interception, provide call data records, and prove regulatory compliance." Hitherto, OTT players have been allowed to operate licence free, but a parliamentary communications and IT committee recommended that the possibility of empowering the regular to enforce a "selective ban on services off internet calling and messaging apps" should be examined. The notion will be for the regulator to "selectively" shut down the likes of Facebook and WhatsApp during "periods of [political] unrest" to "mitigate the impact of a complete internet shutdown in a disturbed area." Apparently, the TRAI has discovered that a total shutdown of internet services can have "significant ramifications for a country's economy" and can disrupt "critical services such as education and healthcare." The regulator, having been given a potential inch is now trying to take a country mile, saying, "for these reasons [above], selective banning of specific OTT applications and websites etc, which are likely to be used by the terrorists or anti-national elements to ferment trouble in the specified regions, appears to be preferable as compared to complete internet shutdown." The consultation and resulting suggestions seem somewhat dangerous and out of place in a country that has a national digital strategy and is trying to attract investments from the world's largest tech companies.
Both Orange and e& (formerly Etisalat) are mulling bids for a 45% stake in Ethio Telecom, the national operator in Ethiopia, according to Bloomberg. The country's government has been attempting to encourage bids from external investors for the national operator for a number of years. The report comes as the Ethiopian Communications Authority (ECA) tries to attract interest in the country's third telecom licence, with those interested in competing with the two existing licence-holders (Ethio Telecom and Safaricom Telecommunications Ethiopia) requested to submit the required paperwork by 15 September, as we reported last week. Both Orange and e& have also been linked to potential licence bids too, so both are clearly interested in playing a role in the Ethiopian market.
Vodafone UK's CEO Ahmed Essam is trying to put pressure on regulators and the UK government by claiming that the UK's digital plans will be hampered by investment shortfalls if the £16.5bn merger of Vodafone UK and Three is blocked. Essam told The Times (subscription required) that "we won't be able to invest as much and we won't be able to deliver the 5G ambition that's coming in the wireless infrastructure from the government" unless the merger is approved. Details of the M&A deal were shared in mid-June but have some major regulatory hurdles to overcome, in particular approval from the UK's Competition and Markets Authority (CMA), as the deal would reduce the number of infrastructure-based mobile operators from four to three.
Malaysia's biggest telco, Axiata Group, plans to sell stakes in some of its units, such as its Edotco towers division, or raise money from IPOs in an effort to reduce its growing debt pile, the company's CEO Vivek Sood told Bloomberg. The operator's debt now stands at US$7.9bn following the acquisition last year of telecom towers in the Philippines and a broadband operator, PT Link Net, in Indonesia.
Broadcom plans to invest in a European Union-funded programme to develop a semiconductor sector in Spain, the president of the company's semiconductor solutions group tweeted late last week. "Excited to announce our decision to invest in Spain's semiconductor ecosystem under their semiconductor support program #PERTE_Chip and EU Chips Act principles," he shared.
And speaking of microblogging… Threads, Meta's rival to Twitter that only launched last Thursday, has already passed the 100 million user threshold, according to the Meta-man himself, Mark Zuckerberg. " Threads reached 100 million sign ups over the weekend," he announced in a post on the new social media app. "That's mostly organic demand and we haven't even turned on many promotions yet. Can't believe it's only been five days!" he boasted. Early days yet, though – the more users come on board, the greater the potential for Threads to turn into the kind of digital cesspit that some parts of Twitter have become.
- The staff, TelecomTV